Few people are onto great records as quickly as a great record store.
After years spent discovering gems in Phonica's end of year lists, it made sense to give them a regular space on FACT. Every Saturday, staff from the Soho institution will pick out the five vinyl records you should grab this week.
---

FLOATING POINTS
'Nuits Sonores' 12″
(Eglo Records)
Another solid-gold showing from Sam Shepherd on this gorgeous 12″, which pairs the A-side's lush, organ-led deep house with an intriguing 11/4 on the flip that's sure to shake up the dance.
---

X
'X'
(No 'Label')
It's one of those pesky 'mysterious producers' (operating under a particularly infuriating moniker on Rush Hour's low-key offshoot) but the music speaks for itself – crushed and distorted but ever-so-heavenly house, drawing on battered soul samples and blurry disco snippets.
---

DJ METATRON
'U'll Be The King Of The Stars'
(Traumprinz/Giegling)
Label-of-the-moment Giegling unloads some starry-eyed and proudly nostalgic rave tunes which, despite the irresistibly silly titles ('Spiralworlds', 'The Colour (Sad Sad Euphoria Breakbeat Mix'), remain admirably restrained and even rather chic.
---

THE PARADISE BANGKOK MOLAM INTERNATIONAL BAND
'Roob Lor Pu Tai (Rootikal Re-Rub / Dub)'
(Studio Lam)
More dubby "re-rubs" from The Paradise Bangkok Molam International Band, who do a 21st century take on Thailand's indigenous Molam style. This very horizontal 7″ comes in a heavy screenprinted jacket.
---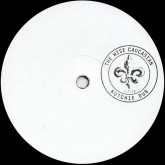 THE WISE CAUCASIAN (STEVE O'SULLIVAN)
'Kutchie Dub' 12″
(Sushitech)
Pacey dub with a brazen skank on this limited, one-sided release from Mosaic Records boss Steve O'Sullivan, who last year re-entered the fray after a long absence to explore the dub techno blueprint he helped lay down in the late '90s.