Don't get too excited just yet.
A website supposedly teasing Daft Punk's first live dates in 10 years has surfaced, causing further speculation that the French duo are soon to return. The site, Alive2017.com, follows rumours last month that the band are to play Glastonbury and Lollapalooza next summer.
The site at present only contains the word "ALIVE" in white font on a black background, which fans are suggesting is a nod to two previous Daft Punk live albums: Alive 1997 and Alive 2007. Reddit users claim the site's source code contains numbers that act as coordinates for dates in Paris, Los Angeles, London, New York, Tokyo, Sao Paulo, Ibiza and Indio, California.
The website also contains the phrase "WAKE DATE 2016-10-27", implying that some sort of announcement could be scheduled for October 27.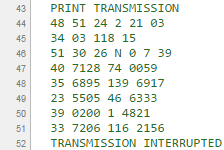 Don't get too excited though. The site appears to have been registered last month in Panama of all places, looks pretty unprofessional and has so far yet to be confirmed by either the band or their label. Rumours first began circulating last month after one Reddit user discovered a dedicated Daft Punk page on the Lollapalooza website, at the same time prompting fans to consider the possibility of a Glastonbury headline spot for the French duo. However, sources told Pitchfork that these rumours were unfounded. FACT has reached out for comment.