When Luke Cage loads up Wu-Tang Clan as the soundtrack for his bare-knuckled destruction of an enemy's stash house, it's clear we've got a superhero from the '90s hip-hop generation on our hands. But as Tirhakah Love argues, the TV series'  nostalgia for New York's rap heyday also works as a much-needed upending of the culture's historic erasure of Black women.
Luke Cage, the latest Netflix series set in the Marvel universe, revels in Black musical nostalgia. Roaming the streets of present-day Harlem, the steel-jawed protagonist (played by a stoic Mike Colter) greets a blind newspaper salesman on Jackson Ave. as the '90s boom-bap of Wu-Tang Clan blares out of car windows into the night. A poster of Miles Davis, hip-hop's form-busting jazz progenitor, hangs by the entrance to Cage's one-bedroom apartment. Coleman Hawkins' sensual saxophone plays over Cage's pivotal first episode romp with Detective Misty Knight (played by the fabulous Simone Missick), first sighted at the Paradise nightclub listening to Raphael Saadiq perform 'Angel'.
For showrunner Cheo Hodari Coker, a former music journalist, the '90s represent a flashpoint in hip-hop history. Rap underwent an Afro-centric makeover, with De La Soul, The Roots, and the Jungle Brothers reaffirming the political and cultural power of Black musical history. So it makes sense that Coker recruited A Tribe Called Quest's Ali Shaheed Muhammad and vintage soul fetishist Adrian Younge to compose the score for Luke Cage, a vintage superhero (his first comics appeared in the 1970s) reimagined for Marvel's present-day TV universe. Coker, Younge and Muhammad weave different strands of Black musical history into Luke Cage's world; from the spitfire rap of Ghostface Killah to the mystique of Nina Simone, it seems every genre dominated by Black prowess makes an appearance.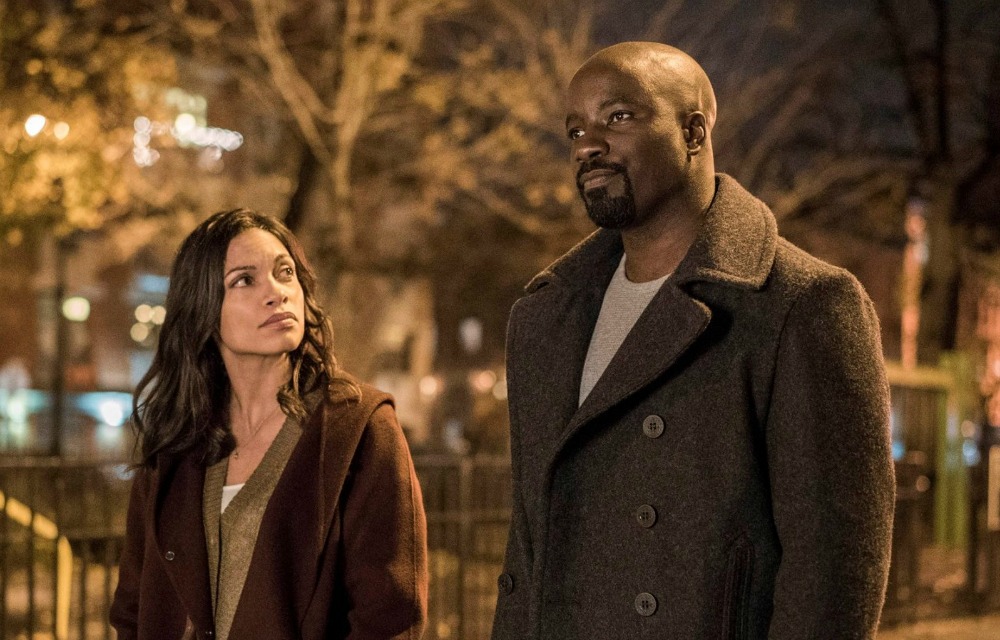 "By bringing female characters to the fore, Luke Cage sheds light on hip-hop's historic displacement of women"
One of the most crucial — and controversial — aspects of hip-hop has been its emphasis on talking to, for, and about the culture that birthed it. Rap has been able to prioritize the voices of Black youth living in a system that would rather erase them through marginalization, incarceration, or death. Coker's Harlem is likewise a stage to give voice to everyday Black folk in America.
The elderly chess player, Bobby Fish (played by Ron Cephas Jones), has a place within Harlem's history and a role as Cage's intellectual conscience and money manager. A young bootlegger we meet in the first episode shows up later in the season because his observations matter within the scope of the show. Luke Cage is a superhero show powered by realistic representations of Black characters in a Black space. The early episodes are packed with references to Black cultural and literary legends, a move which some critics deemed an unnecessary drag on the narrative – yet it's still tragically rare for white audiences to hear of these real life Black heroes in mainstream entertainment.
Luke Cage and the rest of the lead characters are of a hip-hop generation reaching middle age, more likely to listen to Gang Starr than A$AP Rocky. Their tastes are reflected in the soundtrack; when The Stylistics, Charles Bradley, or Faith Evans are heard in Paradise or on the streets of Harlem, you could just as easily imagine those songs coming out of the characters' iPods. Early in the season, Cage puts his headphones before he takes on Cottonmouth's lackeys, cueing up Wu-Tang Clan's 'Bring Da Ruckus' ("Shaolin shadowboxing and the Wu-Tang sword style…") to get in the fighting mood.
The generational divide is symbolised in Cage's bare-knuckle aggression; he's not only impervious to bullets, he's opposed to gun violence entirely, seen twisting handguns inside out and, in one scene, preventing the sale of illegal firearms. A common refrain among older hip-hop heads is that kids today don't settle disputes with their fists like in the old days. The glorified violence that defined mid-90s New York rap – Kool G Rap, Mobb Deep, L.O.X. – came from an era of unregulated access to firearms, when the streets were exploding in ways that previous generations hadn't anticipated. The image of Cage snatching guns out of the hands of Black youth isn't just superhero camp – it's his unspoken comment on how far the country has fallen into gratuitous gun violence.
But what's most interesting about Coker's hip-hop generation Luke Cage is his upending of the culture's historic erasure of Black women. By bringing his female characters to the fore, Coker sheds light on hip-hop's historic displacement of women (with a few important exceptions, of course: Lil' Kim, Lauryn Hill, Nicki Minaj). Detective Knight is as magnetic as she is pragmatic, pondering crime scenes with a nuance that's otherwise absent from the department. Alfre Woodard's Black Mariah is a calculating, resilient villain whose rich backstory is gradually fleshed out so that we can empathize with her ruthlessness. Rosario Dawson's Claire Temple – the common thread linking previous Marvel series on Netflix, Daredevil and Jessica Jones – shows up again, this time with newfound purpose, chasing down would-be muggers and doling out necessary whoop-ass.
If you're looking for mammies, you're watching the wrong show.
Equally intriguing is how Coker positions his male characters as emotional, impulsive, even traitorous. Mahershala Ali's Cottonmouth puts on a cool facade but is violent and hasty. In the second episode he lays waste to one of his double-crossing employees by crushing his bloodied face in – with a painting of the adorned New York King, Biggie Smalls, looming in the background.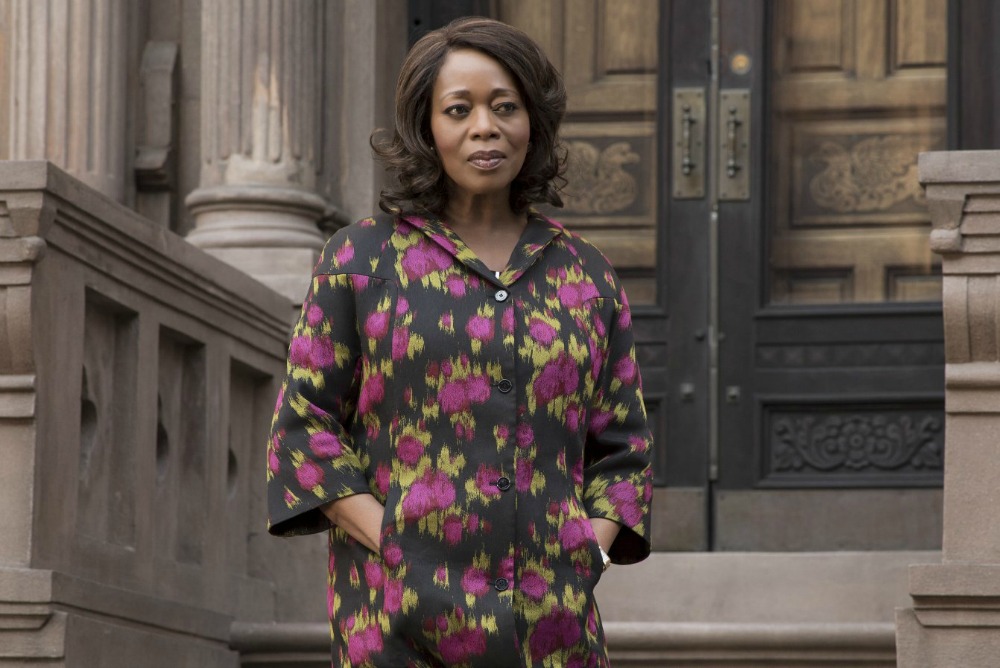 "The women are invested in bettering the community, with or without the help of the men"
Cage tends to act out on emotion and selfishness too. He's gentle but shortsighted, not realizing how his actions reverberate within a Harlem that can ill-afford additional trauma. A failed science experiment with unbreakable skin, he deals with his inner turmoil by not just being physically impenetrable but psychologically stifled as well. Female characters – both central and peripheral – remind Cage of his mentor's lessons and the brilliant, Black legacy of heroes past.
The women of Luke Cage are invested in bettering the community, with or without the help of the men. Detective Knight understands that being a good officer means knowing the names and histories of those she serves; she can identify the body of a slain youth because she's played ball with him. Temple finds her calling and makes it plain for the first time while talking to her mother. Mariah, the shrewd politician, is fiercely protective of how "Black Harlem", as she terms it, is talked about in public; a revealing conversation between her and Cottonmouth hints at the tangle of crime, politics, community building and familial discord at the heart of the story. The events of the rest of the series hinge upon that dialogue between a Black man and a Black woman.
During another weighty conversation between Detective Knight and a police psychologist, Knight explains what made Cage different from other men she'd encountered. The scene feels like Coker is speaking directly to the audience, not just about how the show has dealt with its female characters but also about a bygone era in male-female social interaction:
MK: "I met a guy at a bar. I wasn't nice to him at all. But he didn't care. He was funny. He wasn't wearing a ring. And the first time he spoke to me, even in a low-cut dress, he looked in my eyes; not my breasts."
PT: "So?"
MK: "So we talked. I could be myself; he thought I was pretty and he told me so."
It might seem a little corny. These are all the actions of decent people. But in a dearth of decency between Black heterosexual men and Black women, the space made for Black women on this show is a welcome respite.
As hip-hop's '90s Afro-centric period gave way to a more materialistic paradigm — as the Tribes gave way to the Puff Daddys and 'Big Pimpin' Jay-Zs — so the value placed on Black women's lives and experiences (by male rappers) seemed to fall by the wayside. To be sure, the Afrocentric soul and rap permeating Luke Cage isn't perfectly lacking in misogyny; nationalist views of Black progress still placed men on a pedestal. But at the very least, those artists – the voices chosen for Luke Cage by Coker, Younge and Muhammad – demanded the protection of Black women and Black communities more broadly. Somewhere along the way, that protection, advocacy, and love for Black women got lost in the sauce. Luke Cage punches through hip-hop's concrete misogyny, leading us through the wreckage towards an understanding of its earlier limitations. Now, it's on us to do some heavy lifting.
Tirhakah Love is on Twitter
Read next: Hip-hop's golden age isn't the '90s, it's the '00s