This beef gets weirder and weirder.
Kanye West is listed as a lyricist on Drake's Kid Cudi-Pusha T diss 'Two Birds, One Stone'. He is also credited as a composer and producer alongside Noah "40" Shebib.
This is news, of course, because of West's relationship with both Cudi and Pusha T, who is the president of Ye's label G.O.O.D. Music. It doesn't necessarily mean he had anything to do with the barbs at either of them. West, himself, tends to give writing credits to friends who were in the studio for anything from lyrical tweaks to full-on ghostwriting.
But here's really what makes this more interesting than just drama-fodder: Wasn't Drake's last major beef all about him having complete authorship over his own lyrics? According to the Tidal credits, Pigeons & Planes points out, there are four other people aside from Drake who have written the song's lyrics.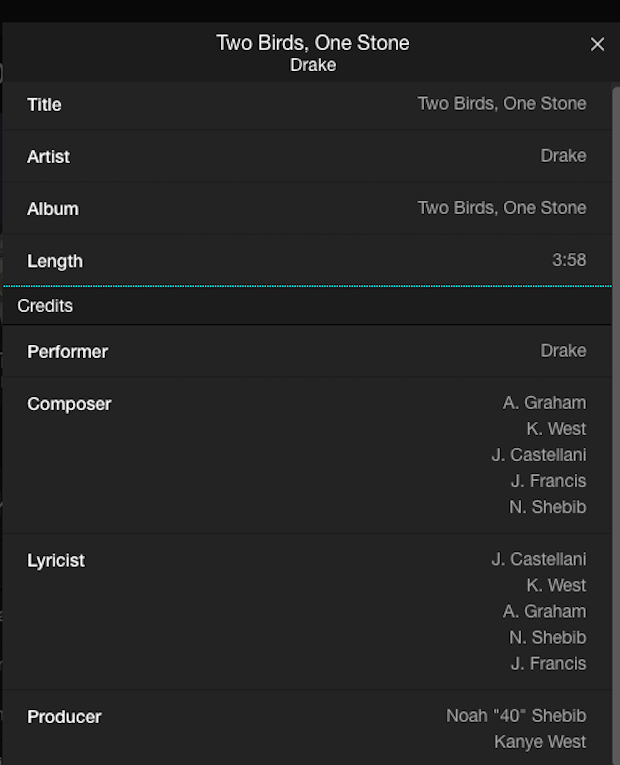 Kid Cudi recently acknowledged the lyrics on 'Two Birds, One Stone' tweeting from where is believed to have been rehab. "Say it to my face, pussy," he wrote. "You think it's a game. I wanna see you say it to my face. I'll be out soon. Promise."
Listen to 'Two Birds, One Stone' below.
Update, Nov 1: Noah "40" Shebib says the Kanye credit is "not quite the elaborate story the world is looking for."
Speaking to Genius, the OVO producer said, "Me and Kanye produced the track. I made it from some drums he had given me." The lyrics annotation site speculates that Tidal may have misunderstood writing credits to mean the lyrics, not the instrumentation, but this was not confirmed.