Take a virtual tour of the exhibition below.
Bob Dylan may have won the Nobel Prize for his songwriting prowess but he is also a skilled visual artist and an exhibition of his work is opening in London this Saturday (November 5).
The paintings, on show at London's Halcyon Galley until December 11, make up a series of American landscapes and urban scenes called The Beaten Path. Dylan has described his artwork – images of shabby motels, faded fairgrounds and American landmarks like The Green River – as "pictures that would not be misinterpreted or misunderstood by me or anybody else," in a rare essay for Vanity Fair. "They are up to the moment realism—archaic, most static, but quivering in appearance. They contradict the modern world."
In the piece, Dylan begins by recalling the "positively apocalyptic" time he played with the Band in 1974 and gives insight into his painting process, before detailing the exhibition's theme of landscape painting. The pictures – a mixture of drawings, watercolours and acrylic works on canvas – tap into that freewheeling spirit so associated with the legendary songwriter. "Staying out of the mainstream and traveling the back roads, free-born style," he says.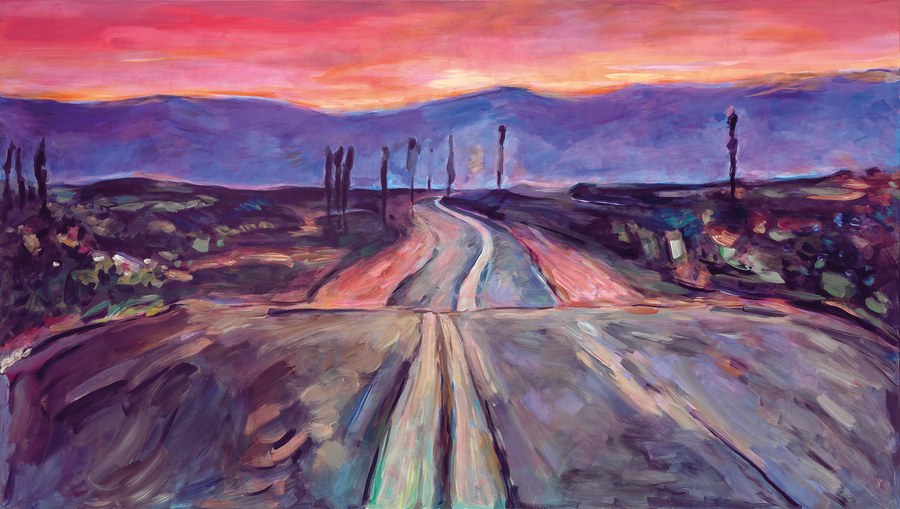 He continues: "I restricted myself to traditional subject matter, viewing nothing as shallow or gaudy. A simple hot-dog stand can have classical features, and I view it as such (Donut Shop, High Wire). Whiplash curves, flying buttresses, pointed steeples, arches, and waves. They are all there, reflecting any time period, purposely trying to stay away from dramatic or theatrical lighting effects, bringing naturalism to the forefront."
"In every picture the viewer doesn't have to wonder whether it's an actual object or a delusional one. If the viewer visited where the picture actually existed, he or she would see the same thing. It is what unites us all," ends Dylan. Make sure you read the whole essay – it's pretty great.
Visit here for more information about the exhibition and take a virtual tour below.