Irvine Welsh, Kate Simko and DEBONAIR help examine the issues around club closure in the 18-minute film. 
The state of London's clubbing industry has been under the spotlight this year following Fabric's sudden closure in September and successful campaign to re-open. A new short documentary Bigger Than Fabric explores the long line of club closures that have blighted the city.
Subtitled Last Chance Saloon For London's Club Culture, director Wayne Holloway's film tackles the social, economic and cultural issues around nightlife in Britain's capital. A variety of DJs, industry heads and regular party people paint a picture of the London scene as it is now, as well as asking questions about the future for dance music in a seemingly hostile climate.
Amongst the contributors to the film are Trainspotting author Irvine Welsh, DJs Kate Simko and DEBONAIR, and The Warehouse Project mogul Sacha Lord-Marchionne. The topics of conversation range from drug policy to the social benefits of clubbing and the importance of the nighttime economy. The film was produced by Nat Wainwright, an outspoken supporter of Fabric. The drug-related deaths that initially sparked Fabric's closure are particularly poignant to Wainwright, whose brother died from an ecstasy overdose in 1997.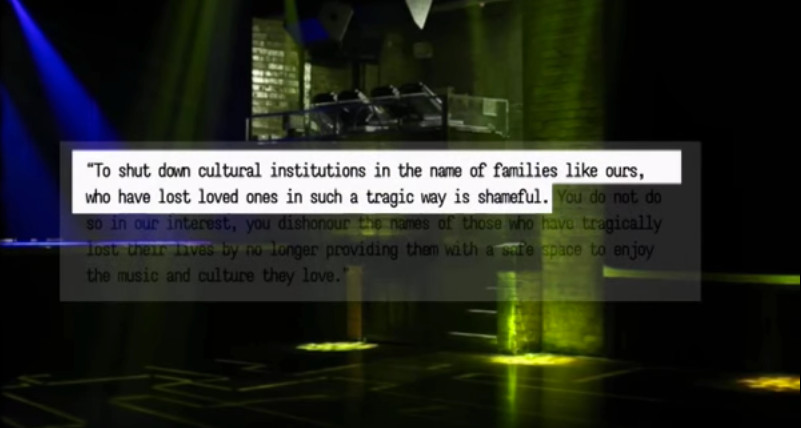 There was widespread celebration when it was announced on Monday that Fabric's appeal had been successful, but conditions the iconic club must meet to reopen have received mixed reactions from the industry. A ban on under-19s and lifetime bans for drug possession are amongst the provisions imposed by Islington Council.
Matt Gooden, one of the producers behind Bigger Than Fabric, said, "It's fantastic news that Fabric has its license back, but there's an awful lot more work to be done to support London's nighttime culture and the people who contribute to it."