The Morrissey-designed sleeve image features Skyfall actor Albert Finney.
Seeing as a Smiths reunion is looking more unlikely than ever following Morrissey's pro-Brexit comments, fans of the Manchester indie luminaries will have to make do with a new 7″ instead. As Morrissey fansite True To You reports, The Smiths will release a physical single containing two previously unreleased tracks.
The vinyl will feature a demo mix of The Queen Is Dead track 'The Boy With the Thorn in His Side', alongside an unheard version of 'Rubber Ring'. The sleeve, which you can see below, has reportedly been designed by Morrissey and features a photo of Salford-born actor Albert Finney.
A release date has not yet been announced.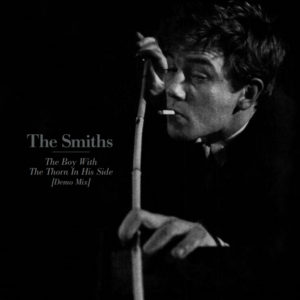 Earlier this month, Smiths' guitarist Johnny Marr said Morrissey's support of Brexit had put a "drawback" on the likelihood of a future Smiths reunion, which actually nearly happened in 2008.
Listen next: Hear a lost demo of pre-The Smiths band Freak Party