Roll up a Dean.
Babyfather are selling one of the best 'novel' bits of merch we have seen in quite some time – a weed grinder that comes in the same Union Jack design as seen one one of the year's best album covers.
You can pick up a grinder if you buy a digital, CD or vinyl copy of Babyfather's "BBF" Hosted By DJ Escrow album from Bleep, but make sure you have something to put in it before you play the album – the store recommends that fans use the device while listening to the record, "to help ease the pain of everyday life."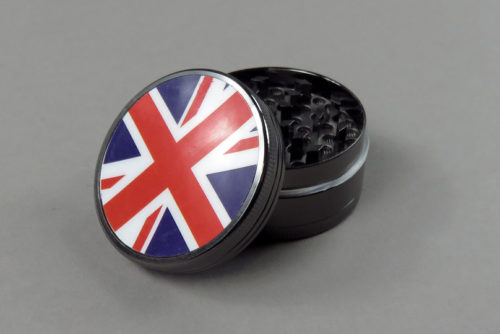 Last week, Babyfather dropped a new mixtape titled 419, which includes a 14-track free download featuring several loosies that have surfaced online since the launch of Dean Blunt's post-Hype Williams project.
Babyfather's debut album BBF, released in April, was described as "an important record, even if, at times, it isn't a very listenable one," in FACT's review, while the hovercraft-starring cover caught our attention immediately. See that below.