The Vinyl Rocket Jukebox can hold up to 70 7″ records.
Crosley Radio, the US company responsible for those inexpensive turntables you can find everywhere from Amazon to Urban Outfitters, has launched its own vinyl jukebox.
As NW reports, the Crosley Vinyl Rocket Jukebox features a 140-selection rotating jukebox mechanism with space for 70 7″ singles. It also has Bluetooth connectivity, remote control, and digital amp with two stereo outputs, shuffle play function and auxiliary input.
While the Rocket is branded with the Crosley name, the first models were actually built by UK company Sound Leisure, who have partnered with the US brand to bring their creations to a wider audience.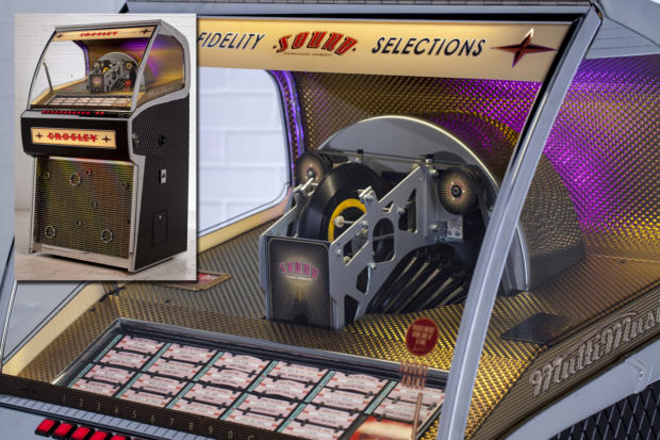 "This is the first production vinyl jukebox to be manufactured in over 25 years." said Crosley CEO Bo LeMastus. "With a 140-selection rotating title display and Bluetooth connection, it's the ultimate collectors' item for vinyl enthusiasts to add to their audio caves."
Crosley hasn't announced a price for its version of the jukebox, but Sound Leisure's original is listed at £8,000.
Jukeboxes aren't the only area Crosley has expanded into in recent years. In 2015 it released an "audiophile" turntable, and in 2016 the company announced plans to open a vinyl pressing plant. [via The Vinyl Factory]
Read next: The 8 best budget turntables that won't ruin your records