The Chicago house figurehead drops his first new track since leaving the Classic Music Company.
Derrick Carter is set to drop his first original production in over a decade. 'Squaredancing' is packaged as a limited double 7" coloured vinyl set that includes exclusive remixes by Chicago residents Stacy Kidd and Scrubfish, as well as a remix from Carter himself.
The Chicago house legend has released a clutch of remixes over the last decade – including a flip of Hercules & Love Affair's 'My House' – and mixed fabric 56 in 2010. However, this will be the first original release he has dropped using his own name since leaving the Classic Music Company, which he co-ran with Luke Solomon.
A rare demo form of the track, titled 'Squaredancing In A Roundhouse' – which is also the title track of Carter's 2002 debut album – has been around since the late '90s and was reissued by Classic for two new mixes on a 12" in 2003.
'Squaredancing' is released via Press Pot Recordings, the label of Dark Matter Coffee, who in 2014 created a Derrick Carter coffee blend and mixtape. Preview Stacy Kidd's remix of the track below.
Back in August 2015, the one-of-a-kind DJ – who cut his teeth playing disco records at family reunions aged nine – told us he has always tried to stand up for quality. "In the respect that it's not cookie-cutter, it's not simply 'put your hands in the air and jump up and down,' because here's a song at 125bpm that has similarities to what we call dance music," he explained.
"I stand up for things that have soul and vision and points of view and attempt to maybe push the envelope or stretch the fabric or right a wrong." Read the full interview and see the 7″ artwork below. [via Mixmag]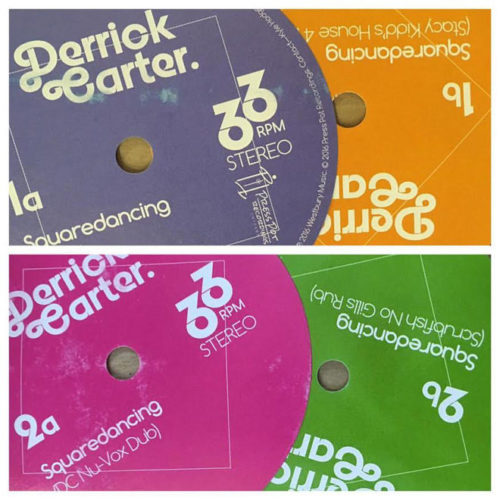 Read next: An audience with Derrick Carter