"2017: What the fuck is going on?"
Earlier this week, we speculated that influential electronic duo The KLF (previously know as The Justified Ancients of Mu Mu) could return in 2017 – numerology and a bizarre YouTube video tipped us off. Now, however, it's been confirmed.
The Quietus reports that an official communication has been discovered by Cally Callomon, editor of the fine Eastfolk Chronicle and, err, Bill Drummond's manager, while he was out hiking. The poster, which is attributed to "K2 Plant Hire Ltd", officially announces that the duo will return in 2017.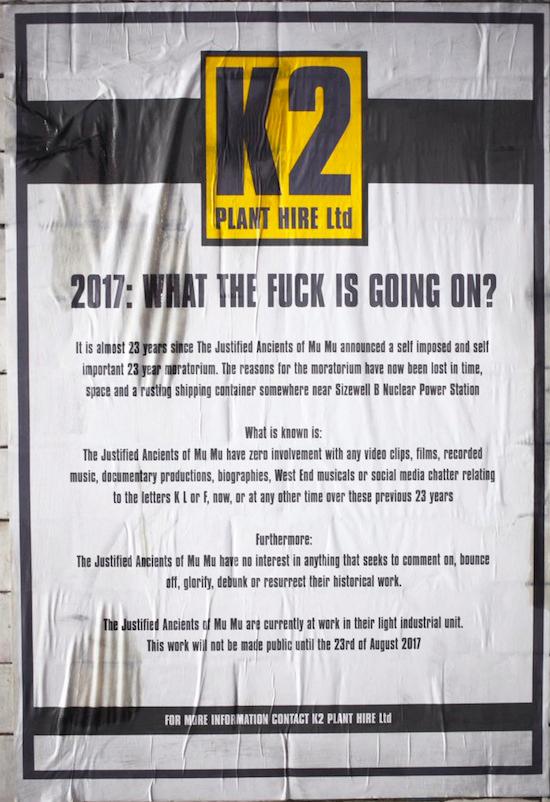 The message firstly knocks back any assumed association The KLF might have with the YouTube video that emerged earlier this week: "The Justified Ancients Of Mu Mu have zero involvement with any video clips, films, recorded music, documentary productions, biographies, West End musicals or social media chatter relating to the letters K L or F, now or at any other time over the previous 23 years."
It then assures fans that the duo has no intention of trading in the kind of nostalgia you might expect from a reformed classic act: "The Justified Ancients Of Mu Mu have no interest in anything that seeks to comment on, bounce off, glorify, debunk or resurrect their historical work."
The most encouraging part is at the end, however, where the message reads that Drummond and Jimmy Cauty are "currently at work in their light industrial unit." There's even a solid date – whatever emerges "will not be made public until the 23rd August 2017."
There you have it. Countdown set. Bring on August 23.