The bassist's first full-length album since 2013.
Bass virtuoso Thundercat has announced Drunk, a new album featuring a huge cast of guest artists including Kendrick Lamar, Flying Lotus and more.
Today you can hear the album's first single 'Show You The Way', a duet featuring yacht rock icon Michael McDonald and '80s soundtrack king Kenny 'Danger Zone' Loggins that we still can't believe is real.
In addition to McDonald, Loggins and Lamar (did we ever expect these three to appear in the same sentence?), Drunk also features guest spots from Pharrell and Wiz Khalifa, as well as collaborations with Flying Lotus and Kamasi Washington throughout. The release follows 2015's mini-album The Beyond / Where The Giants Roam and is the artist's first full-length release since 2013's Apocalypse.
Find the album cover and tracklist below and look for Drunk February 24 via Brainfeeder.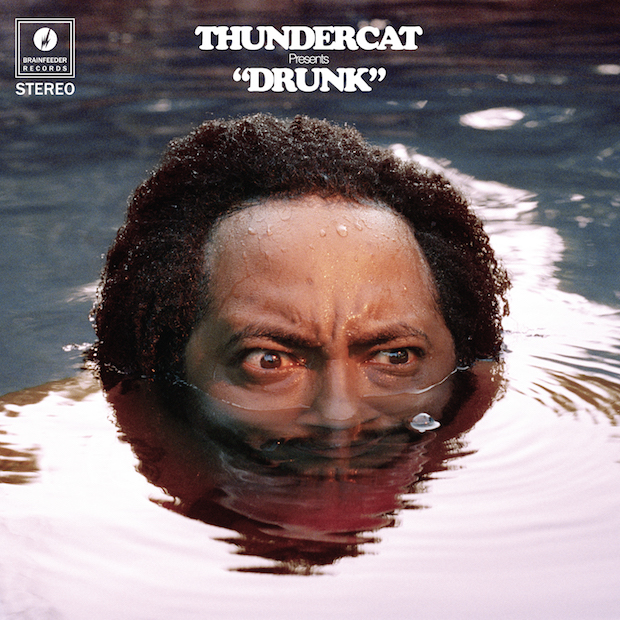 Tracklist:
01. 'Rabbot Ho'
02. 'Captain Stupido'
03. 'Uh Uh'
04. 'Bus in These Streets'
05. 'A Fan's Mail (Tron Song Suite II)'
06. 'Lava Lamp'
07. 'Jethro'
08. 'Day & Night'
09. 'Show You The Way' [ft. Michael McDonald and Kenny Loggins]
10. 'Walk on By' [ft. Kendrick Lamar]
11. 'Blackkk'
12. 'Tokyo'
13. 'Jameel's Space Ride'
14. 'Friend Zone'
15. 'Them Changes'
16. 'Where I'm Going'
17. 'Drink Dat' [ft. Wiz Khalifa]
18. 'Inferno'
19. 'I Am Crazy'
20. '3AM'
21. 'Drunk'
22. 'The Turn Down' [ft. Pharrell]
23. 'DUI'