Since its birth in Rotterdam in the early '90s, gabber has largely been derided by "serious" clubbers as as whizz-fueled music for puerile head-bangers. But forget what you've heard – a new generation of French gabber obsessives are pumping fresh blood into a maligned genre to bring a taste of gabber to a contemporary club audience. April Clare Welsh meets the Casual Gabberz.
Nosebleed tempos, chainsaw samples, skull-crushing bass drums, a lurid dress code and frothing skinheads gurning their faces into oblivion – gabber, in its original form, probably isn't for everyone. Rotterdam's homegrown strain of hard techno began life in the early '90s as a counterattack to the highbrow house music that had started sweeping through Amsterdam a few years prior. Kickstarted by the self-styled "godfather of hardcore" DJ Paul Elstak, whose 1992 single 'Where the Fuck Is Amsterdam?' – engraved with the words "It's Not A Disgrace To Be Gabber!" – laid the template, gabber exploded into a massive yet short-lived cultural phenomenon that grabbed Dutch teenagers by the scruff of their necks.
Some 25 years later, gabber remains resolutely unfashionable, a byword for a puerile, even violent clubbing experience. But if one group of Parisian enthusiasts have their way, that's about to change – meet Casual Gabberz, who are proudly tapping into a maligned genre to create hardcore club mutations that perfectly capture today's chaotic zeitgeist.
"Gabber brings a certain kind of brutality, a roughness that resonates with the chaos of our contemporary world," says Casual Gabberz member Paul Orzoni. The sprawling collective began by putting on small parties in bars and clubs around Paris some four years ago – mostly in places that "couldn't handle it," he says – and the city's hybrid gabber scene gradually started to grow in size and popularity. In May of 2014, an exhibition on gabber was held at Paris' Le Point Ephemere, showcasing everything from "hakken" dancers to documentaries about the genre and stoking interest in the previously rubbished hardcore variant.
Just as the kids of Rotterdam once thought of gabber as a counter-cultural attack, Orzoni says that "destabilizing people in the serious house/techno context of the Parisian scene" was part of the motivation behind the collective's formation. "We believed from the start that this music and the culture that goes with it was truly under-estimated. We wanted to claim its legacy in our context."
Now the 30-strong crew have got together for a double-disc, 51-track "manifesto-compilation" Inutile De Fuir, which fuses, trance, jumpstyle, hardstyle and happy hardcore with rap, grime, ghetto house, trance and Jersey club.
"There's a strong French rap background and crew members like Evil Grimace have a signature of using French street rap vocals in their productions," explains Orzoni. "This creates, beyond music, a tension in the social representation of the genre. We love the idea that gabber shouldn't be a niche genre but part of a more global club culture."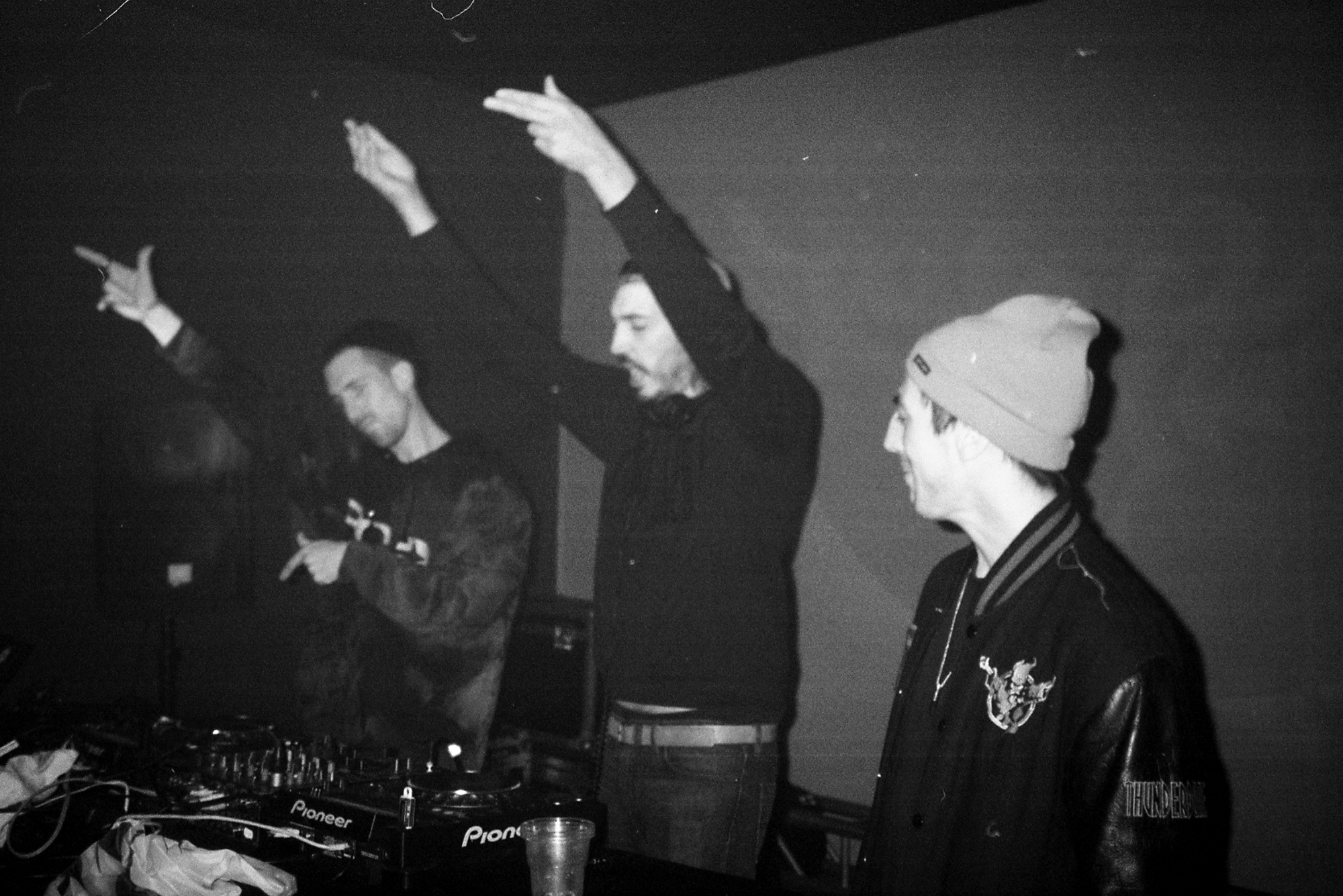 "Gabber shouldn't be a niche genre but part of a more global club culture."
The crew, which boasts some of the best names this side of the Atlantic – Boe Strummer, Butter Bullet, Draft Dodger, Fatma Pneumonia and my personal favourite, Lil Crack – hoover up a myriad hardcore variants in their tracks. The result is a compilation that jerks from a post-apocalyptic trance-scape by Club Cheval member Canblaster and wunderkind producer Krampf (aka Krampfblaster) to Kurama's 'Boyzzdon'tcry' a Lotic-inspired contemporary club clusterfuck, to Orgasmic's "conscious reinterpretation of hard dance."
Then there's Evil Grimace's blending of "good old ghetto French rap" with gabber kicks, which the producer himself calls "frapcore", for French rapcore. "Frap" is also a French slang word for "strong dope," Evil Grimace explains.
As a scene, Casual Gabberz pride themselves on their inclusivity. "We have lots of rave kids, art students, a good following in the queer community and, depending on the line up, we also see some true hardcore heads," Orzoni says.
"The majority of the people coming to our parties have a naive approach to this sound, they are picking up on some of the original gabber codes but mixing it with a variety of influences that creates something unique, whether it's in the moves or the looks. It goes beyond France, and the same is happening elsewhere in Europe, for example in Poland where we played in December with the Wixapol S.A crew. We really relate to what they are doing – we're on the same path."
For Orzoni, though, the epicentre of gabber will always remain in the Netherlands. "The gabber culture originated from there and it's so established – there's no comparison possible. The scene is really strong and organised. At the moment there's a renewal of the early hardcore scene with kids from our generation claiming the old sound. Lots of interesting stuff also happening in the uptempo scene, and the mainstream hardcore is doing really good with artists like Angerfist, who is now a pop icon worldwide. Also this year Thunderdome will return, so no doubt the epicentre of gabber is still Holland."
Orzoni reminds me that in Amsterdam slang, gabber literally means "friends". "It's a feeling – "a feeling from your heart" – something you're forever attached to. That's what gabber meant originally and it hasn't changed. It's still about a group of people living for something so powerful that many others simply just don't understand it."
Casual Gabberz's Inutile De Fuir is out February 17.