The artist is one of the cult act's biggest fans.
4AD will celebrate one of their most beloved '80s bands, Colourbox, with a new compilation organized by artist Wolfgang Tillmans.
Before Tillmans gained pop music popularity through his appearance on Frank Ocean's Endless, the multi-disciplinary artist celebrated his love of Colourbox with the 2014 exhibit Between Bridges at his studio in Berlin. Now his carefully selected playlist has been recreated in 4AD's compilation Music of the band (1982-1987).
The music has also been incorporated into Wolfgang Tillmans: 2017, the artist's first major exhibit at London's Tate Modern. To coincide with the release, 4AD and the Tate will sell gatefold 2xLP editions of the release with original artwork by Tillmans.
Speaking on the band's legacy, the artist called them "pioneers of experimental pop music" and praised their genre-melding abilities and forward-thinking sampling. The release has also been made in honor of band founder Steven Young, who died last summer.
Take a look at the artwork for Music of the band (1982-1987) below.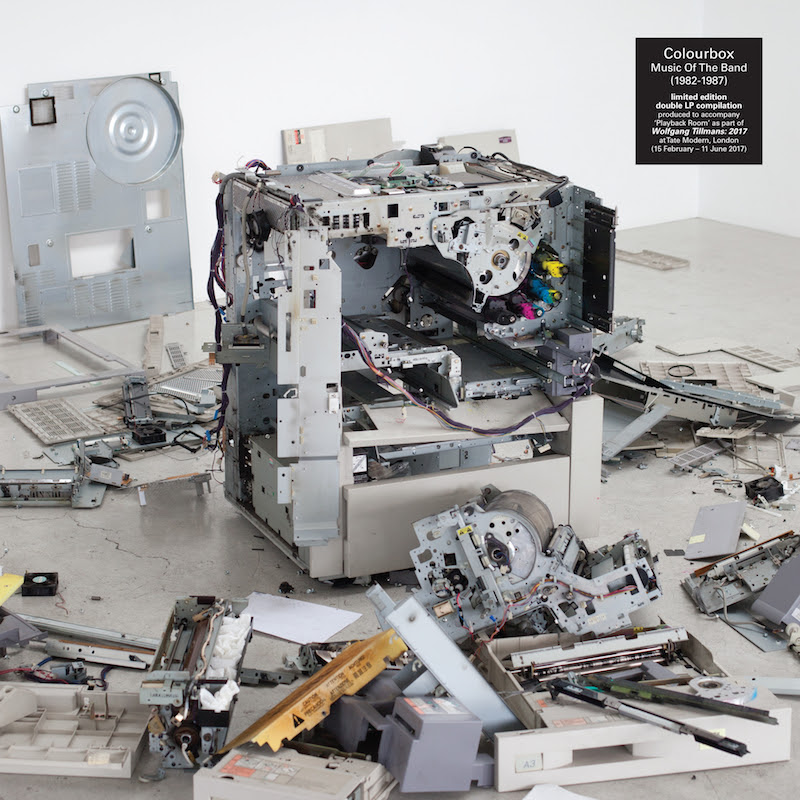 Tracklist:
A1. 'Looks Like We're Shy One Horse / Shoot Out'
A2. 'Sleepwalker'
A3. 'Just Give 'em Whiskey'
A4. 'Baby I Love You So [7" version]'
B1. 'Edit The Dragon'
B2. 'Hipnition'
B3. 'We Walk Around the Streets'
B4. 'Nation'
C1. 'Justice'
C2. 'Sex Gun'
C3. 'Shotgun'
C4. 'The Moon Is Blue [7" version]'
D1. 'Keep On Pushing'
D2. 'Fast Dump'
D3. 'Arena I'
D4. 'Hot Doggie'
Read next: Here's why there's a bizarre techno track closing Frank Ocean's Endless