Hamburg-based illustrator Alex Solman is the real deal. As well as designing the art for our weekly FACT Mix series, he's been working at the legendary Golden Pudel Club for years, shaping its identity with his unmistakable line drawings. With a bumper coffee table book just released on Modeselektor's Monkeytown imprint, Caroline Whiteley catches up with the mysterious Solman to find out how he went from an art school reject to a beloved creator of the most vivid portraits of your favorite artists.
After last year's tragic fire, Hamburg's Golden Pudel Club is currently in the process of being rebuilt. A reopening date is still unclear, but its idiosyncratic visual heritage lives on thanks to illustrator Alex Solman.
The creative genius behind the Pudel's imagery, Solman is an enigmatic but mysterious man. If, like me, you frequented the Pudel, then you likely bumped shoulders with him on countless nights without even realizing it. But his face has remained hidden from the public. Try Google searching an image of him and you'll be treated to hundreds of his unmistakable illustrations.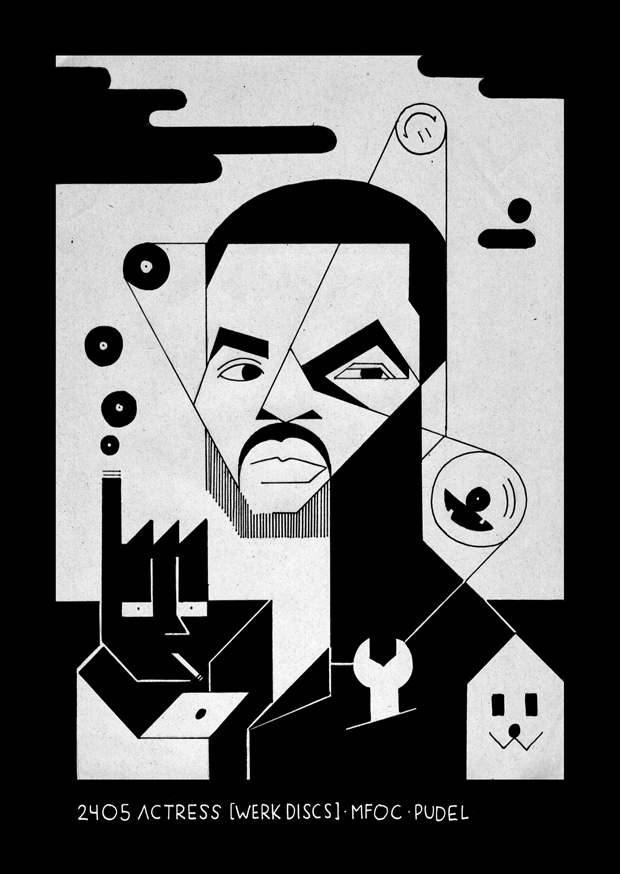 "No one at the Pudel has a big ego."
These drawings – used as flyers, show announcements and "Pudel Produkte" album covers – were once plastered across the walls of the Pudel and collected in the small merch box next to the bar. Now, 169 of Solman's drawings have been collected in the "coffee table book to end all coffee table books." And as a nod to the club, it's named after the Pudel's unforgettable slogan – Die Welt Ist Eine Pudel (The World Is A Poodle).
When I speak to Solman on the phone, his humility and humor feels familiar. It's a trait that all people who are involved with Pudel share. "No one at the Pudel has a big ego," he says. "Everyone's just so friendly and unafraid to look like a fool." And it's the club's fearlessness that endowed him with a sense of purpose, transforming him into the artist he is today.
Solman was born in Heidelberg and after an unsuccessful stint in Frankfurt's advertising industry he followed his then-partner to Hamburg. "By the time I first went to Golden Pudel Club I was pretty much committed to never touching a pencil again. I was ready to become a forester," he jokes. He's referring to previously failed attempts at enrolling in art school; one rejection letter even advised him to abstain from pursuing a career in the arts completely. It was Pudel affiliate Gerd Ribbeck who practically forced him to pick up his pencil once more by uttering, as Solman puts it, the most important sentence in his life: "You're in charge of the flyers now!"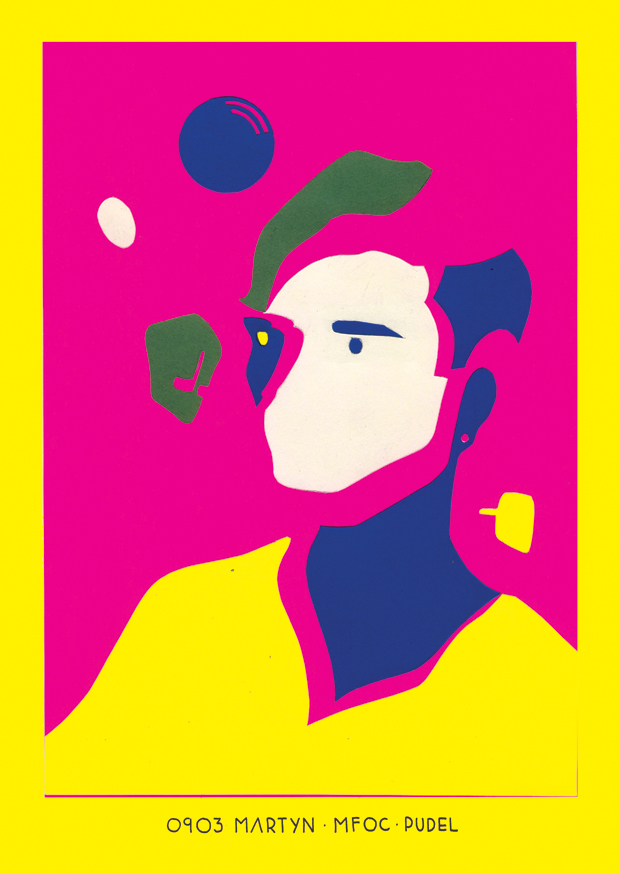 "You can't get rich and it's precarious at times, but you can actually live."
He objected at first, but was quickly knocked back. "He said, 'Shut up, just do it – you can't do anything wrong,'" Solman remembers, and just like that, he had found his calling. "I slowly drew myself out of the depression and resignation that I had previously experienced."
The Pudel had given Alex Solman meaning. And as he spent debauched nights there rubbing shoulders with notable figures from Hamburg's music scene, he began to notice compliments rolling in. "I would drunkenly squint at someone complimenting my flyers and suddenly realize that it's someone whose records I had bought way back when I was still a kid living in the middle of nowhere," he laughs.
Between the odd illustration gig and doing shifts at the door at the Pudel, Solman could just about scrape together a living. In Hamburg, this life was possible – a life away from office jobs, mortgages and football clubs. "I thought to myself, sure, you can't get rich and it's precarious at times, but you can actually live," he says. "Suddenly I realized this was exactly what I had always dreamed of but I wouldn't even have been able to articulate it until it was happening to me. And Golden Pudel Club was a great environment for that."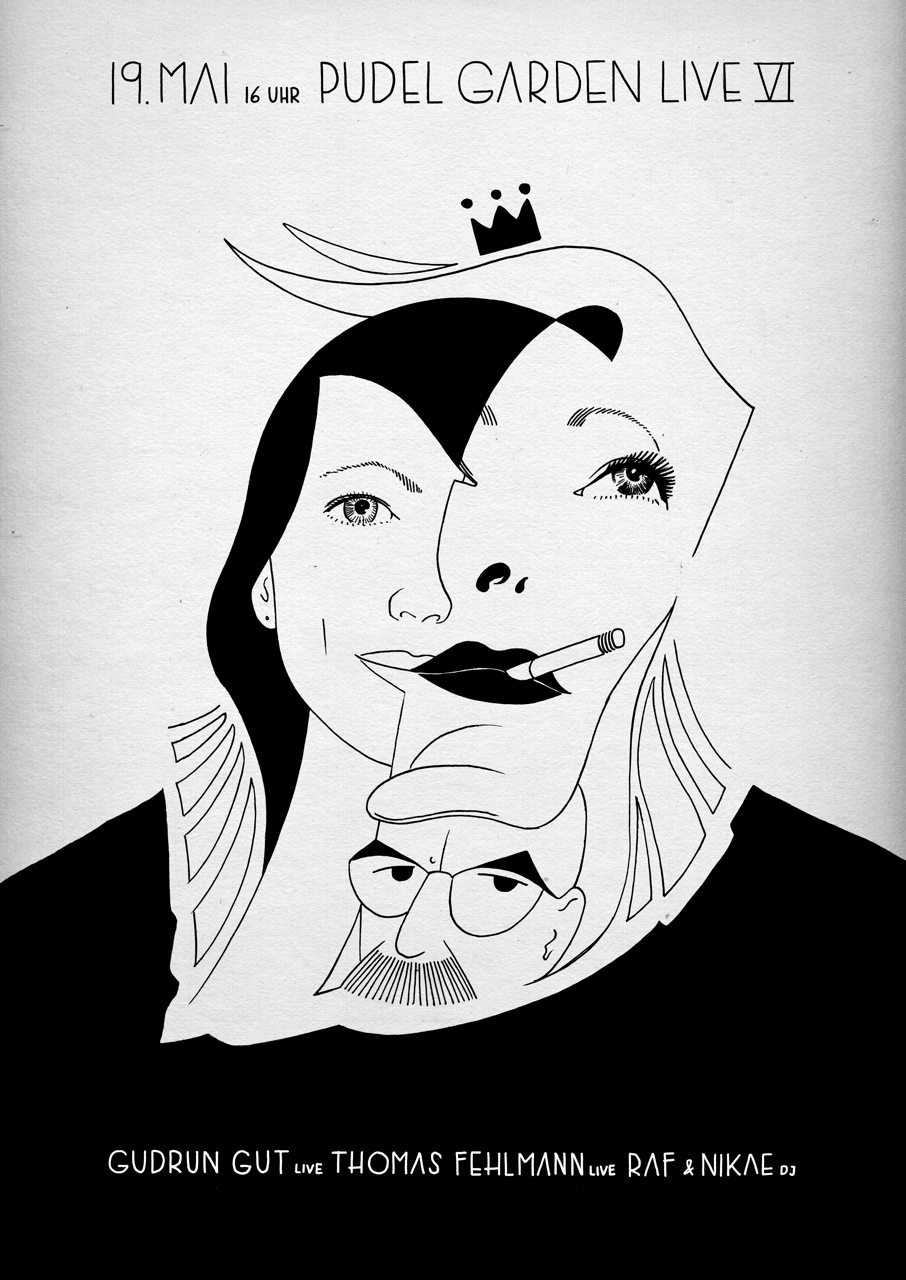 "I always pick the nicest looking image on Google. It helps that only nice people play at Pudel, of course."
In the beginning, Solman's illustrations had a dark, comical style and he would often draw unflattering caricatures of friends such as Ralf Köster and Superdefekt with enormous heads or overflowing bellies. Later though, his style became more minimal. "I envied (artists like) Stefan Marx for their clear lines," he admits. "They could just create these fantastic doodles and leave them as they are."
One day in 2010, whilst drawing an artist with a particularly geometrical face, Solman decided to leave the portrait "half empty", a trick that over the years has become one of his trademarks. But Solman struggles to explain the recipe for his mix of "cubism, Bauhaus, graphic novel and sheer insanity." Instead, he's just humble: "I always pick the nicest looking image on Google. It helps that only nice people play at Pudel, of course."
For fun, Solman once drew a portrait of Mark Pritchard on a blown-out egg and gave it to the veteran producer as a gift. Pritchard kept it and took it home to Australia following his two week long tour. It almost seems like an urban legend, but given the nature of Solman's art it makes sense. Solman's drawings aren't throwaway items. Often they become a cherished keepsake, a reminder of a big night out.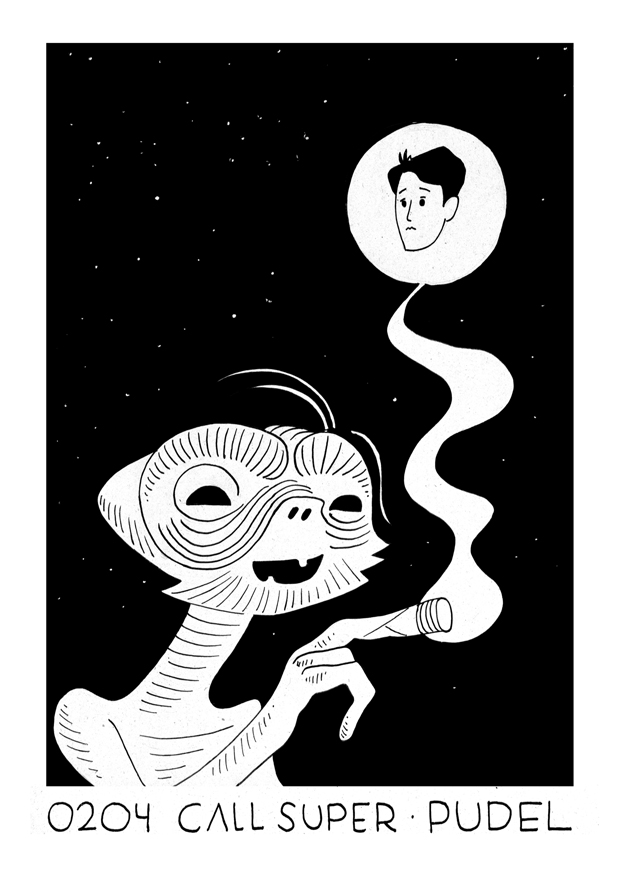 A while ago I framed the crumpled flyer for a 2015 back-to-back set with Call Super and Ben UFO and hung it up in my room; a close friend has another of Solman's illustrations in his kitchen, and so on. There's an anecdote in Die Welt Ist Eine Pudel in which Helena Hauff recalls seeing an old man at Pudel taking the posters off the walls. "We asked him what he was doing, and he told us that he's been collecting those posters for years," she says. "He wasn't even there for the music, he just came for the artwork. They're all up on the walls in his house, he told us. That house would make a pretty amazing exhibition!"

Die Welt Ist Eine Pudel is available now via Monkeytown in two editions, one standard and one deluxe edition with seven hand-signed prints. See below for some of our favorite Solman illustrations from our FACT Mix series.
Caroline Whiteley is on Twitter
Read next: Can Hamburg's Golden Pudel rise from the ashes?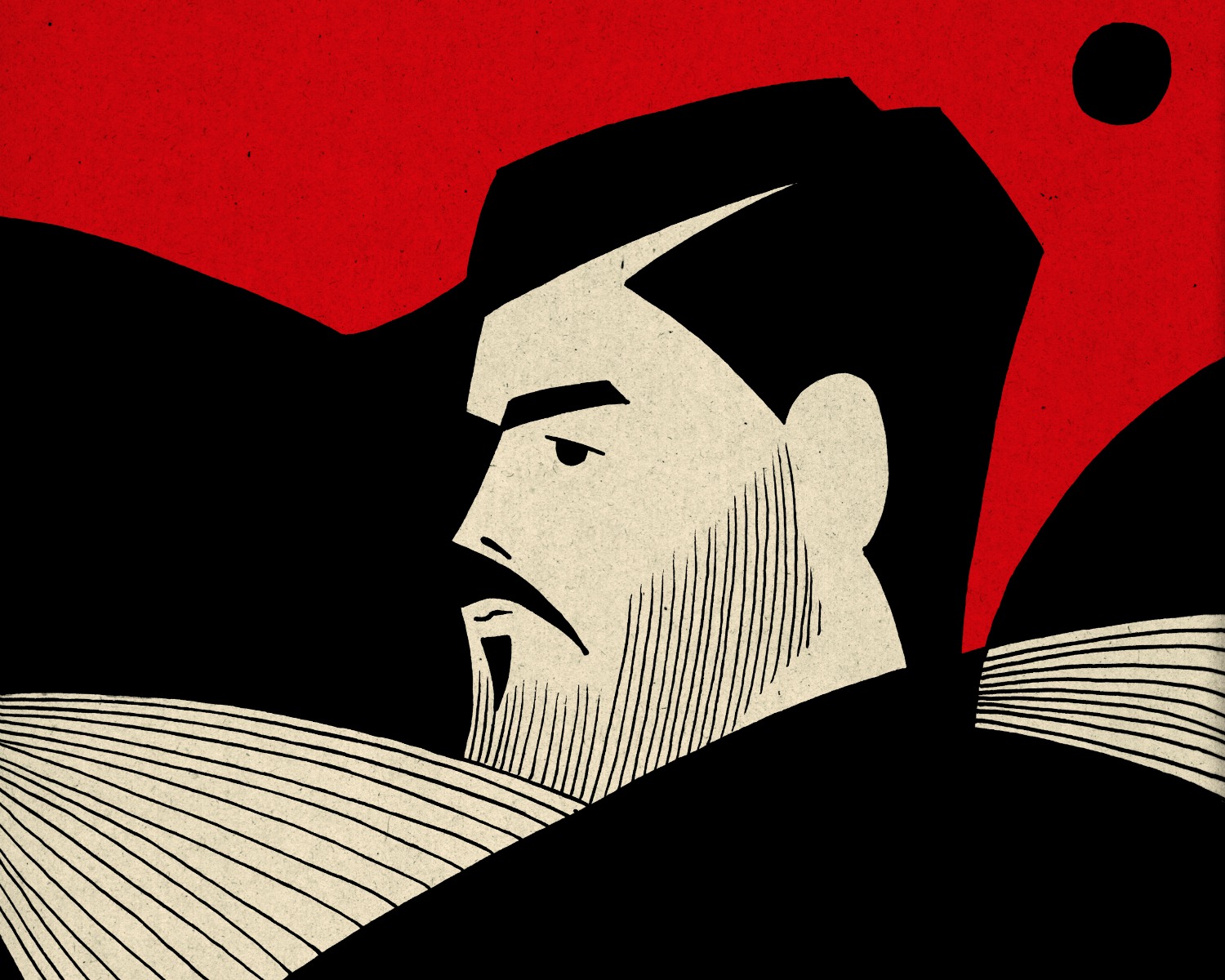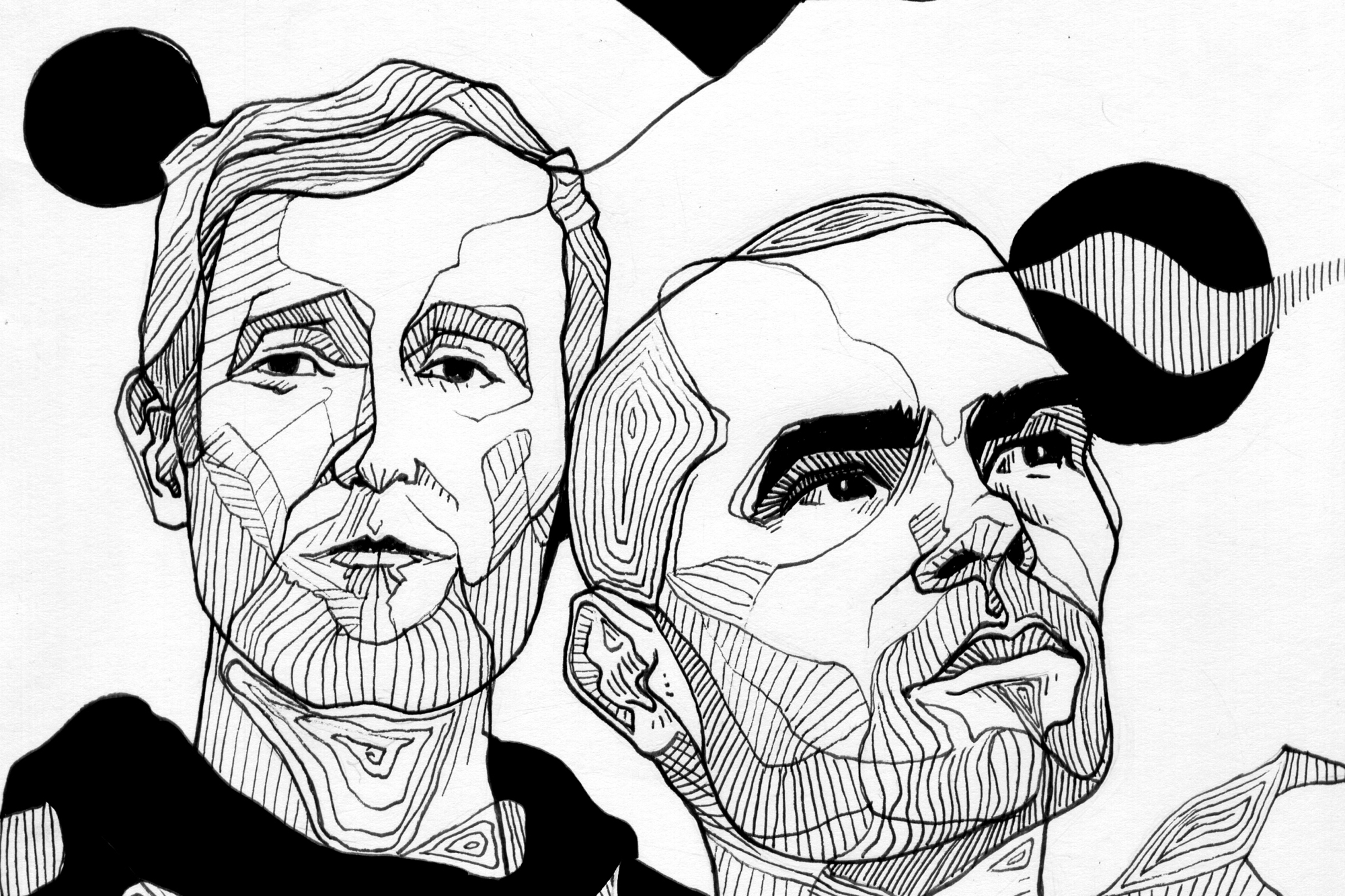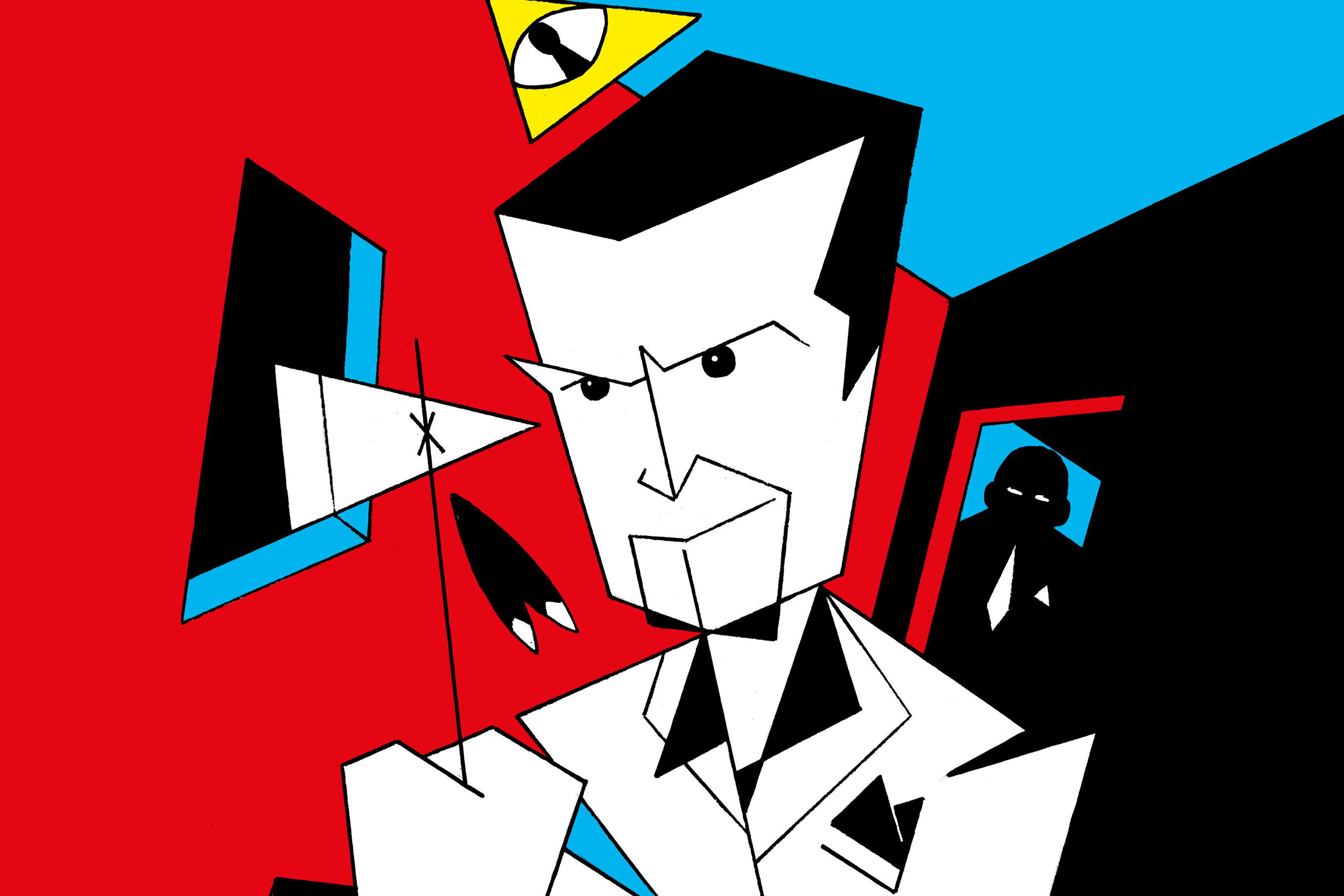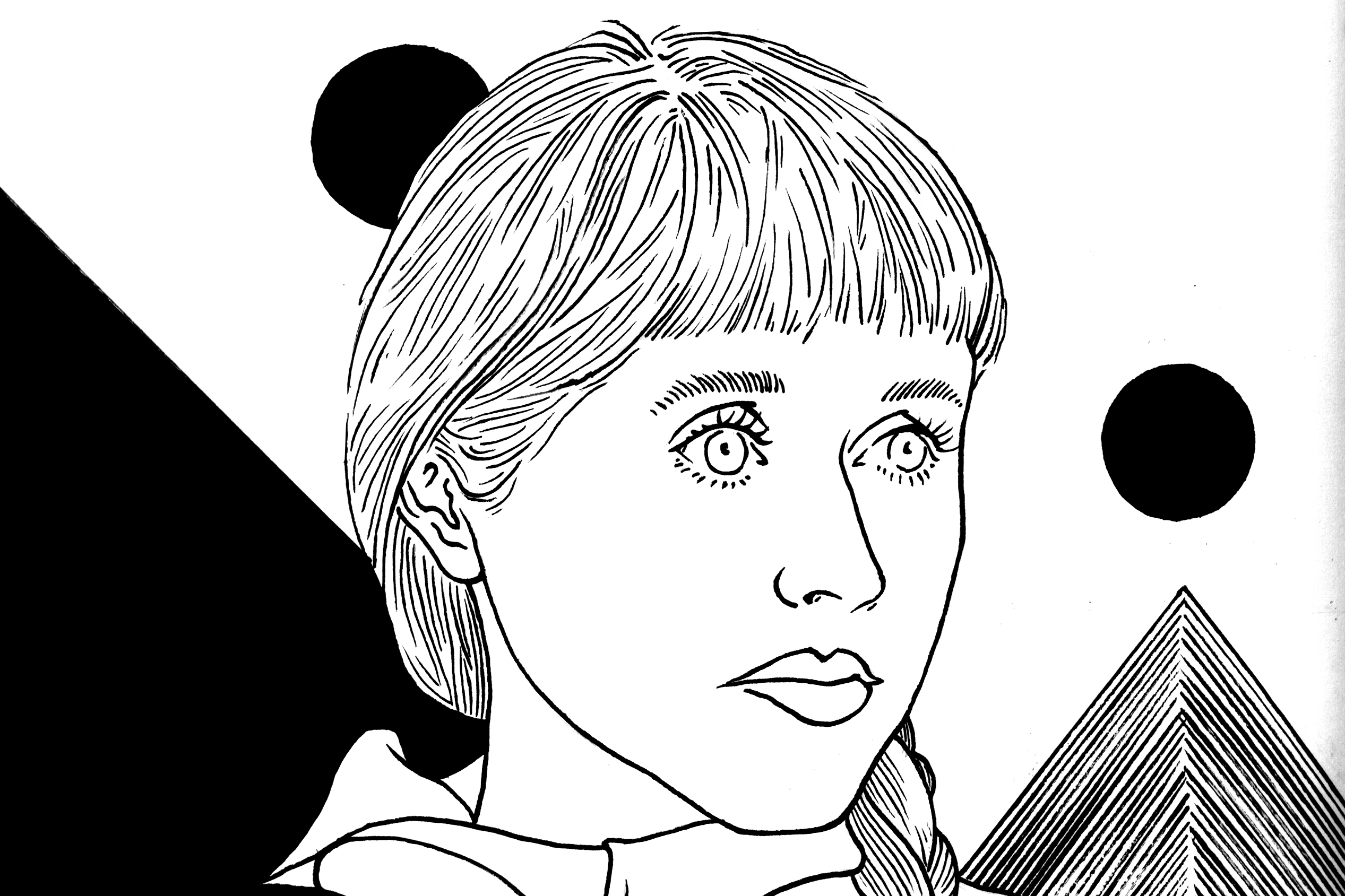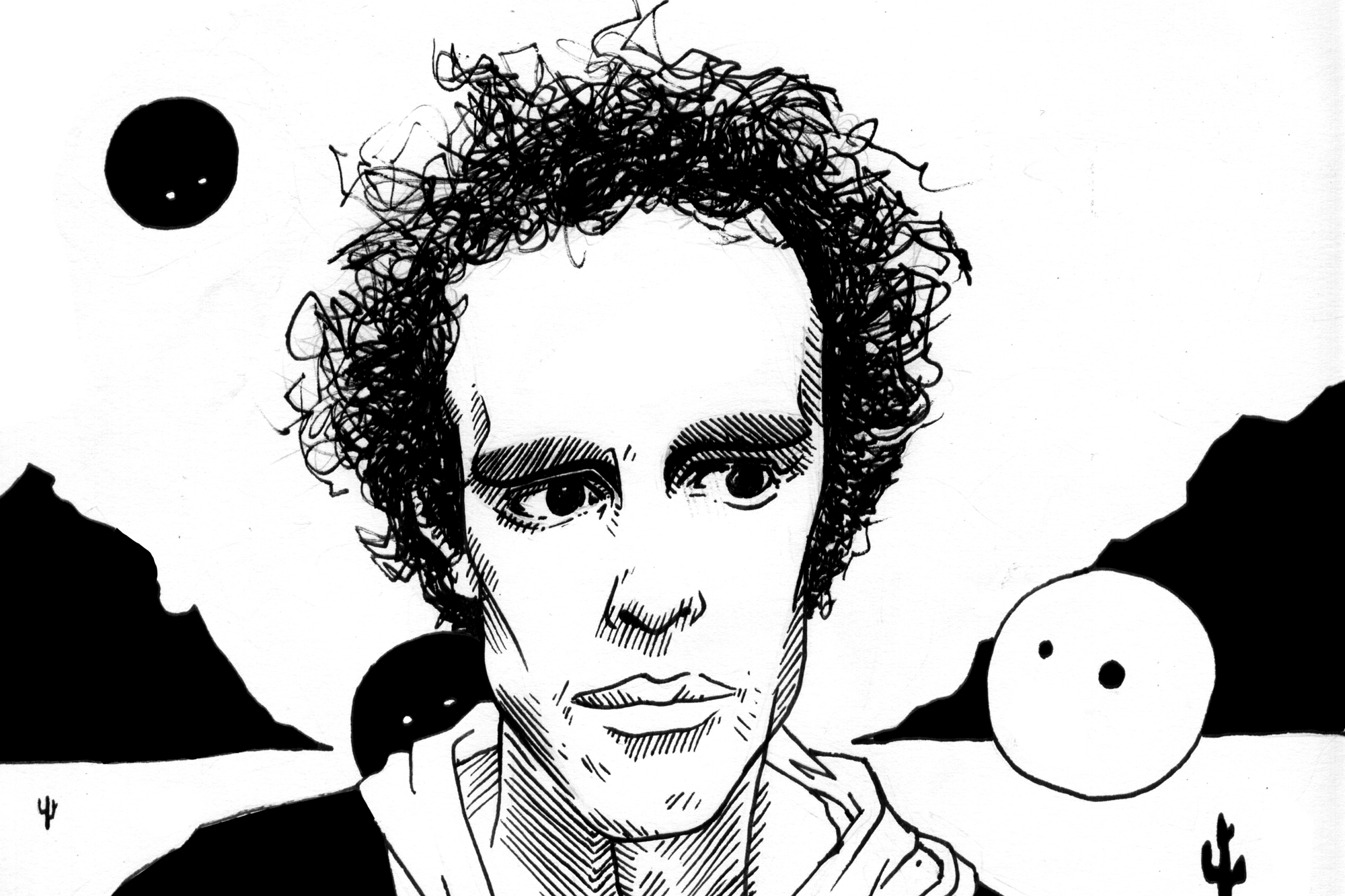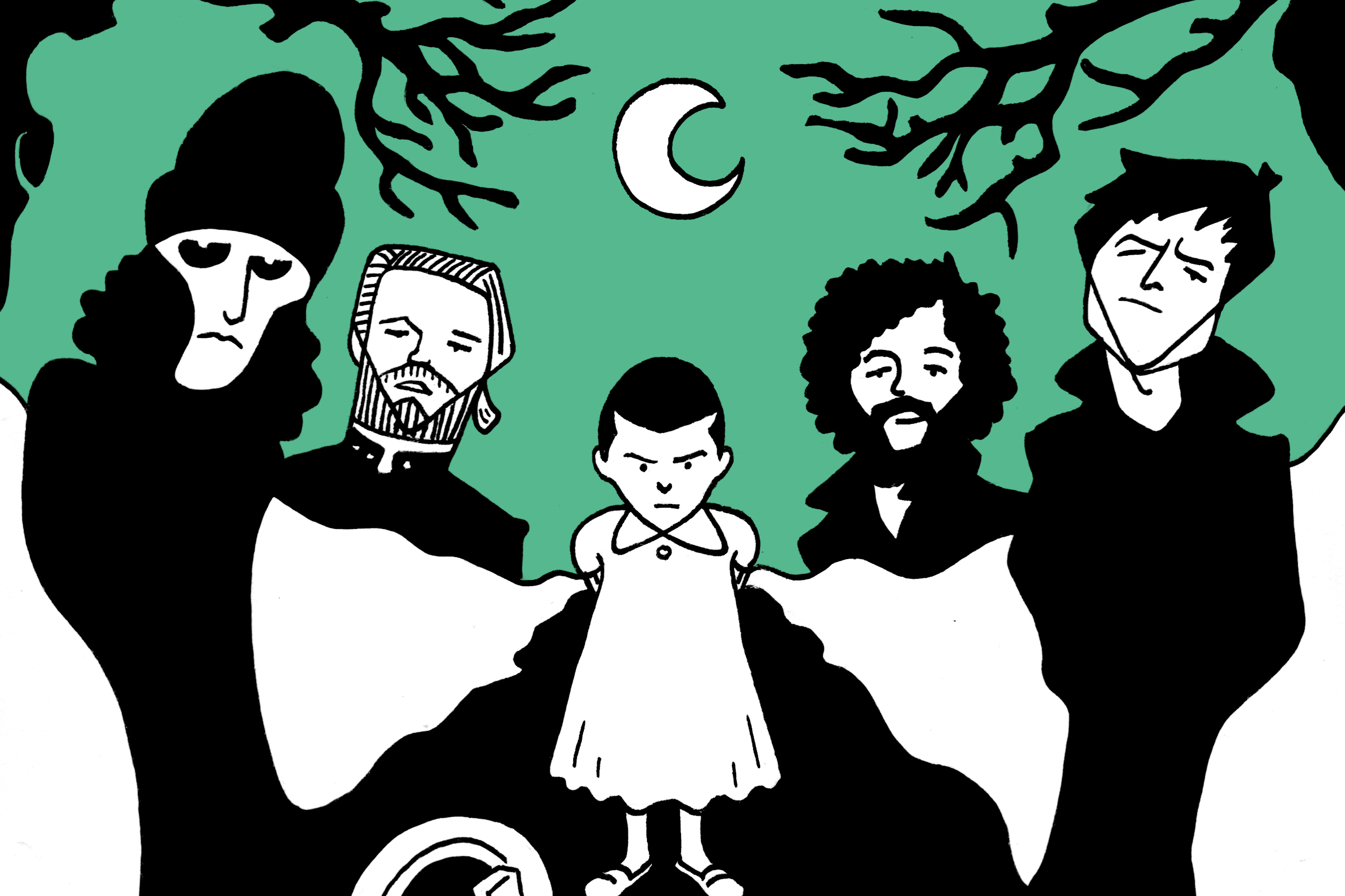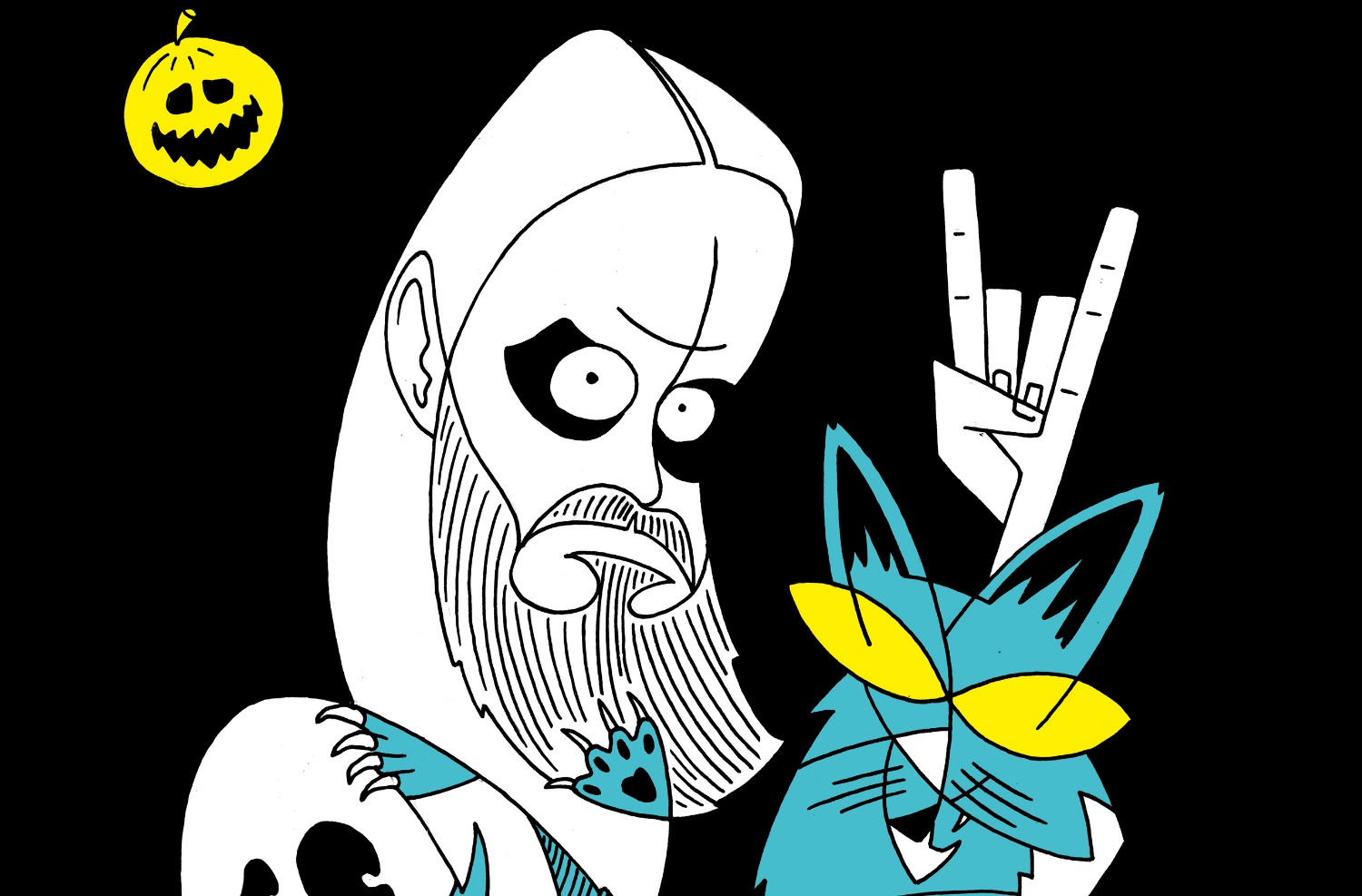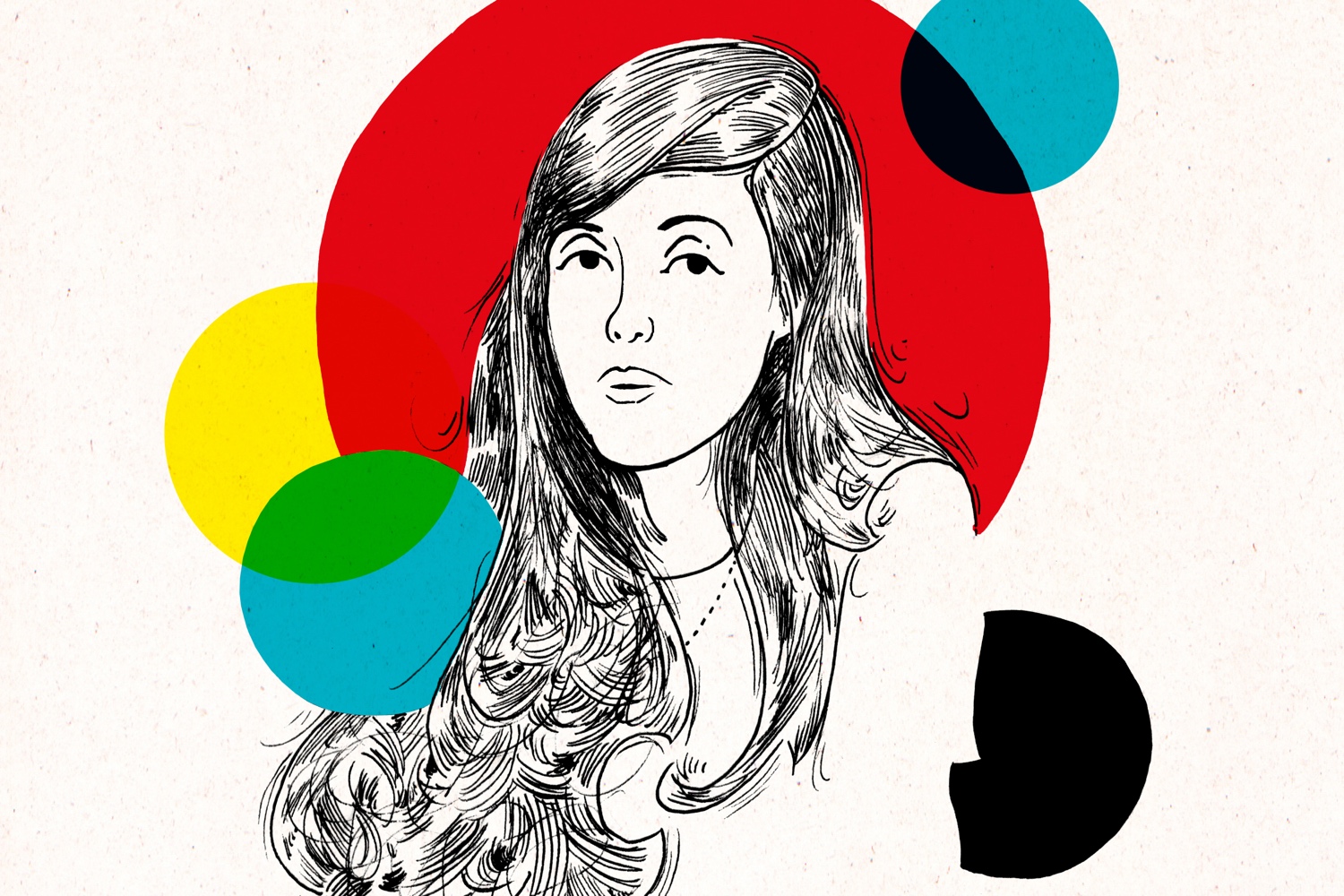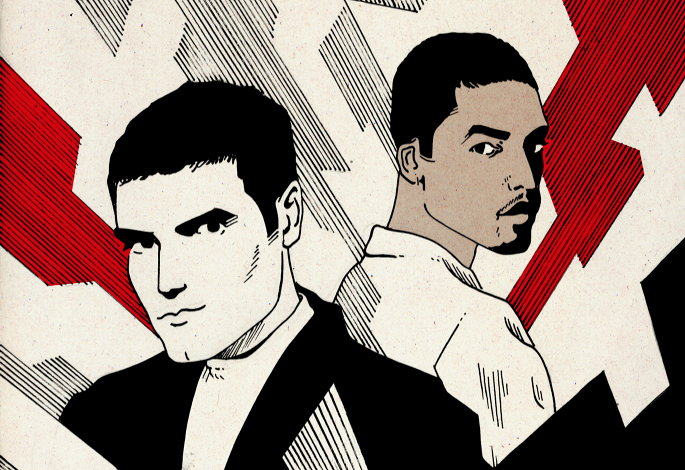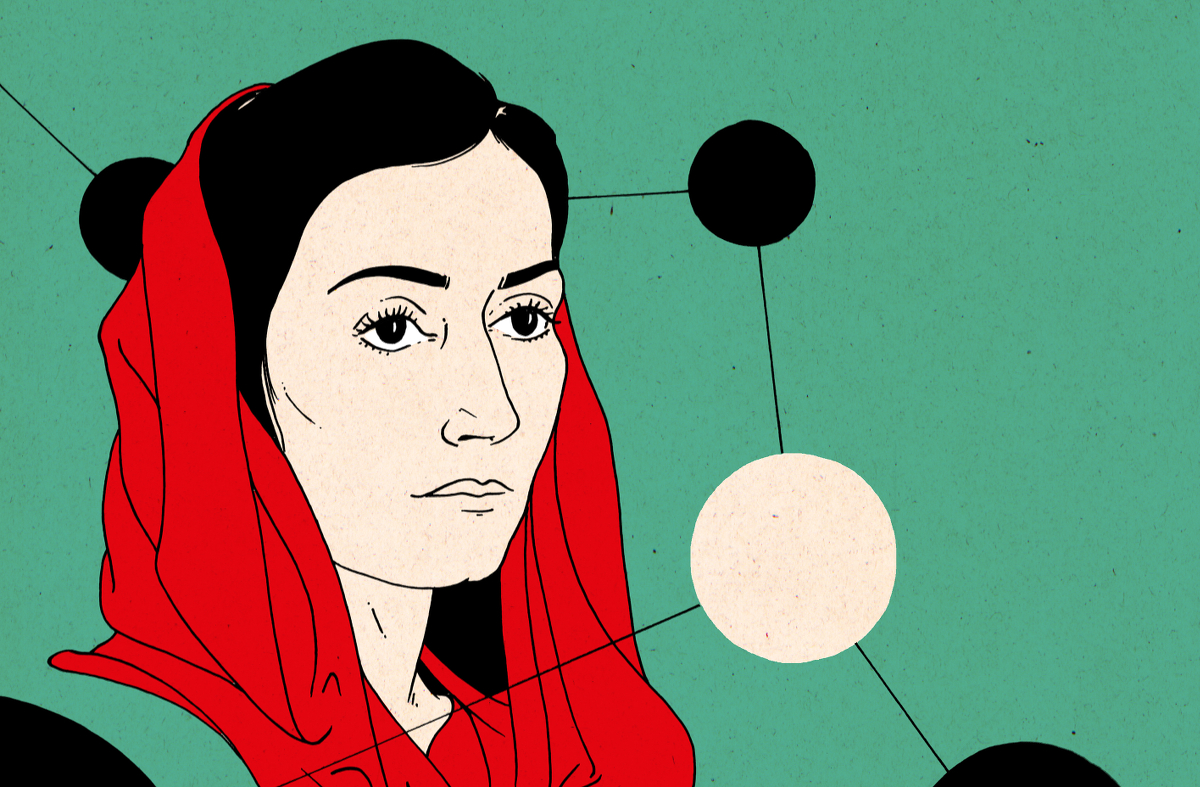 Johann Johannsson – FACT Mix 527