FACT Rated is our series digging into the sounds and stories of the most vital breaking artists. Next, Chal Ravens talks to Oakland musician Adam Keith about the bracing mix of noise, techno and industrial music he makes as Cube and life in the scene following last year's tragic Ghost Ship fire.
IN SHORT
Name: Cube
From: Oakland, California
Must-hear: My Cube LP (Left Hand Path, 2016)
For fans of: Prurient, Throbbing Gristle, Suicide, Ikara Colt
Ever feel like most of the music around you is just a bit, uh, pathetic? Ever longed to find a record that could crush your head tight until your brain pops like a blister? Ever dreamt of a collaboration between Prurient, Alan Vega, Merzbow and, god bless their short-lived blaze of glory, Ikara Colt? Sit yourself down, seeker – it's time to meet a man called Cube.
Adam Keith released his debut LP, My Cube, on San Francisco label Left Hand Path in the middle of last year. Imagine metallic jaws crushing a pickup truck down to a tiny block as its cassette player goes haywire, blasting screeching punk guitars, metronomic industrial throb and skin-melting techno out of blown-to-shreds speakers as it meets its grisly end at the scrapyard. It's the work of a compulsive creator who squeezes the most out of a bare bones setup.
In Oakland, Keith belongs to one of America's most fertile underground scenes, though one that made headlines for the very worst reason last December when an artist warehouse caught fire, claiming the lives of 36 people with ties to the community. As Cube, Keith's music channels his preoccupations with identity, homogeneity and, with Silicon Valley looming on the horizon, the tension between creativity and technology.
Raised in South Carolina, Keith started making music in his teens, playing guitar and going to punk shows while discovering noise and industrial (he got off to a good start with the cassette of Nine Inch Nails' Pretty Hate Machine he bought aged 11). But it was while living in Atlanta in 2008 that he started exploring electronics, "trying to get out of patterns you get stuck in with guitar" while looking for more creative freedom ("There are so many compromises involved in playing with a group of people").
Since moving to the Bay Area six years ago, he's edged closer to techno, inspired by the sheer volume of the club and influenced by "outsiders" like Hieroglyphic Being.
"I'm not someone to go out and dance, but I do appreciate aspects of it," he explains. "Growing up going to punk shows and then going to places where it's important to have a really great sound system – that's been inspiring. Like, why shouldn't it sound good? It's cool that there's a room full of people there to experience loud music for hours on end. Rock shows aren't really like that."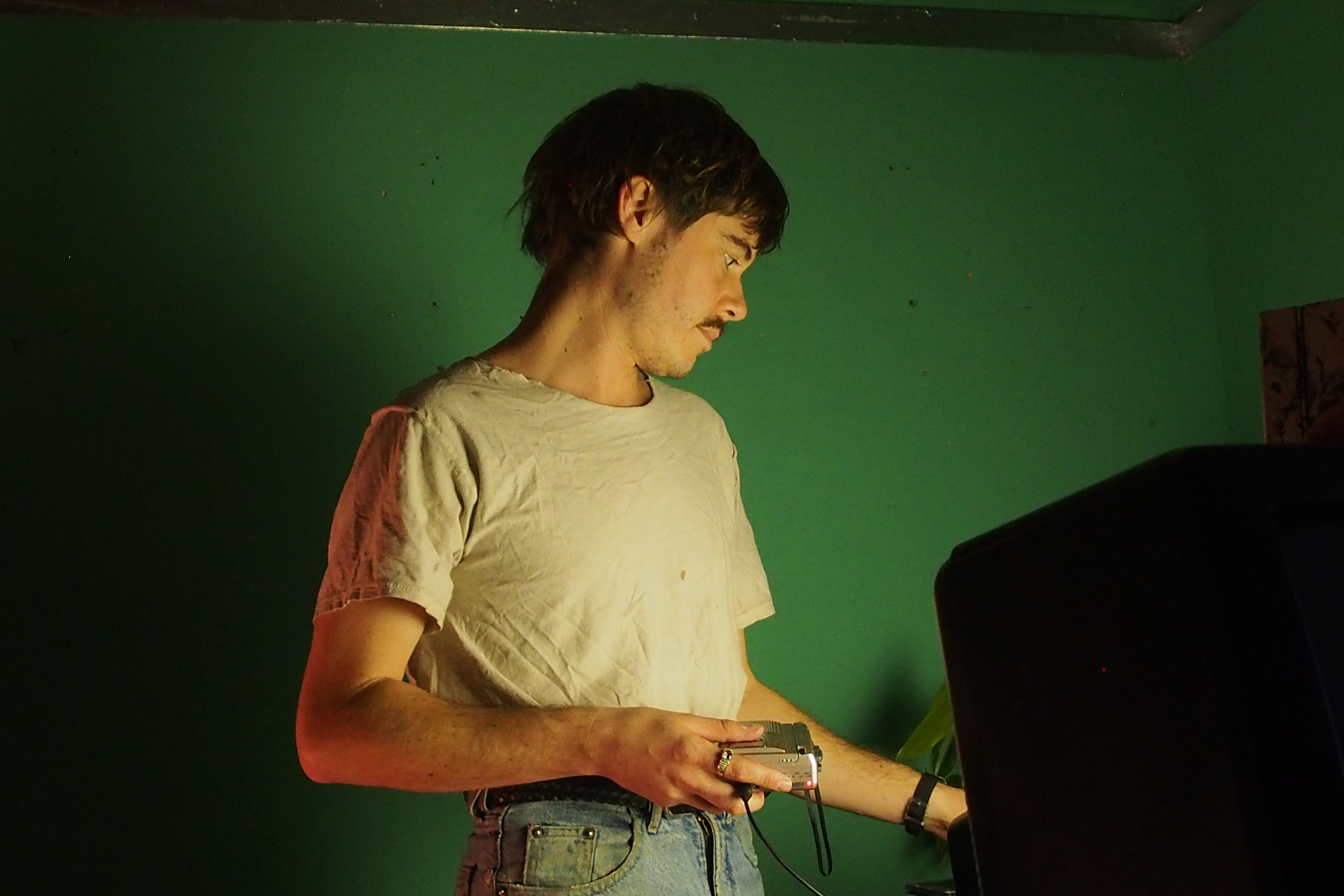 "I would record a skeletal idea and come back after I'd almost forgotten it. I'd approach it more from a DJ standpoint."
He records at home, typically using an MPC and "some kind of cheap synthesizer" to lay down home-brewed rhythms before adding chunks of heavily treated guitar. "Most of it is recorded to cassette so I can layer other stuff," he explains, "and then make wild changes in the pitch or the speed if I want to." My Cube was written and recorded over a long period, during which he'd flip-flop between ideas to keep them fresh.
"I would record a skeletal idea and come back after I'd almost forgotten it," he says. "I'd approach it more from a DJ standpoint, so it'd be like raw material for a new thing. Almost in place of collaborating, I'd forget that I made it and try and approach it in a naive way."
Listening closely to My Cube, even at its most raucous and gnarled you can sense the work of a careful songwriter, and several tracks feature the voices of Keith and his partner Miel Lister. "Precious, ambitious, anonymous," they chant behind a wall of guitar scree on 'Emblem'. "My problems, my emblem, my prize." The lyrics point to a recurring preoccupation in Keith's songwriting.
"I feel like we live in this culture," he ventures, "where one of the benefits people have is they get to carve out their little nook that they occupy – 'This is what I'm about, this is my set of beliefs, these are the signifiers that let people know, and these are the things I buy or read that reinforce that.' And that really can be a super limiting way of viewing a world. I guess that's a shift I've noticed in my lifetime, and specifically a technologically based shift, where, as things become more homogenous, they are somehow doing so under the guise of being more individually liberating. Everyone has their own 'page', or whatever. There's something kind of cheap or grotesque about it."
The way our identities are flattened and oversimplified by technology is "dangerous", he adds later over email. The web is "often a distorted mirror" that lets us view the world in terms of our own experiences and values, and so "rather than understanding, we are given the reassurance that we are experts. All nuance and context are removed in the name of a simple, user-friendly experience."
The Bay Area, with the tech giants of Silicon Valley looming just down the freeway, is "ground zero" for this tension between the nuances of human interaction and the flattened arena of social media. "But there's this contrast here – it's very communal as well," he says of Oakland's tight-knit scene. "It's definitely the most insular but also really supportive scene that I've been a part of. Oakland is like a small town in that way." The Ghost Ship tragedy has taken its toll on everyone in the community, however. "I probably knew seven people who died in that fire," he notes. "It doesn't take much of a push for me to be kind of a hermit, but there's definitely been a different energy [since the fire], and it's not hard to find an excuse to stay in lately."
Since the My Cube LP, Keith has put out two tapes of new material, the most recent, Crisis Actor, appearing at the beginning of this month to coincide with a US tour. The tapes are "more like sketches," and for such a prolific musician, they seem to act as a vital pressure valve for his obsessive recording. "My room is no longer completely full of tapes covering the whole floor," he says with relief. "Releasing a cassette is almost like a purge. Less for posterity and more like, okay, I got that out there – maybe I can clean that part of my room."
Making music is "compulsive," he sighs. "I don't even like it sometimes." But maybe it's saving him from some other, far worse, compulsion? "I should be grateful that it's one that's not very destructive – as far as I can tell."
My Cube is out now via Left Hand Path.
Chal Ravens is on Twitter
FACT Rated: Kiff wants to reach Trinidad, New York and beyond with his sizzling soca-club sound