FACT Rated is our series digging into the sounds and stories of the most vital breaking artists around right now. Next up, rising Nottingham rap duo Young T and Bugsey tell Al Horner how their fierce sound came to be championed by Stormzy and why they're determined to see their home city get the shine it deserves.
IN SHORT
NAME: YOUNG T AND BUGSEY
FROM: NOTTINGHAM
MUST-HEAR: 'GANGLAND' (BLACK BUTTER, 2017)
FOR FANS OF: STORMZY, RAE SREMMURD, J HUS
Young T and Bugsey move fast, and the world moves fast with them. The Nottingham duo – whose wrote their recent single 'Gangland' one week, shot a video for it the next and watched it fire to half a million plays seven days after that – have in 12 months been championed by Stormzy, signed to the label behind Afrobeats hero J Hus and released a string of singles that sound as urgent and spontaneous as the impulsive way they create. "We don't mess around, we just go where the moment takes us," smiles Bugsey, the more talkative of the two: Young T, his accomplice, who makes the lion share of their beats as well as trading bars with Bugsey, is quieter but equally charismatic.
It's a bright day in the city's St Ann's area, where we meet at the community studio and arts space from which the duo are striving to build a rap empire. Nottingham, and their respective childhoods in the East Midlands city, play a strong part in their identity. "Our sound is the both of our cultures and backgrounds without any kinda boundaries or restrictions," says Bugsey of the pair's collision of murky, bass-heavy beats with sounds from their adolescent years: ad libs borrowed from their respective Nigerian and Jamaican parents' record collections, grime flows inspired by school days rapping over instrumentals nabbed from YouTube, and hooks paying homage to lazy sofa sessions in front of MTV Base. "50 Cent, Snoop, Pharrell – that era was it for us," laughs Young T. "Hot summer days, you'd still be inside watching MTV Base, the whole day."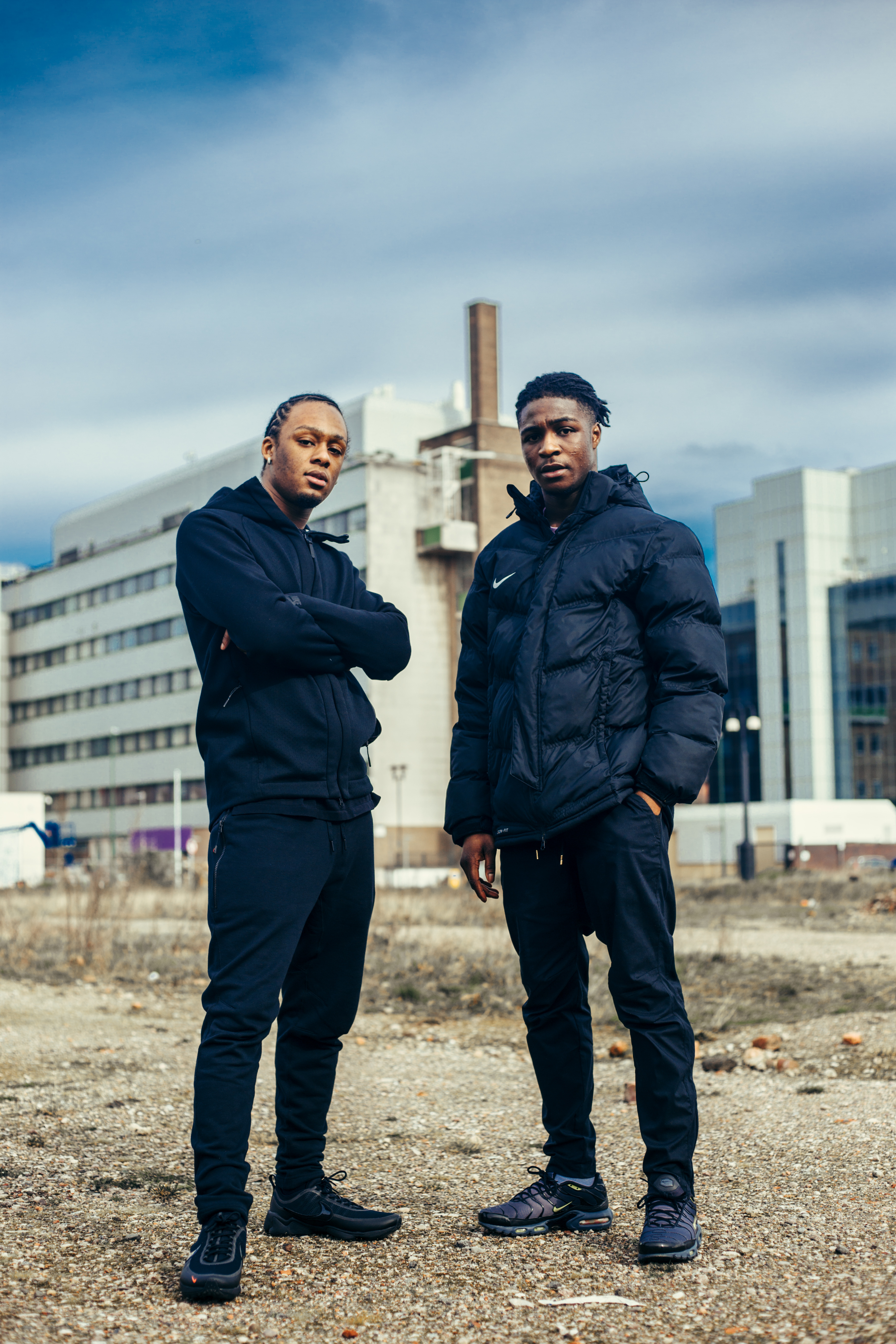 "Stormzy felt what we were doing and we're grateful to say he's been really supportive since"
Young T and Bugsey met aged 15, having been aware of each other's DIY recordings on separate sides of the city. When they eventually linked up, first as part of a collective before zeroing in on their chemistry as a duo, they quickly found themselves to be on a similar level, musically and otherwise. "We each bring something to the table that the other maybe wouldn't," says Bugsey. "We're very different in a lot of ways but in other ways exactly the same. And we've grown up together from there. My problems are his problems, his problems are my problems."
Their grind towards the brink of blowing up began with a debut single, '1st Quarter', which was followed by more tracks, each one building their buzz in the local region and beyond. Then came a chance encounter with Stormzy behind the scenes of a Westwood Crib session in 2015. "We were bare young and thought: we gotta rap for him," says Bugsey. "He started rapping with us, so we're there going back to back with Stormzy. He felt what we were doing and we're grateful to say he's been really supportive since."
"If you can get your city behind you, to believe in your sound, then you're good"
Since then, breakout singles 'Glistenin' and 'No Mickey Mouse Ting' have further helped establish them as on a mission. "Shooting the videos for those felt like a moment for Nottingham," say the pair, whose roots in the area have also fostered a sense of healthy sense of us-against-the-world in the duo – nothing as dramatic as an outsider complex, but definitely an awareness that UK rap has always had London as its centre of gravity. "When you're not from London, it's like, bruv, we need to make sure our city is onboard," says Bugsey. "If you can get your city behind you, to believe in your sound, then you're good."
It seems like they're well on track there. A few days after we meet, Stormzy rolls through the city on his #GSAP tour, interrupting his set to welcome "Nottingham's finest" and stepping aside to let Young T and Bugsey perform 'Gangland', turning Nottingham Rock City into a shout-along frenzy. Is Stormzy-level success what they're aiming for? "Next, we're just gonna make sure the next couple of singles we drop are just bangers," says Young T. "Festivals in the summer. The aim this year is to release a project. But we ain't gonna do that till there's demand for it. We'll see." They may not have a concrete plan for blazing to the top, but then again why should they – so far, they've done just fine going where the moment takes them. Young T and Bugsey really aren't messing around.
Al Horner is on Twitter
Read next: Avelino is the Tottenham MC with the 'Rich Soul' and ever richer sound