FACT Rated is our series digging into the sounds and stories of the most vital breaking artists around right now. Today, we meet Sheffield's Blood Sport who blend trance-inducing noise rock and glitchy electronics with explosive live shows featuring armies of drummers and kaleidoscopic visuals. With a release on techno producer Helena Hauff's label forthcoming, the band speaks to Dylan Daniel Wray about the joys of rhythmic chaos.
IN SHORT
Name: Blood Sport
From: Sheffield, England.
Must-Hear Release: Axe Laid to the Root (Blast First Petite, 2016)
For Fans Of: This Heat, Hieroglyphic Being, Factory Floor
The birthplace of Cabaret Voltaire, Clock DVA, The Human League and the legendary Warp label, Sheffield has a well-established legacy of forward-thinking electronic music, often set against a backdrop of discordant, industrial noise. Building on their city's rich history, Blood Sport, a furious three-piece who describe their sound as "aggro-beat", are pushing industrial noise and electronics into new territory. Through a combination of guitar, mangled vocals and both live and electronic drums, the trio create live dance music that thunders with the might of techno, but flows with the looseness and jarring sting of post-punk.
Since 2011, the group have put out a handful of releases on local DIY labels, such as Tye Die Tapes, The Audacious Art Experiment and their own label, Hybrid Vigour, before signing to Blast First Petite – home of Pan Sonic, Martin Rev and Factory Floor – to release Axe Laid to the Root in 2016.
Playing non-stop, largely improvised sets that build and tease, the group's skin-searing performances mirror the journey of a masterfully executed DJ set, often reaching brain-melting levels of intensity and unpredictability. This led to them to release Live At Cafe Oto, recorded during their two day residency at the cult London venue in 2016, playing with the traveling Moog Sound Lab. The release reflects their exploratory nature as a live band: gut-wobbling beats underpin the heavy squelch of synthesizers and sputtering electronics that all bleed into gloriously rhythmic chaos.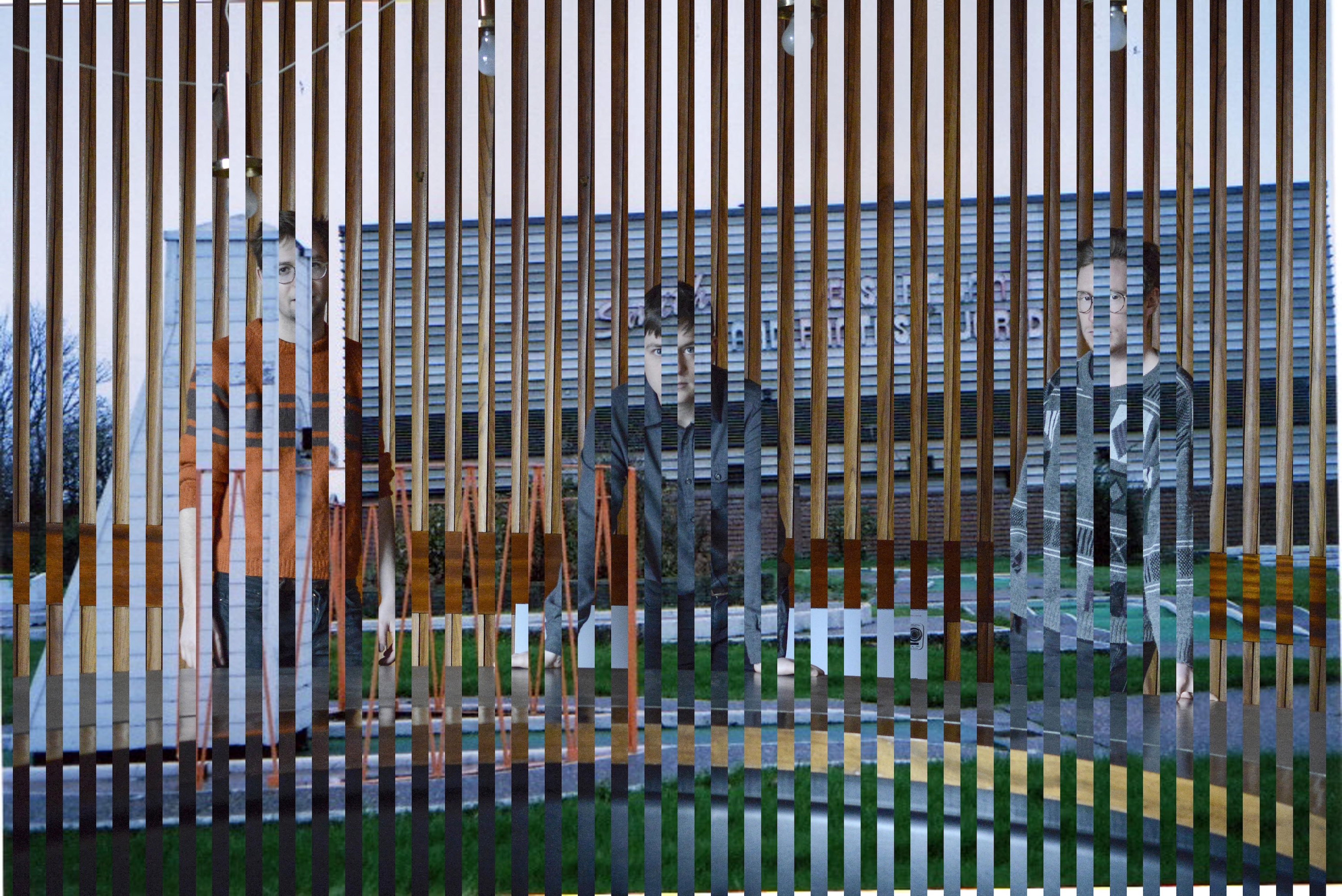 "It's amazing to have the energy of live performance permeating every aspect of the release – visual as well as auditory."
When not busy touring or throwing huge parties – bringing the likes of Mica Levi, Nkisi, Inga Copeland, Gnod and Islam Chipsy to Sheffield – the group enjoy focusing on collaboration. "When we started, we were perhaps more interested in the power of polyrhythm and exploring myriad global influences we had at that time," the band's Alex Keegan tells me. "Whereas now our aim has evolved to take in a lot of the key features of what we've been doing recently: Collaboration, dancefloor deconstruction, live rhythmically-driven performance and intersectional dance music."
The band have recently collaborated with Algorave, a local outfit who throw live coding parties across the world. Blood Sport are collaborating with collective at this year's Supersonic Festival and have even created a special sample pack, so anyone can "mangle our sounds in a coding environment." An accompanying live-coded video has been made of their recent album, too. "It's a kaleidoscopic visual interpretation of the frequencies of our live record. It's amazing to have the energy of live performance permeating every aspect of the release – visual as well as auditory."
A "murky, gloopy, tetchy" collaboration with labelmates Giant Swan has been recorded, and and an upcoming collaboration with Sheffield industrial noise artist Negative Midas Touch is blossoming. "She makes harrowing soundscapes akin to a soundtrack to Neil Hamburger's 'The Final Relaxation', but can conversely about-turn with DJ sets dabbling in trance and text-to-speech MCing. That will be more pummelling, noisy and techno-based."
Next up from Blood Sport is a release on Helena Hauff's Return to Disorder label, a 12″ that's set to capture the latest period in the group's history before their next evolutionary step into the unknown. "We see what we do right now is fundamentally dance music engineered for the dancefloor and intense, intimate crowd-interaction," they conclude. "With live rhythmic exploration at the core of that."
Daniel Dylan Wray is on Twitter.
Read next: Kenyan rapper and producer Nu Fvnk is helping pave the way to a Nu Nairobi