The 10th edition of XXL's influential Freshman Class arrived yesterday and featured Kamaiyah, Playboi Carti, PnB Rock, Aminé and other rappers just about to blow up. Andrew Friedman argues, however, that in 2017, the list doesn't go nearly far enough in illustrating the diverse spectrum of contemporary rap.
Yesterday, XXL announced the line-up for its 2017 Freshman Class. It's a decent list, full of reasonable guesses as to who will become rap superstars in the coming year. More importantly, there are no questionable industry plants, obvious favors to bigger artists, or attempts to rewrite the genre's narrative in real time. (Kyle may never surpass 'iSpy' but you can't say 'iSpy' doesn't go!)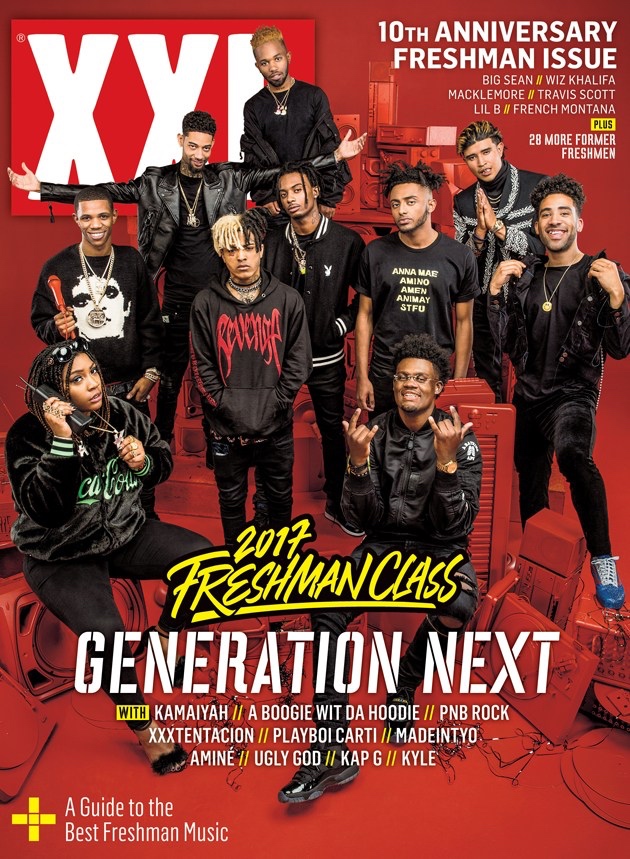 The 2017 Freshman Class marks the 10th anniversary of XXL's annual list of up-and-coming rappers. Looking back, the lists have aged surprisingly well, especially given how the hip-hop community railing against them seems like as much of a tradition as the list itself. The last decade of Freshmen includes reaches (where is Donnis?), late passes (OJ da Juiceman the year after 'Make Tha Trap Say Aye'), omissions (Lil Bibby but not Herb in 2014), and frustrating misses (come back Pill!). But very few of the artists have disappeared entirely, and the majority are still making relevant music. And if nothing else, XXL made decent time capsules for those moments in hip-hop, even when they were wrong: in 2013, Trinidad James really did seem like the future (beyond making a Bruno Mars song awkward for white people).
But even as the annual Freshman Class has proved its worth, XXL faces challenges if it wants to keep up the good work. While the magazine (and the music press in general)'s role as a gatekeeper is widely overestimated, making a list of who's next in hip-hop still involves a lot of value judgements which reverberate throughout society. Implicit in the Freshman Class are ideas about what is and is not hip-hop, what audience counts as mainstream, and who deserves fame for their work.
Anecdotally, the conversation around this year's list has been more existential than in previous years. Beyond debating who got snubbed, who may have turned down an invite, and the nature of XXL's alleged agenda, the community has been especially concerned about inclusion. In a post-'One Dance' world, where are the Caribbean and African artists? Why aren't producers eligible? How should the magazine best address thriving sub-genres and niche audiences? For its success, Metro Boomin, Cardi B, Stormzy and Popcaan (to name just a few) could all have bumped almost anyone last year or this year.
To be fair, this isn't entirely unexplored territory. In 2014, the magazine embraced the ever-blurring line between rap and R&B with their inclusion of Ty Dolla Sign and August Alsina. In previous years, they have acknowledged the huge but off-the-map fanbases of rappers like Macklemore and Jon Connor. (The Freshman Class aside, as a self-proclaimed hip-hop magazine with the legacy it has, XXL will have some role in deciding the boundaries of the genre as long as it has readers.) But the new questions are important, and questions XXL will increasingly have to consider as any list of the important figures in hip-hop includes fewer capital-R Rappers every year.
Andrew Friedman is on Twitter