Each week on the FACT Singles Club, a selection of our writers work their way through the new music of the week gone by.
This week, Dizzee is back with our first look at new back-to-rap-basics album Raskit, we need to talk about Jaden Smith's 'Batman', and Calvin Harris, Katy Perry and Pharrell catch some 'Feels' on another cut from the Scot's collab-heavy upcoming new record.
Elsewhere, Belfast duo Bicep mark their signing to Ninja Tune with a new track from their eagerly awaited debut full-length, Young Thug shows off his singing talents and west London don AJ Tracey goes to 'LA4AWEEK'. Let's dig in.
---
Dizzee Rascal – 'Space'
Daniel Montesinos-Donaghy: Rascal's last album had a song called 'Arse Like That' with Sean Kingston so it felt like all hope was lost. But 'Space' feels like a back-to-basics move, with a minimalist beat and never-ending word tumbles. It's effective enough. For now. (7)
Chal Ravens: Finding Dizzee in hood-up-and-seething mode is clearly an improvement on the farting-about-with-Robbie Williams years, but it still feels like he's got some explaining to do after the haphazard eclecticism of The Fifth. I mean, Dizzee spent years disavowing his grime roots – now that the tide has turned he's got a rap album for us, has he? I see, I see. Production-wise, 'Space' doesn't feel like the strongest introduction to a record that should highlight what he was best at in the first place – but he's clearly not aiming for a chart smash this time. (5)
Carl Anka: Dizzee quite clearly thought he'll never reach the heights of 'Bonkers' again, so he's not even going to try. It's great when OG grime stars go back to their bread-and-butter flows over minimal beats, like an aging gunslinger reminding us they can still mess you up whenever they choose. (8)
Jibril Yassin: Dizzee actually sounds engaged for the first time in eons and it helps that the production keeps out of the way of his fury. It's a weird look for him to dive back into grime after consciously sitting out most of the past few years, but it's definitely a look worth revisiting for him. (8)
Tayyab Amin: Dizzee swings from bar to bar like Tarzan here, but the flow is lacking in grace. For a song about giving oneself space, there sure are a lot of syllables crammed into each line and that's what reduces this to a draining listen. (4)
6.4
---
Jaden Smith – 'Batman'
Carl Anka: It takes a special kind of brass to turn up at Kanye West's wedding in an all-white Batman suit. The same kind of brass to take Future's 'Jumpman', slow the pace and somehow still come out with something… good? Jaden Smith is only 18 but he's already had a better music career than his dad. Weird. (7)
Chal Ravens: I've tried to think if there is anything in the world less interesting in principle than a music single by the son of Will Smith, and I'm really struggling, damn. The beat, the concept, the flow – it's all a lazy rehash of ideas from the drearier end of the 2015-2016 Drake/Future spectrum and would be headed straight for the struggle-rap abyss were it not for Jaden's son-and-heir status as the Fresh Prince of Bel Meh. Minus an extra point, always, for the Scientology. (1)
Daniel Montesinos-Donaghy: Spacey and bopping yet unmemorable in the way that most of Jaden's music is, but you owe it to yourself to watch the video. Do it now. (6)
Jibril Yassin: I was really hoping this was a cover of Kanye's unreleased 'Black Bruce Wayne'. While Jaden's got a ton of potential, it's still bogged down by his tendency to go for haphazard, languid rapping above everything else. All indications show Jaden is a weird dude who happens to be rich – so it's boggling as to why he opted to dustily recreate 2015 and even then, not do it very well. (3)
Tayyab Amin: While I really do wish I was even just 20% as cool as Jaden, I really can't pretend there is much good about this. His voice comes across as dull and badly mixed, the beat is uninteresting and ultimately there's nowhere near enough oomph here to justify such a lit video, which really is great, allowing Jaden's totally endearing sense of humor to come through in the form of a superhero street-fight. (4)
4.2
---
Calvin Harris feat. Katy Perry and Pharrell – 'Feels'
Chal Ravens: Hire a spread of Professional Guest Artists, insert Tab A into Slot A, press record, submit to iTunes. I like the little Stevie Wonder edge to Pharrell's vocal but K-Pez is unsalvageable and it's called 'Feels' for Kek's sake. Bobbins. (3)
Daniel Montesinos-Donaghy: Harris's seemingly eternal album rollout deftly folds into the Katy Perry comeback narrative, as well as Pharrell's Minion-fuelled summer takeover (and whatever Big Sean is doing). Pop synergy working perfectly, BUT it sounds so light and easy that it doesn't feel as brazen as it should. Cocktails, please! (7)
Carl Anka: So sick of reviewing Calvin Harris songs for Singles Club. We know the drill now. We're impressed Calvin has teamed up with heavy hitters from the US. I'm disappointed this song is less than the sum of its collaborators, but I'm still gonna bump it all summer. (6)
Jibril Yassin: Admittedly a better use of Pharrell's talents than 'Heatstroke' proved. But the allure of this new album sound is starting to wear off. That or tapping Katy Perry to do a very not-very-Katy Perry chorus is getting to me. (4)
Tayyab Amin: Sloppy. Big Sean's appearance is better than 95% of his new album, which admittedly isn't a monumental achievement, but let me be happy for the rap star perennially punching above his weight, okay? (6)
5.2
---
Bicep – 'Aura'
Daniel Montesinos-Donaghy: Let it be noted that I would totally sign up for a gym called Bicep Aura – their spin class would probably play macho '90s synth stuff like this for the deep inclines! It writes itself! Ninja Tune PR people, I expect my money wired by midweek. (6)
Chal Ravens: There's always a time and a place for swooning, stomping, face-chomping techno in this mould, but this is too bulky and linear to stick out much as a standalone track – you've heard these arpeggios so many times before, children of the dance, and you will hear them again. Would sound cracking in Ibiza, probs. (6)
Jibril Yassin: This might seem juvenile but the synths really do seem transported out of a bad SNES game and I can't convince myself otherwise when those happy, bouncy arpeggios make their way in. Where's the conflict? (5)
Carl Anka: A techno stomper for all occasions. Perfect for the gym, festivals, pre-drinks. Just wear some sunglasses and do that weird dance where you look like you're typing on an invisible keyboard. A minute too long, mind. (6)
Tayyab Amin: You can just picture the montage of unfurling flowers, pollinating bees and glowing sunshine with this one. There's an endless well of summery dancefloor anthems that reach for feelings of carefree elation, but few are able to make those feelings as tangible as this one. Just delightful to vibe to. (8)
6.2
---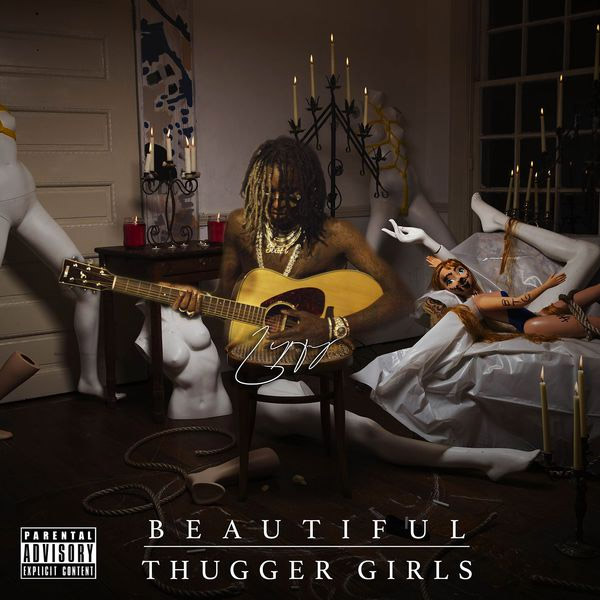 Carl Anka: Young Thug on Spanish guitar? Sometimes you don't know you want something until it's put in front of you. This is a horrendously sexually explicit song and I can't wait to see how many listens it takes people to notice. (7)
Chal Ravens: I can't stop thinking about whether this is actually 'The Zephyr Song'. But could any contemporary composition really hope to equal such poetry, such profundity? If anyone can do it, Thug can. (7)
Daniel Montesinos-Donaghy: Between the sticky, straight-faced raunch and elegantly picked Spanish guitar, this is more or less Thugger doing a Americanised take on bachata. The Prince Royce version of this is going to be amazing. More of this please! (8)
Tayyab Amin: Everyone joked about Usher having a midlife crisis when he collaborated with Thugger, but now we can see that he was simply passing over the reigns. Young Thug is truly the romantic R&B bard of the future. I heard Young Thug inspired your MCM to bring a lute to the house party so he could get his MC Romeo on. I heard Young Thug invented the TV show CSI when he explained how a CAT scan revealed "white stuff" on his jeans. I heard Young Thug singlehandedly created the field of sound art when he belched out the ad-lib "freaky-deeky". (8)
Jibril Yassin: Only Thugger could make raunchy disappointment sound like the Second Coming. (8)
7.6
---
AJ Tracey – 'LA4AWEEk'
Jibril Yassin: This feels much longer than its four-minute run time and maybe the tacked-on hook and inclusion of guests is to blame? It feels redundant, taking away from AJ's spotlight – an unwise move considering he had the best verse here. (7)
Chal Ravens: I've been neutral on AJ since he showed he was going down the more "transatlantic" route, if you will, and this tune furthers that theme by splitting airtime with NY's Swoosh God. The result is palatable, but it's not always easy to find a beat and a mood that suits rappers from both sides of the pond – in this case, the AutoTune intro seems kind of tired and out of place. Would prefer a Swoosh-less take. (6)
Carl Anka: AJ is a good MC with a bad ear for beats. He's always looking to link up clever bars, constantly slashing your ears with one of the best flows about. But he's not quite delivered a banger in 'LA4AWEEK'. There's enough spark here to suggest he's getting there though. (6)
Daniel Montesinos-Donaghy: Rewind to the first of two Kehlani shows in London, earlier this year. She announces that she is bringing out a hometown guest and everyone screams in heightened anticipation for Stormzy to perform their 'Cigarettes and Kush', only for AJ Tracey to walk out. The reaction is confounded, then bored, as he and his friends amble around to the sounds of 'Pasta'. 'LA4AWEEK' is another good song from Trace, but he's not the superstar he appears to be in his head, and sounds a little more anonymous than he did this time last year. "Cookin' up a jawn…!" he hums at the end, a pointer to a banger that didn't really connect the way he may want it to. Confession: I love 'Pasta' but come on, I was the only person excited at that Kehlani show for him. (5)
Tayyab Amin: Jumping off an Aminé remix with Missy Elliot onto a track with two guys I never knew 'til now, AJ Tracey really is everywhere. Swoosh sounds like Meek Mill-lite here, just two modes: off or fully on and barking, and Sloan Evans' autotune is a nice idea left hanging by its execution. AJ's knack for hooks and the night time cruiser of a beat make this one for me. (7)
6.2
---
Final scores:
Young Thug –'You Said' (7.6)
Dizzee Rascal – 'Space' (6.4)
AJ Tracey – 'LA4AWEEk' (6.2)
Bicep – 'Aura' (6.2)
Calvin Harris feat. Katy Perry and Pharrell – 'Feels' (5.2)
Jaden Smith – 'Batman' (4.2)