Recorded deep in the Australian bush.
Liars has announced the new album TFCF will be out this summer on Mute Records.
An abbreviation for Theme From Crying Fountain, it's Liars' first with frontman Angus Andrew as the sole member following the amicable departure of founding guitarist Aaron Hemphill.
Though the band has made home in New York, Berlin and Los Angeles during their long career, TFCF finds Andrew returning to his birthplace of Australia to record in a remote area of the bush. Today you can hear the first single 'Cred Woes'.
"There's acoustic guitar all over this record! How ridiculous is that?" Andrew explains in a statement, though you won't hear much of that in the first single.
However, a string of teaser videos spelling out the album's full name has shown a wide range of sounds, from the jagged dance music of 2014's Mess to the eerie electro-acoustics of their 2006 masterpiece Drum's Not Dead.
TFCF is out August 25. Take a look at the tracklist and artwork below.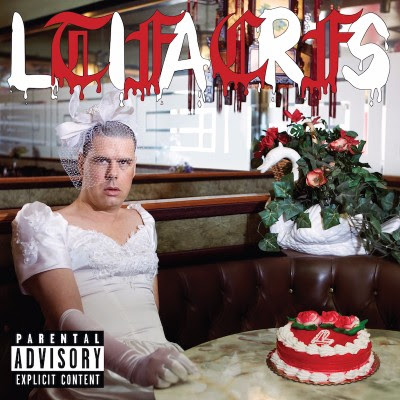 Tracklist:
01. 'The Grand Delusional'
02. 'Cliché Suite'
03. 'Staring At Zero'
04. 'No Help Pamphlet'
05. 'Face To Face With My Face'
06. 'Emblems Of Another Story'
07. 'No Tree No Branch'
08. 'Cred Woes'
09. 'Coins In My Caged Fist'
10. 'Ripe Ripe Rot'
11. 'Crying Fountain'