No matter what kind of music you make, a good bass instrument is essential. Scott Wilson picks seven of the best bass VSTs for making deep low-end, chunky arpeggios and oscillating basslines.
It doesn't matter if you make banging warehouse techno, beatless ambient music, soulful deep house or indeed, almost any genre of music: bass is a vital element for crafting a rich, full sound. A good bass instrument is essential, whether it's a bass guitar or a synthesizer, but not everyone can afford hardware. Thanks to the many software synths on the market though, a computer is a worthy alternative.
Pretty much any software synthesizer can create a satisfying low-end sound, but there's a whole category that's geared towards making bass. Some use oscillators that can be modified like an traditional analog synthesizer, other use samples of real instruments and a few use a combination of both. Many are modeled on real hardware, like Roland's TB-303, but a lot of the best are based on original designs, like Sugar Bytes' innovative Cyclop.
As with any category of music-making software, there are a lot of options on the market. Below are seven of the best bass VSTs, from replicas of vintage gear to futuristic devices with outlandish modulation features. Most of these can be picked up for around $99, but if you want to try them out first, free demos are available.
---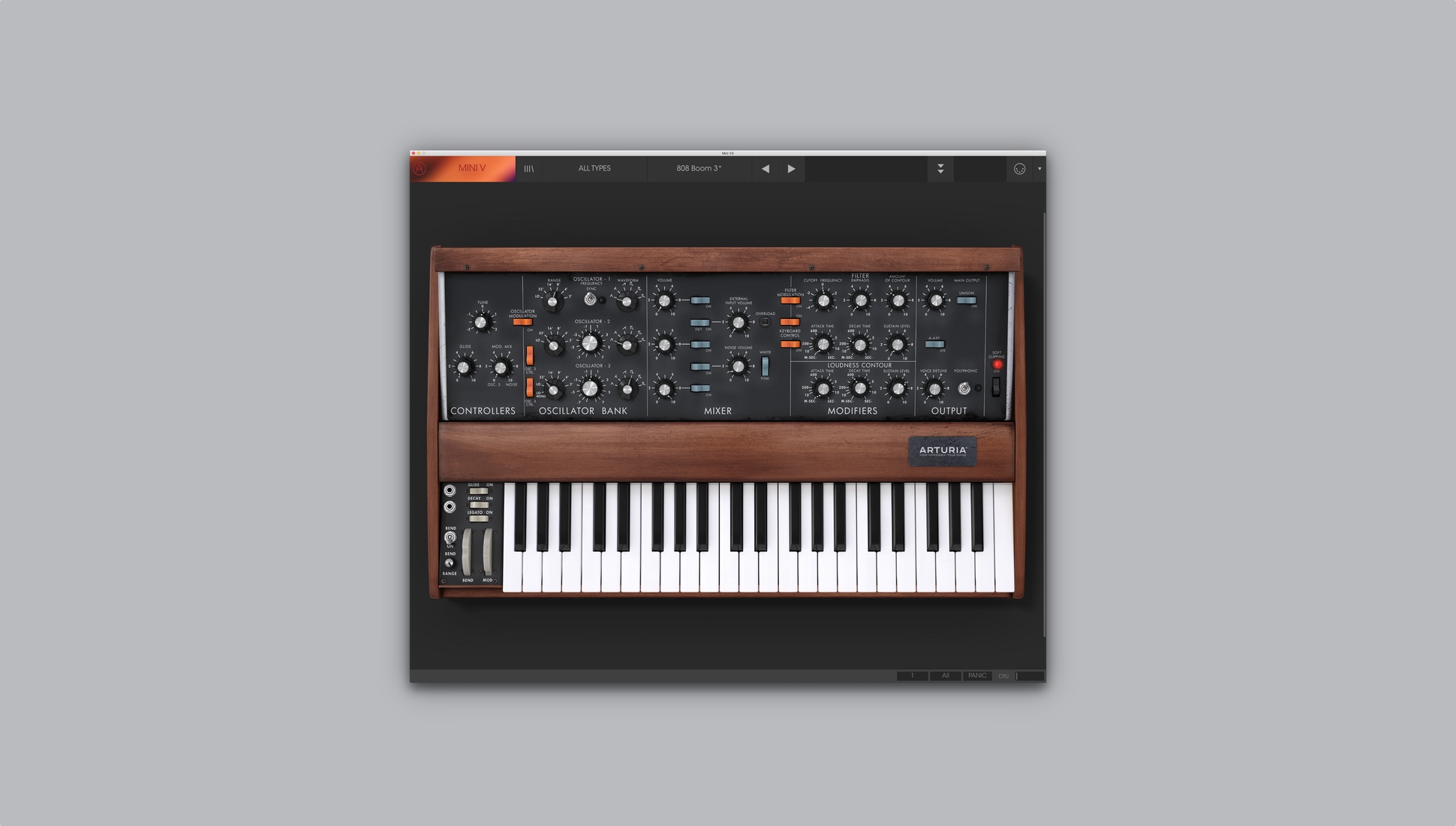 If you want to make a bassline, sometimes it's best to go with a proven classic. Moog's Minimoog Model D debuted in 1969, and its four-pole low-pass filter is still a better tool for creating "creamy" bass sounds than almost any other synth. But though the Asheville company reissued the synth in 2016, it's still prohibitively expensive for most people. Thankfully, Arturia's software emulation sounds fantastic and costs a fraction of the price.
The Mini V doesn't just look the part, it was made in partnership with Bob Moog and even manages to replicate Moog's famous ladder filter. It's also got plenty of extra features too, including a vocal filter for synth speech sounds, a motion recorder for making unusual presets and a polyphonic option.
---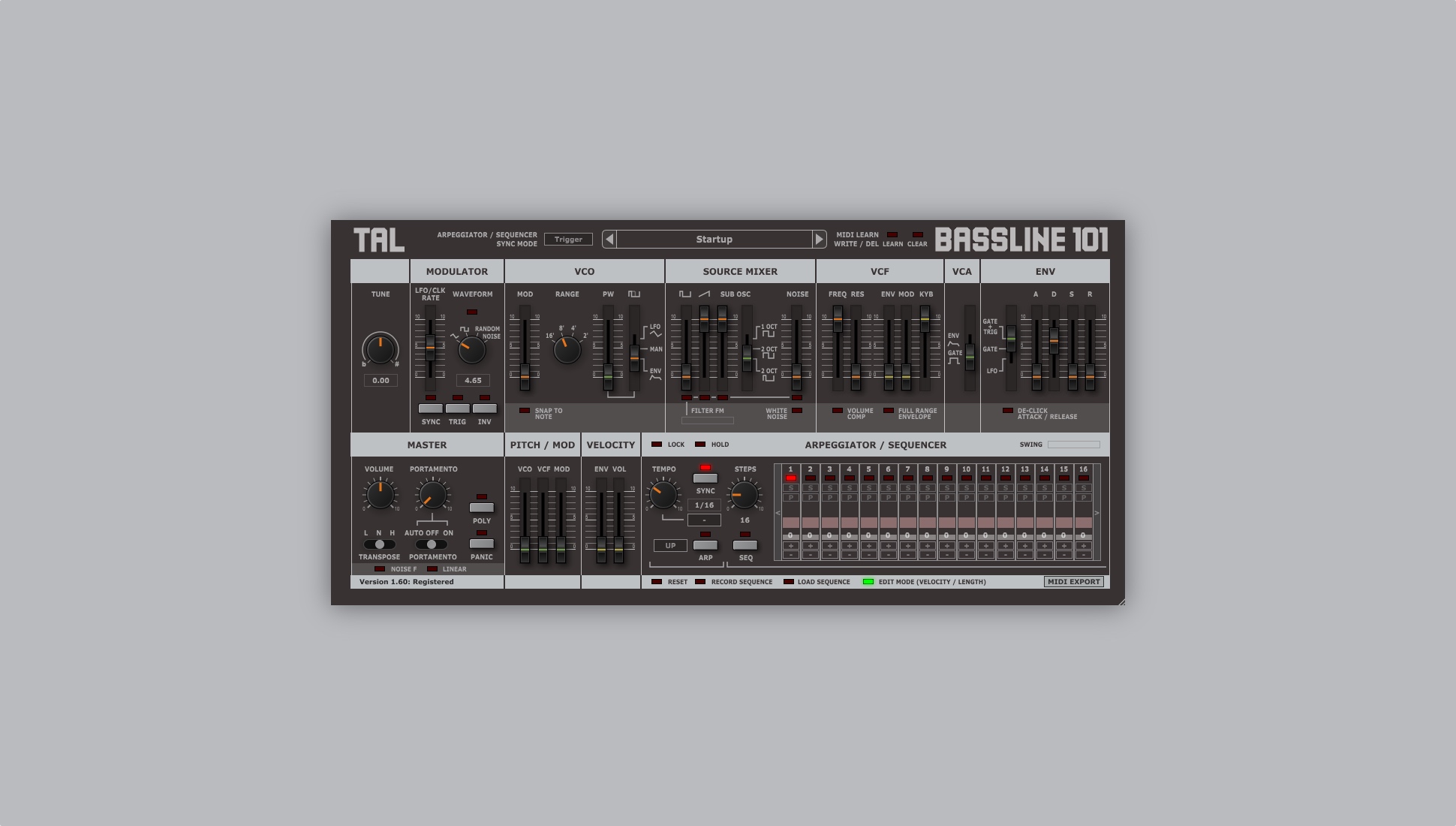 TAL
Bassline-101
$60/£47
Released in 1982, Roland's snazzy SH-101 is an all-time classic, especially for making basslines. The monophonic instrument lacks some of the Minimoog's thickness, but it's got a character that's still prized by producers today. It's hardly surprising that a used model can cost as much as $800.
TAL's Bassline-101 offers fans of the sound a solid, affordable emulation of the synth right down to the easy-to-use front panel and also makes a few improvements. The SH-101's internal sequencer is given a graphical interface with the power to go up to 96 steps, while the Filter-FM feature allows the synth to use an oscillator waveform as a modulation source for the filter cutoff – something that'll create chaotic sounds not possible on the original. The Bassline-101 isn't as feature-packed as something like Native Instruments' Massive, but its simplicity makes it perfect for novices.
---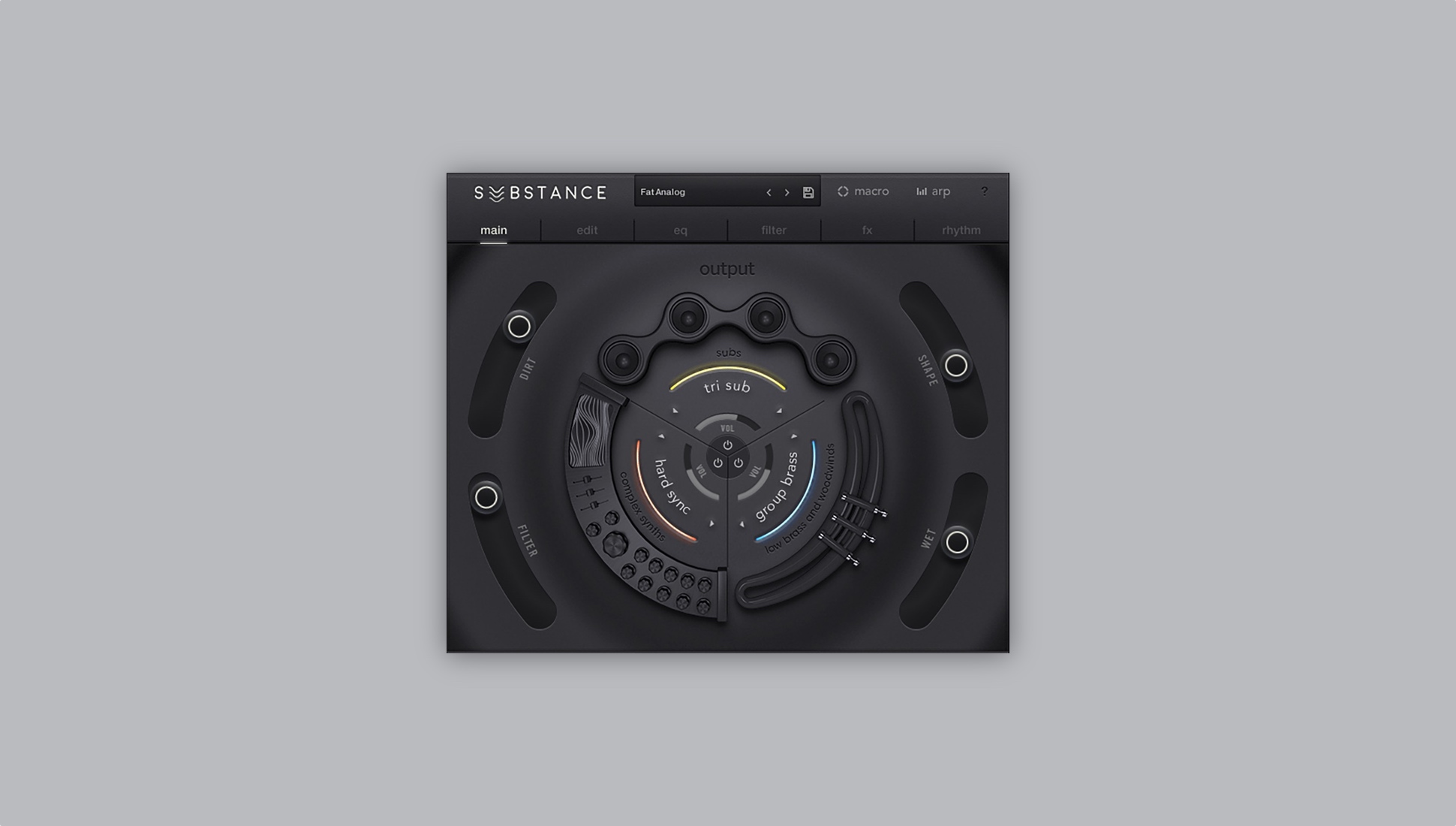 Substance isn't a synth – it's a sample-based instrument that combines up to three layers of sound to create monstrous bass. Hybrid instruments are something of a speciality for Output, but Substance is its most grin-inducing product; it's capable of making everything from big room trap blasts to subtle acoustic strums and simmering analog arpeggios.
More importantly, its instruments are incredibly simple to use. There are plenty of options under the hood if you want to go deep on tweaking the envelopes, filters and effects, but the most important parameters are easily reached on the front page, so you can modify key elements like noise, shape and tone quickly. It makes it as powerful an instrument for live performance as it is a studio tool. In fact, it's one of the most effortless bass tools you can buy.
---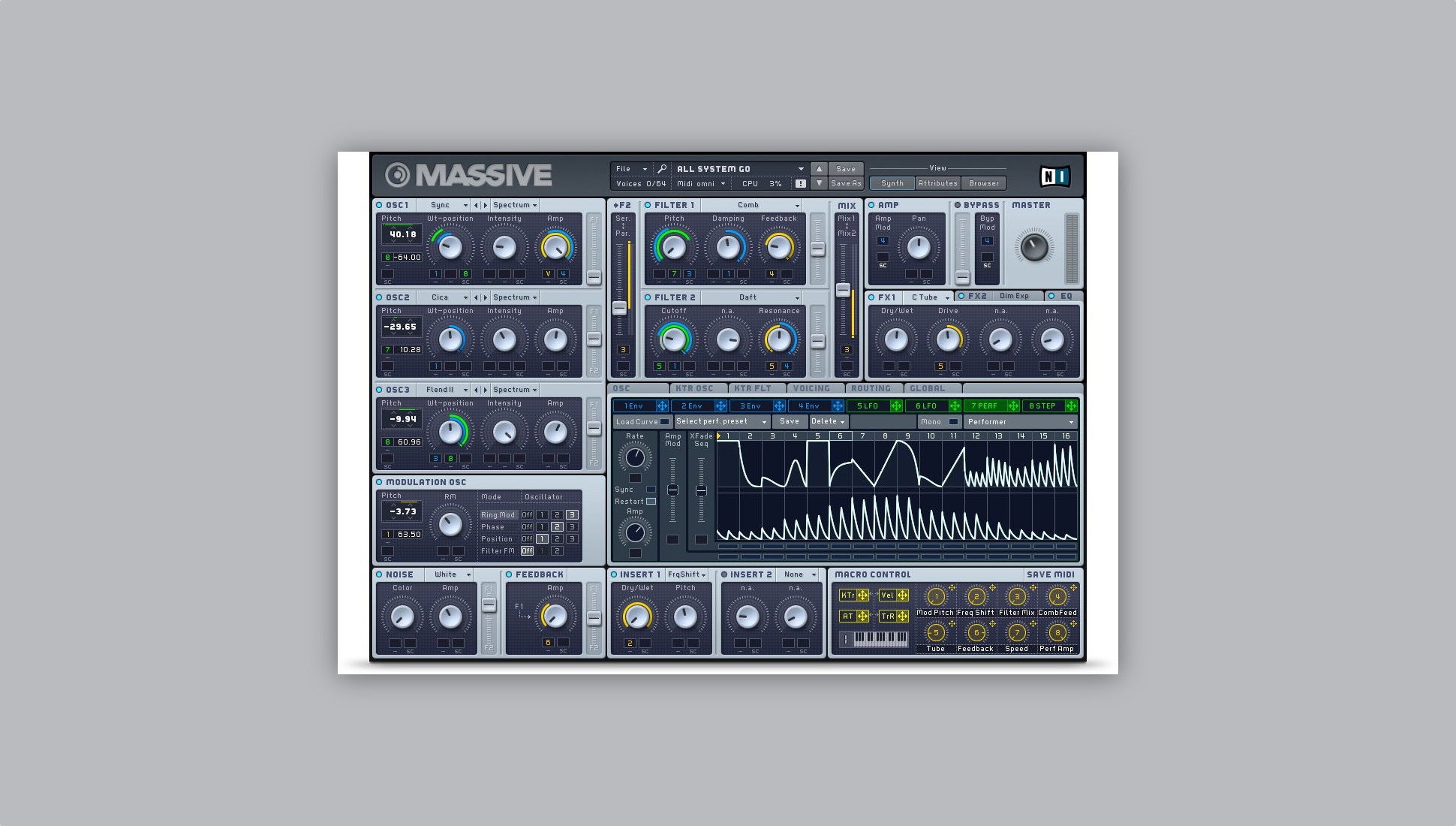 Native Instruments
Massive
£129
NI's Massive has been around since 2007, and while it looks a bit long in the tooth next to more recent synths like Razor or Form, it's still one of the most popular bass tools available. Instead of taking direct inspiration from vintage hardware, Massive uses a combination of wavetable synthesis technology and a simple drag-and-drop interface for programming modulation.
Commercial dubstep and EDM probably wouldn't sound the way it does without Massive, such is the synth's influence. However, it's capable of far more than just ear-splitting womps: it's a flexible synth that's able to do traditional acid bass, Moog-style textures and more. More surprisingly, it's equally useful for leads and the ability to assign modulation sources to any parameter means there's plenty to dive into once you've exhausted the presets.
---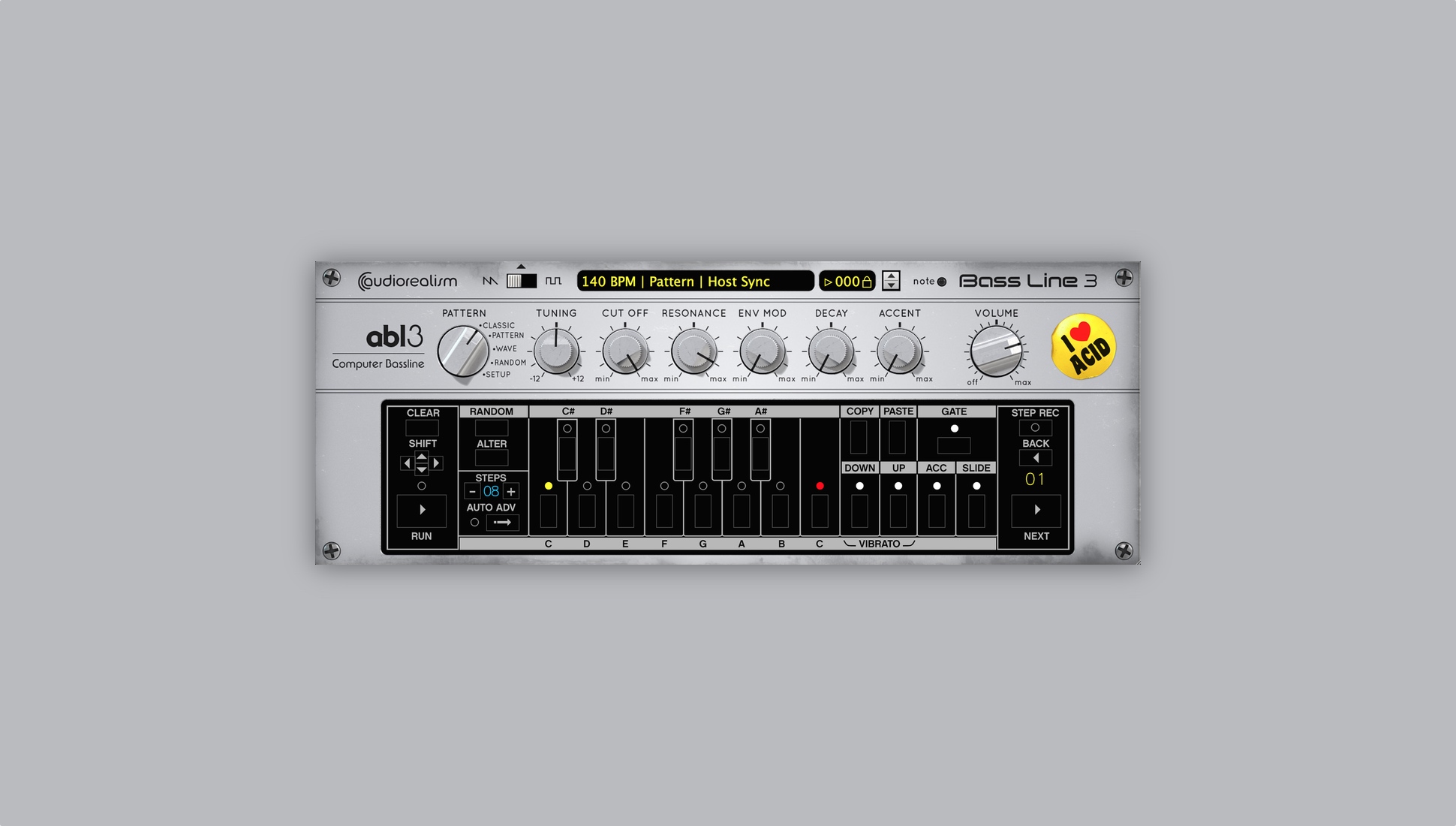 Audiorealism
Bass Line 3
$95/£91
Roland's iconic TB-303 is available once again in hardware thanks to Roland's TB-03 reissue, but there's still a place for Audiorealism's Bass Line VST. Along with Rebirth and the x0xb0x it was one of the best ways to get 303 bass without shelling out a small fortune on eBay, and even now, it's still got its advantages over hardware thanks to handy features like the wave analyzer, which automatically transcribes 303 patterns, and randomizer.
However, it's the hands-on feel of the Bass Line 3 that makes it a winner. All of the familiar parameters, including cutoff and resonance, are present and easily mapped to a MIDI controller, and using the step sequencer to create a pattern is actually easier than the 303's classic mode. The raw, screaming side of the 303 is definitely overused, but if you lower the resonance and experiment with some filters, it's possible to get subtle, understated basslines, too.
---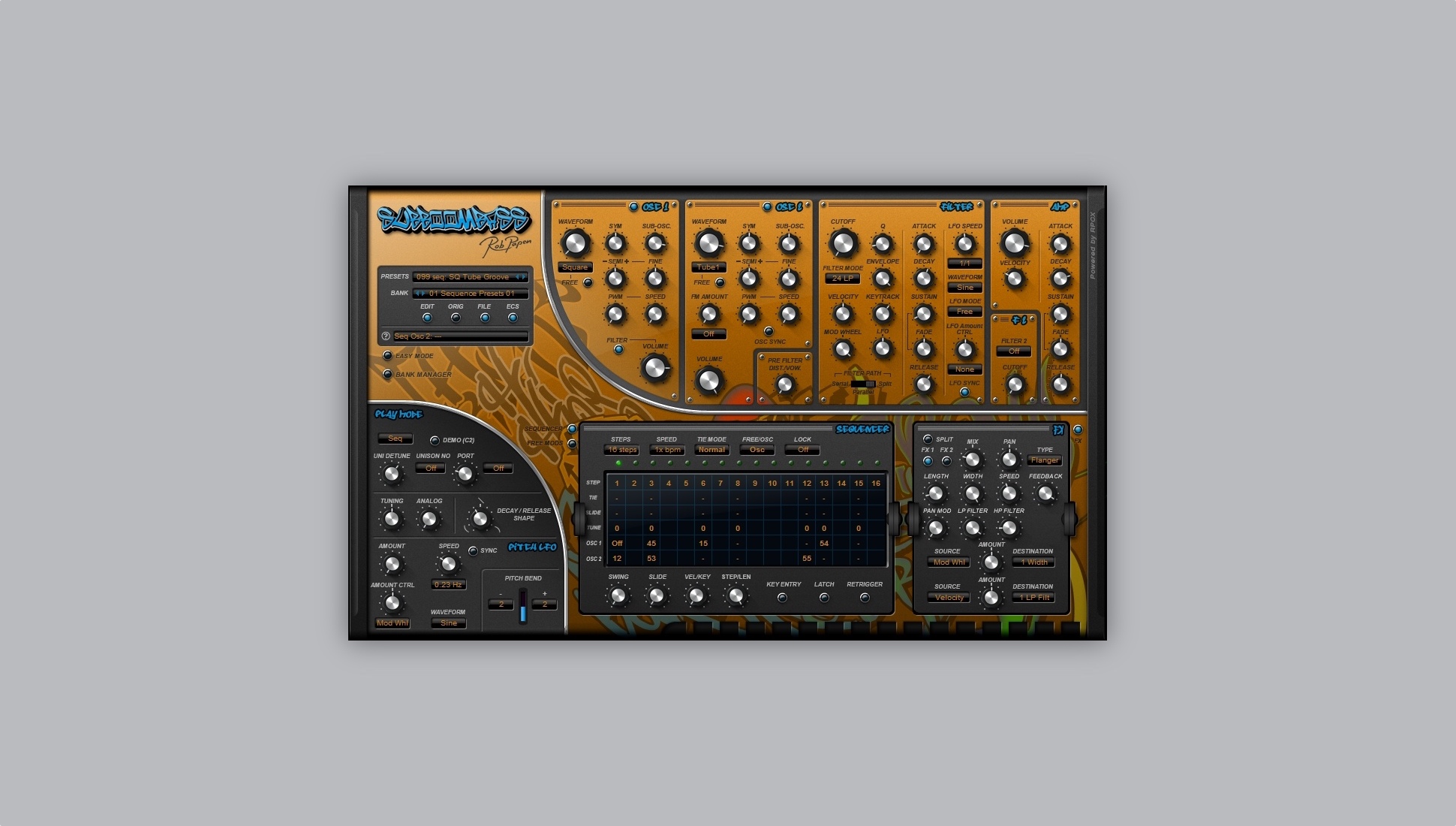 Rob Papen
SubBoomBass
$99/€99
SubBoomBass is an overlooked gem. The graffiti-inspired design might scream "80s", but inside is a modern yet intuitive sound engine that goes much further than its two oscillator setup suggests. As well as the standard sine, square, saw and triangle waveforms, SubBoomBass offers lots of sampled waveforms for adding unusual texture to your bass sounds, including congas, djembes and timpanis.
The result is an organic-sounding bass plug-in that's also great for creating rhythmic sounds, especially when used in conjunction with the built-in sequencer. SubBoomBass isn't billed as a plug-in for creating organic bass sounds, but if you're looking to create dusty house or hip-hop then it's well worth investigating – especially for the presets, which generally steer clear from cheesy commercial territory.
---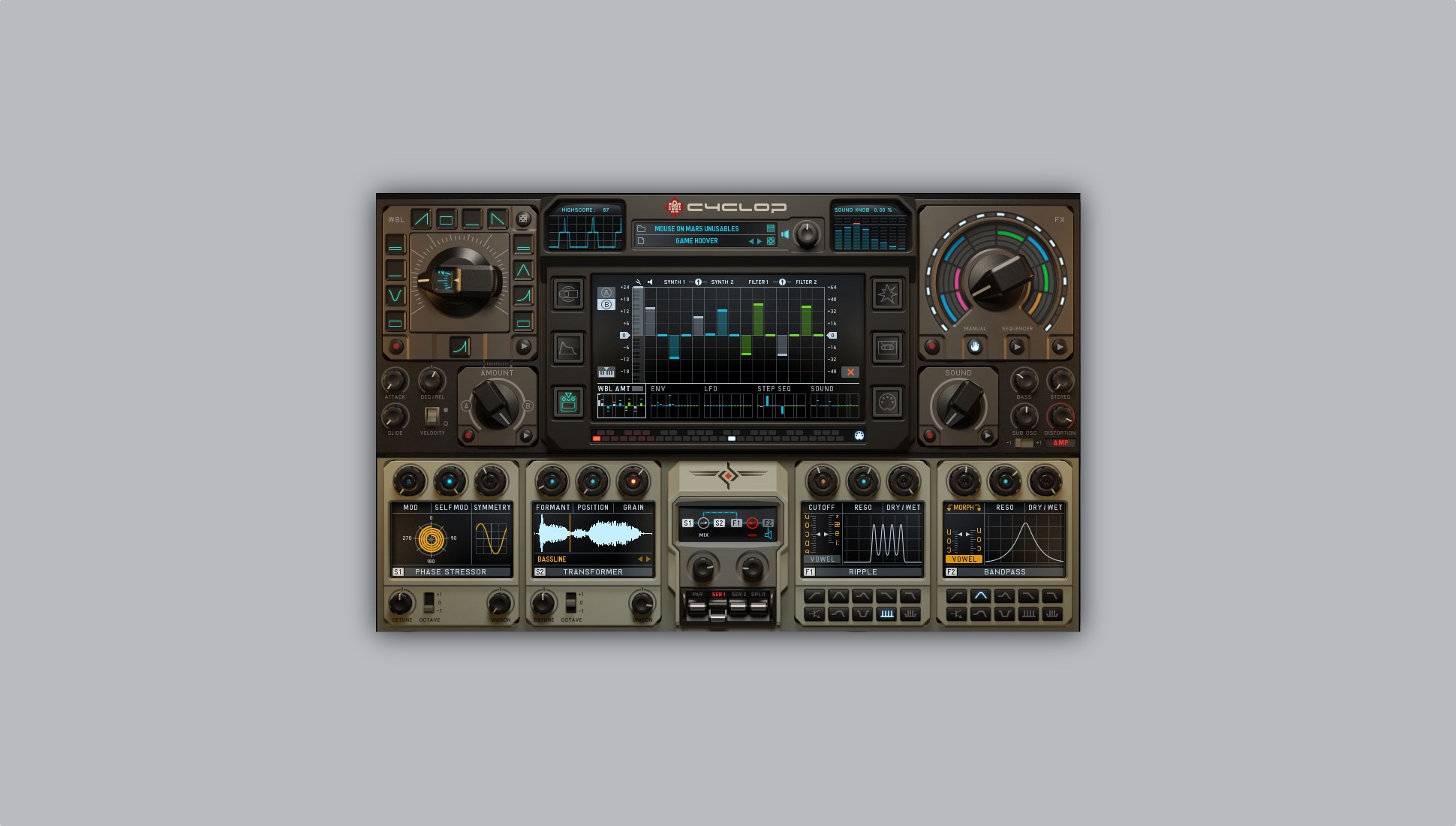 If you love wobbling basslines, Sugar Bytes' Cyclop is perfect. The synth's unique selling point is a dedicated "wobble knob" that modulates both synth and filter, synced to the track's tempo. The knob will even move wildly as you do it, which gives you a great idea of what's actually going on. The whole thing is like the control panel for a giant robot mech – and it's just as much fun to use.
The Cyclop's sound definitely lies at the commercial end of the bass and dubstep spectrum, with a very digital sheen. However, if you're willing to experiment then it can yield the kind of textures that would be just as useful for underground club and even noise artists, with some of the sequences sounding almost as weird as the stuff that comes out of Reaktor's expansive sound engine.
Scott Wilson is on Twitter
Read next: 7 innovative VST synths for making cutting-edge sounds