The three-oscillator synth arrives in December.
Athens-based Dreadbox has unveiled the latest addition to its family of hand-made analog gear, a €429 ($493) monosynth called Medusa.
Like many of Dreadbox's all-in-one synthesizers, the Medusa has patch points for plugging it into Eurorack modular gear, but also a built-in sequencer and arpeggiator developed by sequencer specialist Polyend.
The sequencer has 64 steps and memory for seven sequences, and is also able to record filter cutoff, modulation and velocity, while the arpeggiator has six different modes.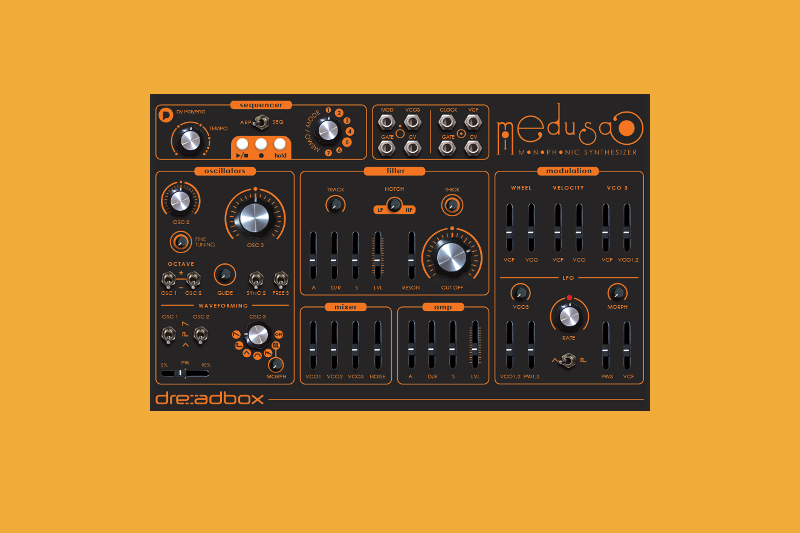 As for the sound engine, the Medusa has three oscillators – more than any other Dreadbox synth except the four-voice polyphonic Abyss. Two of the oscillators are capable of saw, pulse or triangle waves, while the third has an "advanced" mode that can make seven different waveforms.
The three voices bring the Medusa closer to the classic Minimoog architecture than any of Dreadbox's other synths, though the Medusa has its own extensive modulation section that sets it apart.
Dreadbox's Medusa will be released in December. However, it will be entering a crowded market for three-voice monosynths: Roland's SE-02 and the $299 Behringer D will both be competing for similar buyers.
Read next: Buying your first synth: What to consider and where to get the best deals