FACT Rated is our series digging into the sounds and stories of the most vital breaking artists around right now. This week, Jamie Ludwig meets Baltimore trio The Holy Circle, a trio founded by Terence Hannum of drone metal greats Locrian and his wife Erica Burgner-Hannum. Keeping only metal's cathartic spirit, the band blend shoegaze, synth-pop and R&B on their self-titled debut.
IN SHORT
NAME: The Holy Circle
FROM: Baltimore, Maryland
MUST-HEAR: The Holy Circle
FOR FANS OF: Black Celebration-era Depeche Mode, Kate Bush, Jesu
Comprised of husband and wife team Terence Hannum and Erica Burgner-Hannum with Nathan Jurgenson on drums, The Holy Circle mix atmospheric synth-pop with sultry R&B so seamlessly it might come as a surprise that Hannum is best known as a founder of experimental metal band Locrian. That connection has helped the band develop an audience across broad genre lines, drawing accolades from indie outlets as well as the metal press. "I think it's a perfect time [to experiment] right now. I think a lot of bands are blurring the genre lines in some ways, but it depends on who gets to it first," Hannum says.
The Holy Circle and Locrian both developed from experimental folk act Unlucky Atlas. The band was initially a solo project for Hannum when he was in college, but expanding to include Burgner-Hannum before growing into a full band (which included future Locrian co-founder, André Foisy). "Thematically, it was kind of the incubator for everything," Burgner-Hannum says. "We're still working within these darker themes, but as a songwriter I take a more personal approach. Terrence is a very different lyricist." Hannum agrees. "I'd say I'm writing a science fiction story when I'm writing Locrian lyrics… It's kind of a relief to me to be able to turn over the reins."
Burgner-Hannum describes The Holy Circle as a reaction against the "rigid parameters" they placed on themselves as songwriters in Unlucky Atlas. "It's funny to say this — because essentially The Holy Circle is pop music — but I can write the songs I want to write because I have the confidence: I don't care," she says.
This attitude is essentially the foundation for the band. On a whim one evening, the couple recorded an early version of their song, 'Basel', and posted it online before heading to bed. "It would have been considered a huge risk, 10-12 years ago with Unlucky Atlas, to write pop songs. We wouldn't ever have allowed ourselves to go there," Burgner-Hannum says. "So, that was sort of the catalyst for everything. 'Fuck it, we're going to write some shoegazing, noisy pop songs that don't fit neatly into any boxes.'"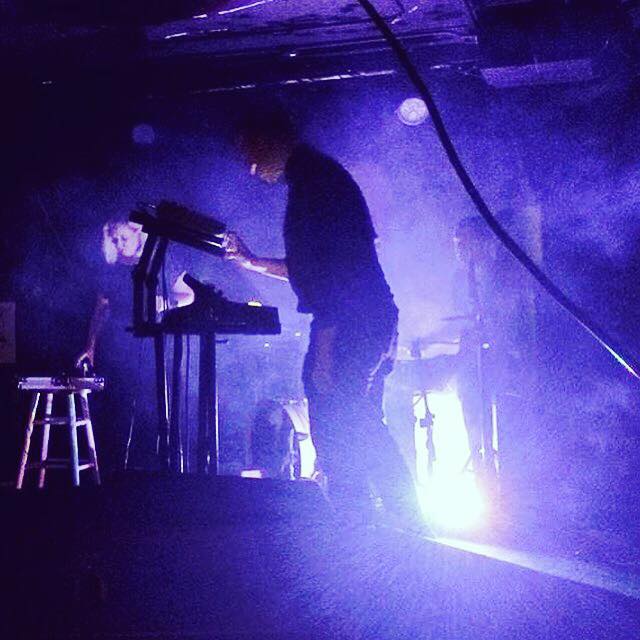 "I can write the songs I want to write because I have the confidence: I don't care."
By the time they woke up, their friends had blown up their inboxes wanting to hear more. One of the listeners was Jurgenson, who they knew from his work in darkwave duo Screen Vinyl Image. Following the release of a self-titled EP in 2016, Hannum and Burgner-Hannum asked Jurgenson to collaborate. So with a drummer on board, The Holy Circle put together their debut album, writing new material and re-imagining several older songs. "One thing Nathan brings to the table that kind of keeps all of us in check is that Terrence and I both have a tendency to make every single song epic. We want it to go on forever, and Nathan is like, 'Three-minute song you guys, let's go. Shave off a verse.'"
Thanks in part to Jurgenson's task managing, the bulk of the album's tracks are concise, but a couple of epics still managed to slip through. Among the most moving is, 'The Refugee', a collaborative effort that best illustrates the couple's different approaches to songwriting. Inspired by an emotional Frontline documentary about a family of Syrian refugees living in Europe, Burgner-Hannum wrote vivid lyrics from a heartbroken narrator's point of view. Hannum added an equally evocative intro, channeling memories and observations of his experience driving through the refugee encampment in Calais, France into an ambient soundscape. "It left a big impression upon me about what a lot of the refugees had gone through to get there, and how they were essentially thrown into this political purgatory. I am always like, "what does it look like?" so looking at this scene, and there are kids there — it brought something into focus."
Despite their newfound pop leanings, The Holy Circle recorded the album with rock producer J. Robbins (Jawbox, Burning Airlines), and hired Audiosiege Mastering's Brad Boatright, who worked on Locrian's 2015 album Infinite Dissolution, for mastering.
"You can think your recordings sound great, but when you get your mastered recordings back it's like someone pressed the 'Life' button. Between Brad and J. I was so happy," Hannum says. "I guess we've gone a very unconventional route."
"But we're unconventional, so there you go," Burgner-Hannum responds. "We haven't followed the rule book, why start now?"
Jamie Ludwig is on Twitter.
Read next: Abyss X is the electronic riot-starter channeling ancient Greek ghosts