FACT reviews are back! Stay tuned every weekend for our writers' takes on recent releases deserving dissection, and head to our all-new reviews section to keep track.
SoCal trio LA Witch's self-titled debut is a tough-as-nails, gritty exploration of psych, punk and rockabilly tinged with '60s girl-group nostalgia. Claire Lobenfeld peeks into the stale cigarette smoke-and-cheap beer-scented world they've conjured and finds it's just as sun-dazed you'd expect.
Things are far less simple than they seem on LA Witch's self-titled debut. The three-piece, comprised of frontwoman/guitarist Sade Sanchez, bassist Irita Pai and drummer Ellie English, have had their music described more with scenery than with sound: it's primed for seedy dive bars and sun-too-bright drives down dusty dirt roads. And, undoubtedly, their psych-tinged punk does evoke those (admittedly, totally satisfying) tropes, but there is way more going for the album than the desert daze and the Sunset Strip sensations being ascribed to it.
The trio have said they admire artists like Black Sabbath, the Gun Club, Joy Division, the Cramps, and "any band Nick Cave was ever in" and those influences are clear throughout the album, but it is exactly how these references are deployed that shows the band's ability to craft something new within the confines of such a classic sound.
Opener 'Kill My Baby Tonight' immediately dismantles dive bar clichés with its synthesis of drone metal, post-hardcore and '60s girl-group pop. It's the perfect introduction to the delicate fusion the work in. Despite being inspired by some of punk's more aggressive sounds, there is a slower pace to LA Witch's output, save for songs like 'Untitled' which is a little bit less desert-dazed than the rest of the album. It's a strange pace for a band that counts rockabilly as one of its roots, but it helps the listener get lost in methodical, ear-tangling riffs and thick, but plucky bass.
There is a clear kinship between the playing by Sanchez and Pai, who formed the band together four years ago. It's likely the source of the subtle finesse in LA Witch, too. You can hear plenty of their earlier work on Bandcamp – much of which is both sunny and sludgy, but not as fine-tuned as their full-length – but it is clear the addition of English (who went to high school with Sanchez) as their permanent drummer got them into a groove.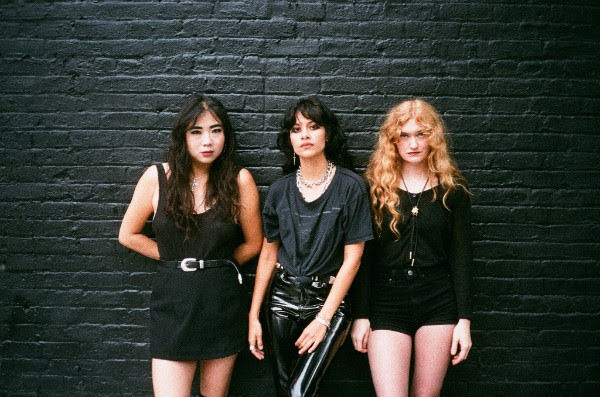 When asked how the band would describe the album, Sanchez says: "The only thing I would tell anyone to expect is 30-something minutes of of reverb." That might as well be how you approach it because lurking underneath all that fuzz is a lot of genre-melding magic. So, perhaps LA Witch is digging into the the dingy dive bar trope, except they're not the house band, they're scanning the jukebox for Roy Orbison deep cuts and favorites from More Fun in the New World and drawing perfect lines between the two.
Claire Lobenfeld is on Twitter.
Read next: Life comes fast and furious at The Outfit, TX on their drag-race of a rap album, Fuel City