The 5,000-capacity London venue has also fitted 36 new speaker stacks.
Printworks has announced its series of December shows with Richie Hawtin, The Chemical Brothers and more set to play the London superclub.
On December 2, Bugged Out! are bringing The Chemical Brothers to play a headline set, which will run through the night from 6pm – 2am, the first Printworks club show to do so, while December 9 will see Berlin staple Paul Kalkbrenner perform live.
Richie Hawtin will be closing the club's Issue 002 music series on Sunday December 10 with a headline set featured around his PLAYdifferently technology brand.
See the full December programme below and check the Printworks site for info about upcoming events.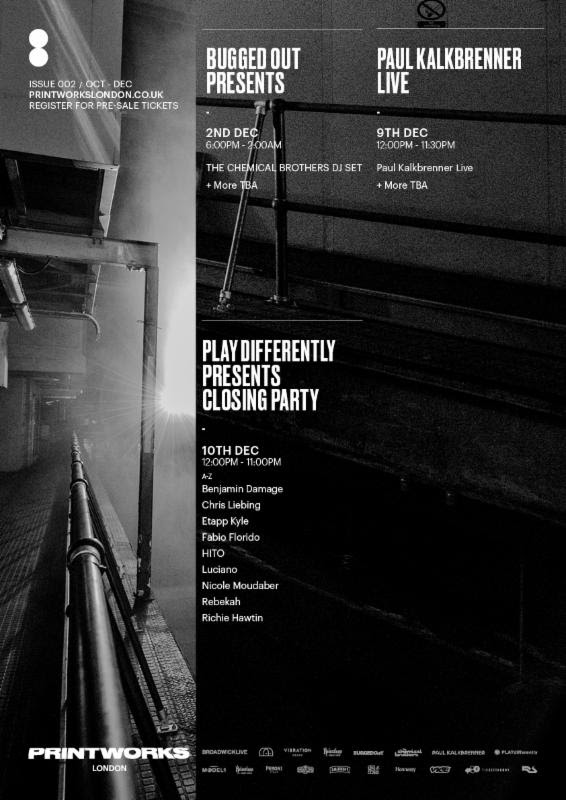 Full lineup:
Saturday December 2 – 6pm – 2am
Bugged Out! Presents
The Chemical Brothers
Saturday December 9 – 12pm – 10.30pm
Paul Kalbrenner (Live)
Sunday December 10 – 12pm – 11pm
PLAYdifferently Presents:
Issue 002 – Closing Party
Benjamin Damage | Chris Liebing | Etapp Kyle |
Fabio Florido | Hito | Luciano
Nicole Moudaber | Rebekah | Richie Hawtin
Watch next: Watch Ben Klock play London's Printworks first closing party
Read next: Printworks is a 16-acre, 100-laser venue opening in London in 2017