Jamaican sounds have been the template for musical experimentation the world over for decades. From The Clash incorporating dub to the West Indian-inflected vocals of early dubstep to Fade to Mind's deconstructed dancehall, Jamaica has been the muse for countless artists seeking to bend the envelope. But with Kingston-based production crew Equiknoxx, we're hearing Jamaican musicians put their own stamp on experimentation the likes of which haven't been seen since the days of King Tubby and Lee 'Scratch' Perry, Greg Scruggs writes.
Some 90,000 Jamaican workers helped dig the Panama Canal from 1904 to 1914. It was backbreaking labor that extracted more than a pound of flesh as workers faced intense heat, mosquitos, errant dynamite blasts and Jim Crow-era racism of their US overlords. But it was also a rare opportunity during the colonial era to experience the world. Workers, merchants, sailors and fortune-seekers from across the globe flooded the narrow isthmus of Panama during those heady years as the canal zone promised to transform maritime commerce. Marcus Garvey even spent time in Panama to preach his gospel of pan-Africanism to the nearly 200,000 West Indians who were sweating on the canal project. Obeah men came along too, offering magic to strengthen and encourage the workers.
As a result, when the work was done and many returned home to Jamaica, they came back with swagger. Their pockets flush with cash and familiar with a world their countrymen knew little about, they became known as "Colón men" for the Panamanian city at the Caribbean mouth of the canal. Legend has it, you could ask a Colón man the time and all he'd have to do is look up at the sun to give you an answer down to the minute.
"They were the first woke Jamaicans," explains Gavin "Gavsborg" Blair, the thirtysomething Kingston-based producer and center of gravity behind the wry production crew Equiknoxx, whose second album, Colón Man, dropped quietly last week on Demdike Stare's DDS label.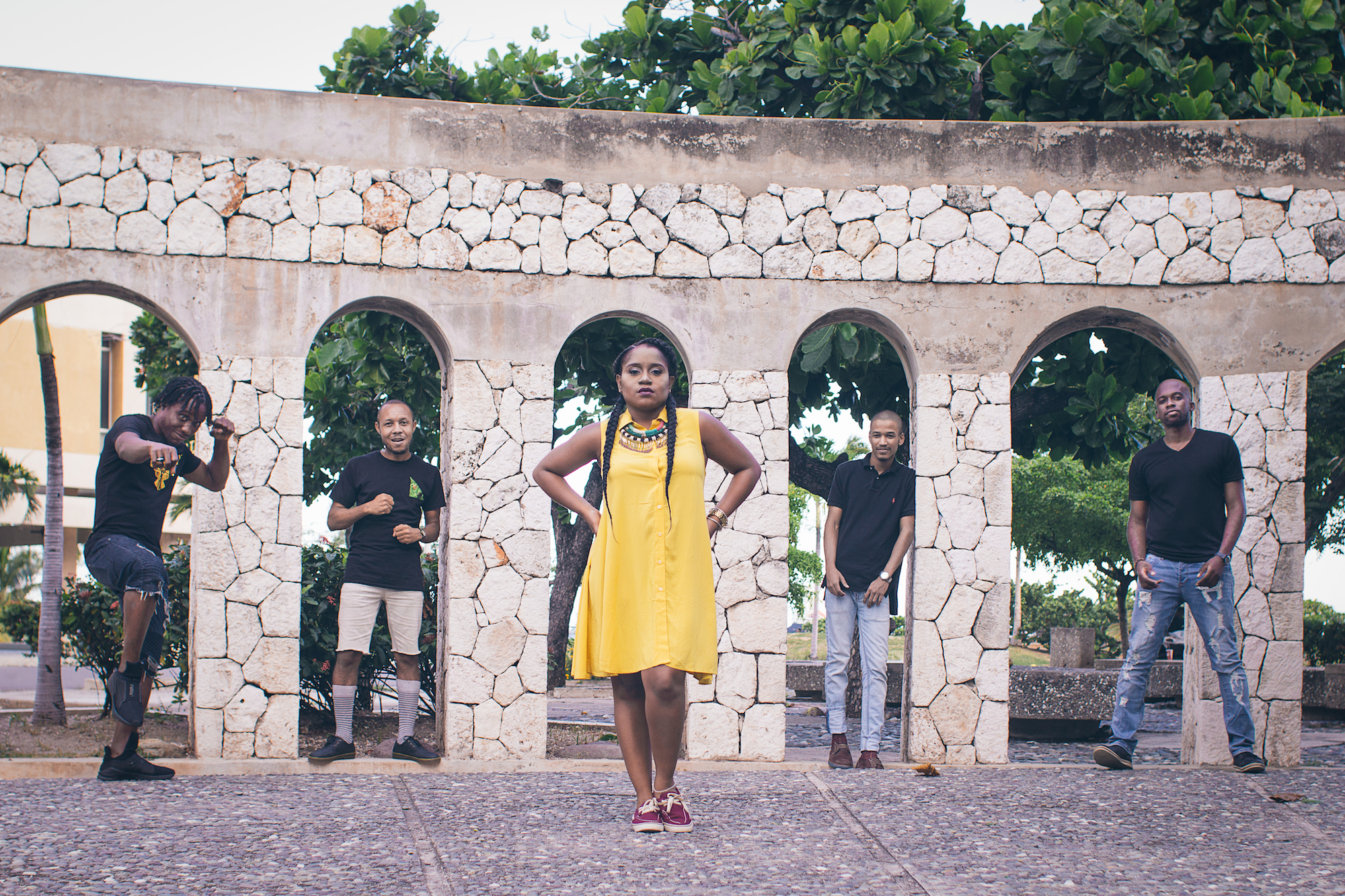 "We can jump onto a straight dancehall party and we can go to a more experimental-based event."
The new release comes on the heels of last year's Bird Song Power, which turned heads precisely for what it was not: dancehall without the gunshot-and-slackness bombast. Just a dozen riddims that reward repeat listening even without lyrics to back them up. Ephemeral creations from dancehallzone.net they ain't.
Good news for fans of Equiknoxx's beguiling take on their country's staple genre: Colón Man, in turn offers an even sharper turn toward head-nodding beats and away from chunes for wining up.
Following the buzz around Bird Sounf Power, Blair and his younger partner-in-crime, Jordan "Time Cow" Chung retreated into what Blair called a meditation mode for a few months. In February, they woke up and said "riddim." The music began pouring out, one per day, thereafter. The baker's dozen on the new release continue the hypnotic use of dancehall's signature 3:2 polyrhythm but opt for a chin-scratching repertoire of samples. Tracks like 'Heathen Emissaries From the Dens of Babylon' and 'Enter a Raffle Win a Falafel' use discrete chunks of found sound that wouldn't be out of place on a musique concrète étude. Not that there aren't more MC-ready bangers yearning for lyrics, like 'Melodica Badness,' which features the handiwork of Addis Pablo, the son of esteemed melodica player Augustus Pablo.
Earlier this week, FACT met up with Blair and Chung as well two others members of the Equiknoxx family, the singers Shanique Marie and Bobby Blackbird (the fifth, Kemikal Splash, couldn't make it), at a food court in uptown Kingston in between an increasingly hectic touring schedule. Fresh off a headlining appearance at a Red Bull event in Amsterdam, the crew is gearing up for a MUTEK debut at the festival's Mexico edition.
But weirdly enough – befitting the strangeness that seems to lie at the heart of Equiknoxx's current sound – their international career actually began four years ago in Poland at the invitation of 27Pablo, a veteran DJ/selector on the Polish reggae scene who had hung out with them on a visit to Jamaica. He invited them to come out to his club, which he had named Equiknoxx in their honor, much to the crew's sheepish embarrassment. "Come and play?" Blair recalls asking himself. "But we're producers."
So to gear up, they produced a four-track mixtape pairing a rising star with a venerable sound on Equiknoxx Introduces Masicka to King Tubby EP. It was huge with their sudden Polish fan base, the kind of European hardcore reggae crowd that knows the no. 1 tune in Jamaica on any given week.
Gradually over the last few years, they found themselves drifting away from more traditional takes on contemporary dancehall, which has started to grow stale with the proliferation of ProTools. Instead they began incorporating harps, glockenspiels, and their signature birdsong samples – strokes from a vast sonic palette that harken to the glory days of innovative producers like Lee "Scratch" Perry. (Who, of course, is still active: he released a new record this year and played in Kingston this past week.)
The drift, Equiknoxx says, has yielded positive results. "Right now we have an interesting position because we can jump onto a straight dancehall party and we can go to a more experimental-based event," Blair says. They still command respect in the Kingston scene – 'The Link' off Bird Sound Power made the rounds at local dances – but now they find themselves sharing the bill with the likes of noise artist Russell Haswell at Moscow's Geometry of Now. On stage, they have refined to a set-up involving one guitar, two vocalists, two Midi machines and an Ableton-enabled computer.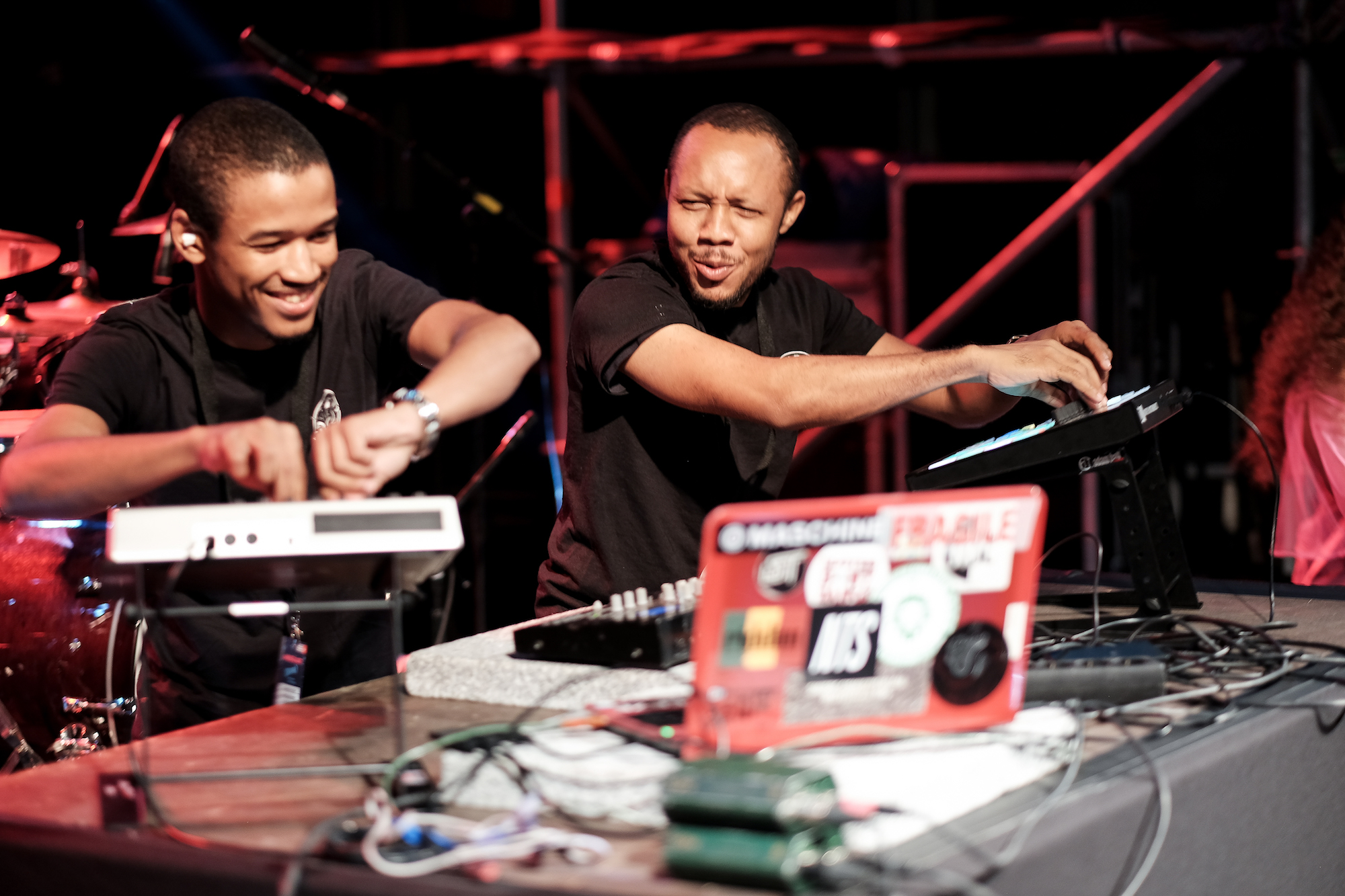 "Colón men were the first woke Jamaicans."
And that international exposure suits them just fine, even if the constant travel from an airport that's not exactly an EasyJet hop from European gigs can be a drag. (A missed connection, for example, caused Shanique to miss the Red Bull show.) While they described Manchester's Swing Ting as their spiritual home and Chung pined for Lisbon and the vibe created by the Príncipe Records crew a few times during our interview, they also insist they have no intention of uprooting themselves from their Kingston studio, which was undergoing renovations when we met.
"I can't just say, 'I'm going to Russia to make this album,'" Chung says, adopting a fake-American accent that the jokester deployed at regular intervals to comic effect. Slipping back into his native tongue, he says, "If it takes away from your daily thing that you do, it's disruptive."
Instead, the travel serves as a source of material – like three hours on a Zoom recorder from Berlin that offered raw material to cut'n'mix on Colón Man. Blair called them "little domesticated sounds that turn into some fruit," a formulation that led to a burst of laughter from the crew, who clearly have a close rapport with friendships dating from university and in Blackbird and Chung's case, as far back as high school. They don't quite finish each other's sentences, but they do take undue pleasure in meme culture jokes like Medieval Death Bot and are self-professed "nerdy Jamaicans" who contrary to dancehall culture's stereotypes abstain from alcohol and cannabis.
So what is the secret to Equiknoxx's off-kilter beats, which are enough to get esteemed music critic Eddie "Stats" Houghton to lionize as "saving" dancehall? "There's no grand plan. We just do what we feel like and make music for ourselves," Blackbird says, shrugging at the clichéd answer but swearing there is nothing more to it than five talented music heads all under one roof steeped in Jamaican music culture but with a taste for the avant-garde.
They did offer a few clues, however. Blackbird compares their approach to scenes from a story; Blair insists that experimenting and modifying sound snippets is at the core of his métier, like taking the melodica riffs that Addis Pablo gave them, working some filters and conjuring a kick out of the white noise. Chung calls it a non-linear approach. And despite all that, Shanique insists that while the sounds are "quite unique" she finds it "easy to find that steady beat" as a vocalist, to which Blair chimed in with some elder wisdom: "Mad Professor said, 'No song, no dub.'"
While Konshens, Popcaan, Spice, and Vybz Kartel (even from prison) continue to duke it out in the court of dancehall public opinion, both in Jamaica and across the West Indian diaspora, does Equiknoxx feel like they are 21st century Colón men, strolling through Kingston with secret knowledge about the musical world beyond big ups and rewinds? "In a little way, in a newer sense," Chung says. "I'm not going to look up in the sky and tell you it's 12 o'clock as yet."
Read next: Listen to Equiknoxx's sizzling 2016 FACT Mix