Modular synth fanatic Mumdance has teamed up with UK boutique manufacturer ALM Busy Circuits to create a new Eurorack filter module, MUM M8.
Jack Adams, aka Mumdance, is one of the Eurorack modular format's most vocal cheerleaders. He's one of the few artists utilizing a modular synth as a DJ tool, transporting his system across the globe to create textured breakdowns and change the mood between tracks. Now, he's taken his modular obsession a step further with the launch of his first Eurorack module collaboration: MUM M8. It's a low-pass filter engineered by UK manufacturer ALM Busy Circuits, the boutique company behind the popular Akemie's Castle module and last year's team-up with noise artist Russell Haswell.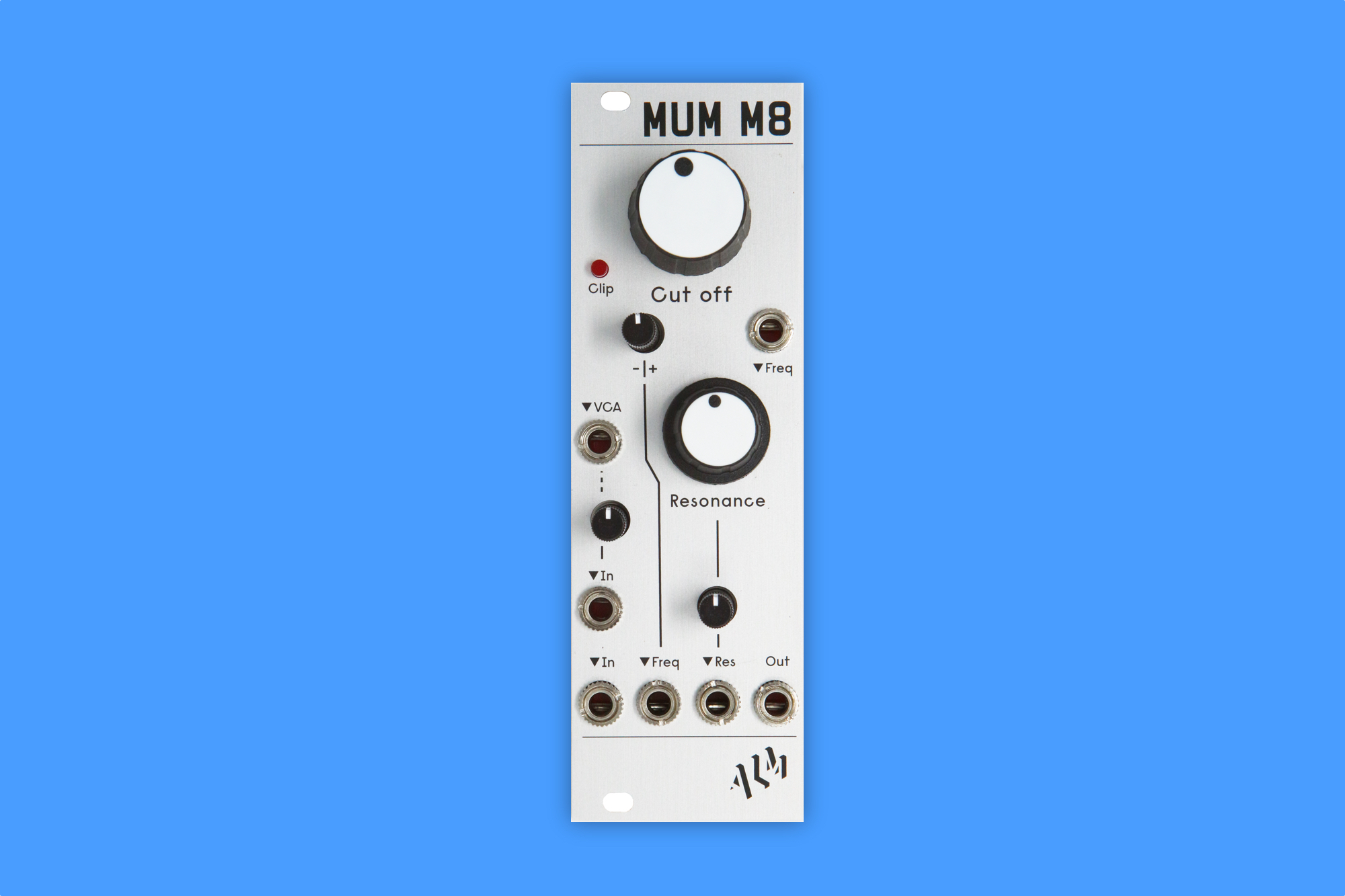 Inspired by the filter design inside Akai's S950 sampler from 1988, the MUM M8's boy racer license plate-inspired look is intended to evoke the era and culture of the late '80s and early '90s – specifically jungle and hardcore. "Most of my favourite records growing up were made on the S950, so it has a sound that is very close to my heart," Adams says. "I use it on most of my own productions as I love the 'color' of the sound it produces, which is a product of the 12-bit sampling, the digital to analog conversion and most notably, the filter. It has a very recognizable sweep to it, which is present in a lot of old hardcore and jungle records."
The collaboration came about after Adams and ALM's Matthew Allum bonded over an appreciation of old hardware, specifically late '80s/early '90s digital and analog hybrid gear. "I'd previously made a filter based around the Casio FZ1 (the Fizzle Guts) but it required an actual FZ1 IC [integrated circuit], so it was impossible to produce in any real numbers," Allum says. "One day [when I was in his studio] Jack suggested I check out the S950 filter, which I'd always assumed was fully digital and not easily reproduced; on closer investigation it turned out to actually be (mostly) analog and reproducible in number without the manufacturing problems of the Fizzle Guts."
Allum was able to track down the schematic for the S950 filter section and recreate it, adding new features for the module format including voltage control, clipped saturation and a dedicated VCA. A number of prototypes were made; Adams gave his feedback on each and the final module, which costs £179 (approx. $240), took shape.
The key difference between the original S950 filter and the MUM M8 is the addition of a resonance control, which was absent on the original, alongside a few other new features. "The added resonance is deliberately aggressive, which I think works well with the smooth filter core," Allum says. "In addition to this is the ability to overdrive and saturate signals into the filter core, to warm them up a little and give the filter more to bite into. There is a also an included VCA – it's just very handy to have."
According to Allum, the result is a filter unique to the Eurorack market with a resonance that can "fucking scream". However, it's definitely not intended as a simple general-purpose filter module: "It has a very steep cutoff, which gives it a very silky-smooth sound that really vacuums sound in and gives it its character," he says. "It works particularly well on complex sources even nearly fully open – it adds a shine."
But how close to the sound of the original S950 filter is the MUM M8? "With no resonance it should be pretty much [the same as the S950 filter]," Allum says. "It's the same basic circuitry and components. We [compared] with Jack's S950 and analysis confirmed it to be extremely close in response." If you want to judge for yourself, ALM's demo videos show the module in action.
MUM M8 is released today, going on sale first at Rubadub in Glasgow, Control in Brooklyn and Perfect Circuit in LA. The module will be available worldwide in the coming weeks.
Scott Wilson is FACT's Make Music editor. Find him on Twitter.
Read next: How to build a modular synth: The ultimate Eurorack buyer's guide