Justin K. Broadrick has had a successful year, having released one Godflesh album, a collaborative record with Sun Kil Moon's Mark Kozelek, one JK Flesh EP and recorded another. That doesn't make the festive period any easier for the cult Birmingham hero to endure, April Clare Welsh finds out in a conversation spanning his plans for 2018 and how music has helped him survive.
"I want to cry every single fucking day, but I always cry on Christmas Day," says Justin K. Broadrick over the phone from his home in rural north Wales. "It just makes me so fucking depressed. It's just such a reminder of death." The 48-year-old – one of the most legendary names in British extreme music thanks to a three-decade career pushing boundaries in Godflesh, Jesu, JK Flesh and, briefly, Napalm Death – is discussing his ongoing battles with mental health and how they impact his songwriting. Broadrick's music has always tended towards sonic violence that pushes emotional limits, and his releases in 2017 were no different: both his album with Godflesh, last month's Post Self, and his solo EP as JK Flesh had prevailing themes of anxiety, depression, fear, self-annihilation and transcendence. "My music wouldn't exist without those issues, essentially," he continues.
For fans of the Birmingham-born cult hero, and perhaps indeed for the man himself, extreme sounds ranging from power electronics to industrial metal offer catharsis, if not quite escape. It's been this way a long time for Broadrick. His predilection for bone-crushing riffs, nosebleed tempos and larynx-lashing screams can be heard as far back as the mid 1980s, when for a short period he was a member of Birmingham grindcore legends Napalm Death. After contributing to the first side of their 1987 album Scum, he formed experimental metal two-piece Godflesh with bassist G. C. Green in 1988.
Six albums as Godflesh followed, including 1989's opus Streetcleaner, before the band were forced to take a hiatus in 2002 when Broadrick suffered a nervous breakdown. They had been due to tour North America at the time. Broadrick moved to Wales with his partner and son because he "couldn't hack" city life any longer, but his first 24 years in Birmingham did leave on indelible stamp on his life. "I really did live in the middle of concrete and it made my personality and my artistic career that's for sure."
Between the ages of two and four, Broadrick had lived on a hippie commune in the outskirts of Birmingham where he was raised by his mother and stepfather, who was addicted to heroin at the time. He believes his upbringing heavily shaped his personality: "In my opinion, or from what I've read and researched, all of us are basically just an exaggeration of what we were as kids. My childhood was mostly quite negative, down to my family background and the environment I was in. Somehow I was hypersensitive to it so everything seemed to affect me in an extremely dramatic fashion."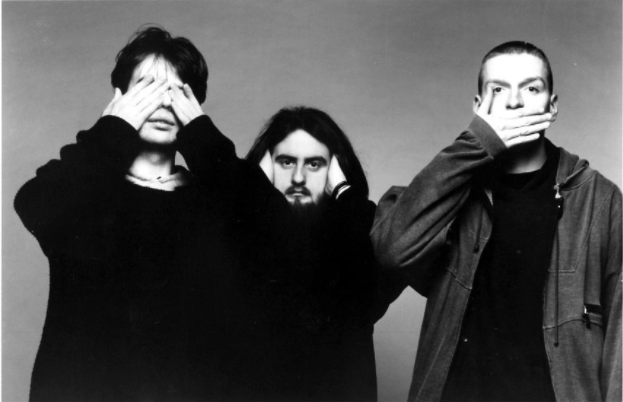 As a child, Broadrick says he used extreme music in a "teeth-grittingly intense way" and it continues to be a survival mechanism for him. "I do meet a lot of people who hear my story and think 'how the fuck did you survive'. Music was how I survived it, albeit a music that is obsessed with the negative. It was definitely this therapeutic thing and, as I found eventually, I was seeking transcendence and some sort of spiritual way out… obviously I found a voice for it and it is definitely a voice for my anxiety."
Today, Broadrick's music serves the same function. After reforming Godflesh in 2010, for a live show that eventually morphed into a new album, 2014's A World Lit Only by Fire, they released their eighth LP, Post Self, through Broadrick's own Avalanche Recordings this year. It's one of the band's most essential releases to date – a punishing riff-and-roar laden assault that distills their industrial essence into rattling sheets of noise. The album is informed by the late '70s/early '80s post-punk and industrial acts of Broadrick's formative years – things like Killing Joke and Einstürzende Neubauten. It's a fittingly nihilistic soundtrack to the socio-political hellscape of 2017, that's for sure.
This year has also seen a continuation of Broadrick's techno misadventures as JK Flesh. Released in November on fellow Brummie Regis's Downwards label, the Exit Stance EP comprises four repetitious juggernauts that come barrelling through the corridors of the '90s noise-inspired techno of his hometown. And as with all of Broadrick's music, the EP is connected by a deep sense of existential dread, pervaded by themes of "whiteout, transcendence and self-annihilation."
On Exit Stance as on all his releases, for Broadrick, the therapeutic properties of music are important, but aren't the answer to struggles with anxiety and depression. "This isn't catharsis for me, because it literally never ends and it never will," he says. "I've got an obsession with polar opposites. Everything I love I often hate, everything I hate I often love, I hate myself, I love myself, all the same shit and existential problems." But, having just finished recording a new JK Flesh 12″, which is due for release on February 2 via Pi Electronics, and with plans to record a new Jesu album over the festive period, he's finding ways to remain upbeat and put his faith in the music he loves. "You have to be able to elevate yourself somehow. I find extreme music helps."
April Clare Welsh is a news writer for FACT. Find her on Twitter.
Listen next: FACT mix 556: Vatican Shadow