The saxophone virtuoso discusses Hereditary which premieres this weekend at Sundance.
Colin Stetson, the saxophonist best known for playing with Bon Iver and Arcade Fire, has long been praised for his cinematic solo compositions, something exemplified on 2011's stunning New History Warfare Vol. 2: Judges. It was hardly surprising then when a track from that album was used by Steve McQueen in 2013's brutal 12 Years A Slave to accompany one of the film's most horrific moments: a lynching.
Stetson is set to play on our fears again this year with his score for horror film Hereditary, the feature debut of writer/director Ari Aster. The movie premieres this weekend at the Sundance Film Festival and has already been acquired by A24, the prestigous studio behind modern horror classics such as Under The Skin, Ex Machina and The Witch. It's not Stetson's first attempt at scoring by any means; he assisted Jóhann Jóhannsson with the heavenly Arrival and has written a slew of original scores, including 2015's La Peur and 2016's Outlaws and Angels.
Hereditary follows a family reckoning with dark forces following the death of their reclusive grandmother and standout performances from Toni Colette, Gabriel Byrne and child actor Milly Shapiro (best known for starring in Matilda The Musical) are already attracting attention. Director Aster achieved notoriety with a series of controversial short films and approached Stetson to work on the film two years ago with a first draft of the script. Stetson's unusual saxophone compositions had been an inspiration for Aster as he was writing the movie, so the saxophonist's involvement is fitting, to say the least.
FACT reached out to Stetson to discuss the film, his score and what he's working on next.
---
How did you get involved in Hereditary?
I was approached by the director, Ari Aster, a couple years ago. Right after he had finished the first draft of the script he let me know that he had been influenced by my music in the writing process and was hoping we could start a dialogue about me being involved with the film when it got made – either in licensing music to it or as composer of original score. As things in that world tend to take a lot of time, we were in touch on-and-off throughout his process of acquiring funding and distribution and ultimately things worked out, so that I was indeed available to get involved in that scoring capacity.
Watching the film for the first time, what were your first impressions and what do you think it needed musically?
I had seen stills and read the script months before seeing any of the footage, so I had already established a tone and sonic palette that felt right for the film. That, and I had spoken in depth about what [Aster's] feelings were regarding the music, so when I saw the first edits I was pleased that those initial instincts of mine were, for the most, part spot on. As for what it needed musically, as horror films tend to do, Hereditary uses a lot of music. I don't know that I'm able to speak specifically of minutes, but this is a colossal score, and as so much of it is furthering both general and specific feelings of dread, confusion, and unraveling, the music has to be tied incredibly tightly to picture.
In this case, that was a joy, as the acting performances in the film are tremendous and really inspired the sonic character of the music from moment to moment. In terms of instrumentation, I relied on a stable of acoustic sound sources almost exclusively. Clarinets were used extensively, both contrabass and Bb, as well as some bass clarinet, as well. Of course the more obvious cornerstones of my signature solo sounds are there in the forms of bass and alto saxophones, as well as deriving all of the film's percussive sounds from the saxophones themselves, as I do in my solo composition. But I also utilized a bit of the brass world, both french horn and trumpet make appearances and a key melodic and sonic element was provided by the Lyricon, a rare analog wind synth from the 1970s.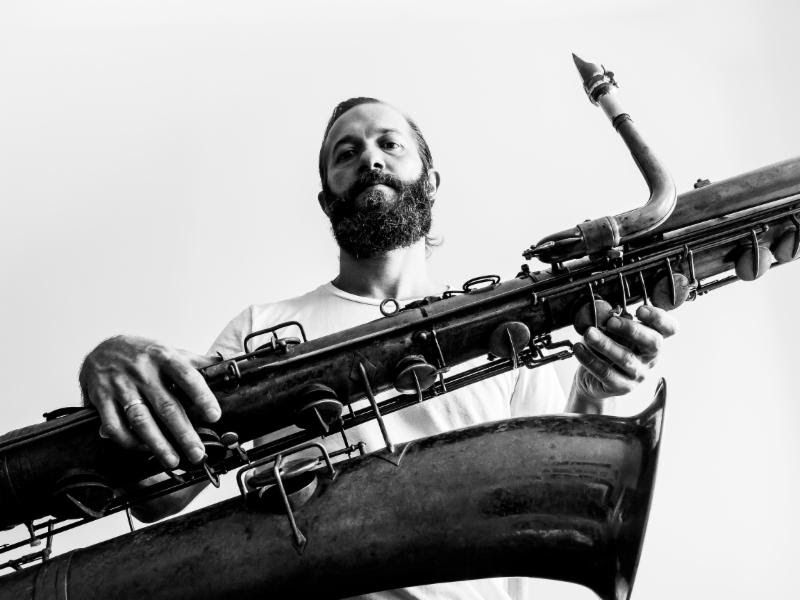 This is a colossal score
Did you have any initial temp music to work from?
Since I had been able to write a bit of music before tracking to picture, some of the temp was actually just my demos for the project itself. There were some other pieces used as temp, both of my solo music, and of several orchestral works, but I didn't find any of that confining in this case.
Your music has appeared in many films and certainly soundtracked some horrific moments, but what was the experience like composing for a film specifically in the horror genre?
There are things that you can and can't do, depending on what the overarching theme of the subject matter is, I think. Certain things that although they might 'think' right, when put into practice with the picture and narrative, of Hereditary specifically, just don't work. So, you quickly learn what works to support and propel the story and emotions forward in the right ways and what is distracting from those ends. Luckily for me, this film, though very streamlined in its needs and wants sonically, didn't have any limitations in terms of the scope of said sounds, so I was able to take things pretty far in the directions I wanted, from calm quiet restraint to all-out chaos.
Will you do a soundtrack release?
I'd like to, though there isn't one set just yet.
Is there anything else you're working on this year that you can talk about yet?
I'm currently working on scoring a new TV series called The First for Hulu and working on recording the next solo record. That, and my band EX EYE will be going back into the studio sometime this year to work on our second album, so yes, quite a bit happening this year!
Finally, what are the horror film scores that have stuck with you?
Probably the two that stuck out the most to me growing up would be for the movies The Changeling and for Poltergeist. Though I'd also say that Johann Johansson's score for Prisoners, though not a horror film, was and is tremendously influential for me in how I try to approach scoring in general.
Read next: How async composer Ryuichi Sakamoto conquered 2017