The Fall songwriter and arch-provocateur Mark E. Smith died on January 24 aged 60. Endless tales of anarchic behavior aside, Smith was first and foremost a storyteller whose wry, absurdist vision was informed by the literary canon as much as his observations of daily life. April Clare Welsh explores the influence of sci-fi and horror on the work of the late, great anti-hero.
The death of legendary sci-fi writer Ursula K. Le Guin was announced a few hours before Mark E. Smith shuffled off this mortal coil. It's perhaps no coincidence that the universe swallowed these two souls into the ether around the same time – Smith's interest in sci-fi and the occult has been a noted constant throughout his career and both writers constructed fantastical worlds using the magical power of language.
In yesterday's (January 24) obituary in the Guardian, Fall superfan Dave Simpson declared: "This was not the language I knew from pop. It was more like musical science fiction." Like many of the best wordsmiths, the late Fall leader had a knack for turning the bleak, banal and humdrum into the otherworldly and supernatural. "I wanted to show lyrics could be more than just songs about 'love'," Smith said in a recent interview that also, surprisingly, name-checked Rhianna's 'Rude Boy' among his favorite music at that time. Smith's "renegade genius" was often obfuscated by his semi-rambling vocals, but his storytelling prowess was undeniably unique.
Although the Salford-born songwriter revealed a specific dislike for British sci-fi to the NME in 1987, he had previously called Arthur C. Clarke underrated ("people don't like him but I do") and counted influential Welsh mystic and horror favorite Arthur Machen among his influences. Smith was also a self-proclaimed fan of US author Philip K. Dick (The Man in the High Castle is one of his favorite books, but he hated the TV show, along with the Blade Runner film) and in that same, final interview with the Guardian, which took place in autumn 2017, still admitted to reading "a lot of journals on old sci-fi."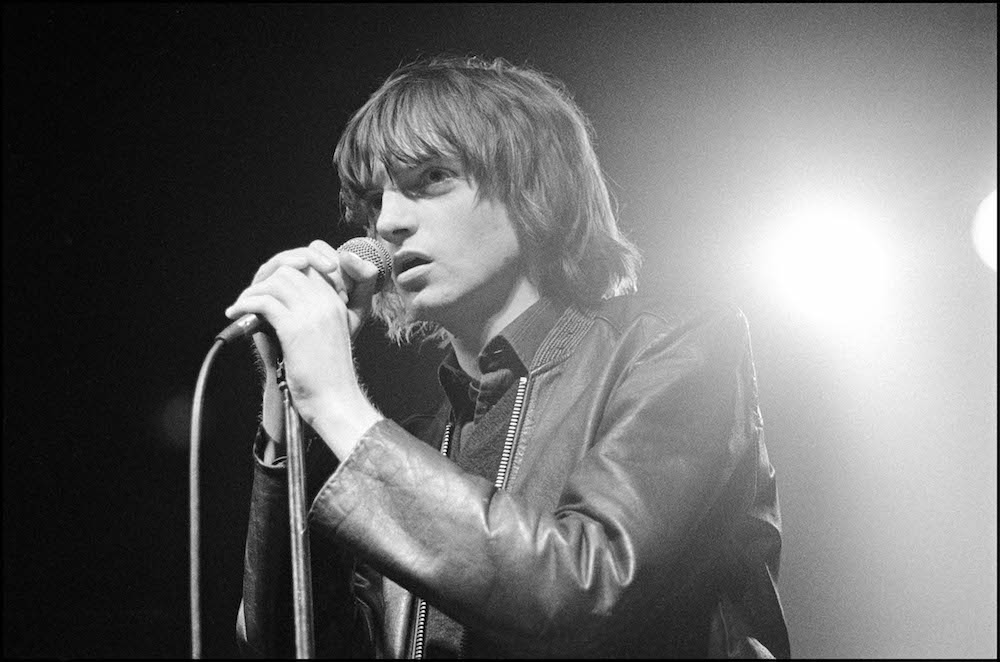 The Fall's songs have on occasion made explicit reference to science fiction. "As for new hotels / Look like science fiction films or revival gothic pigswill," he sing-speaks on the sonic pandemonium of 1978 single 'It's The New Thing!'. but more often than not, tracks featured glimpses of the extraordinary or mind-bending. 'Wings', taken from the band's sixth album Perverted By Language spins a fantastical yarn about someone trying to fly that features gremlins and a time lock: "I ended up in the eighteen sixties / I've been there for one hundred and twenty five years /A small alteration of the past. Can turn time into space."
On 'Riddler' from The Fall's 1986 album Bend Sinister, Mark E. Smith is flying "over that space beam", while on 1979's 'Underground Medicine', he's got a "psychosomatic voice / And one time it might come back." Sonically, too, there are undercurrents of science fiction written in the band's chintzy, carnivalesque organ riffs, cavernous echoes of noise and whiffs of psychobilly – a genre rooted in schlocky imagery and horror pulp fiction. 'Shoulder Pads 1 & 2' certainly have a campness to them that wouldn't sound out of place on The Rocky Horror Picture Show.
Smith was notably averse to nostalgia, but he was arguably more drawn to the allure of the retro than he would maybe have liked to admit, with this 1990 interview published by The Quietus revealing that he had a copy of late '50s/early '60s TV sci-fi series The Twilight Zone soundtrack in his vinyl collection. "The only way you can get it is through the Twilight Zone magazine," he explained. Elsewhere, The Fall's Live At The Witch Trials' track 'Industrial Estate' also made an appearance in the closing credits of Ben Wheatley's J. G. Ballard adaption High-Rise.
Smith has also always displayed a love for the horror genre and the occult (he used to do tarot readings) that at times crossesd over into sci-fi. "I've been a fan of H.P. Lovecraft since I was about 17," he told the BBC to mark a special reading of the horror writer's The Colour Out Of Space in 2007 (for Christmas, nonetheless) – a short story about a meteorite. He continued: "I chose to read this story because it's very unusual for him; it's not like his other tales. They are usually about people who live underground, or threats to humanity – which I like as well – but The Colour Out Of Space is quite futuristic. He wrote it in 1927, which is weird."
In Taylor Parkes' in-depth exploration of Mark E. Smith's storytelling for The Quietus, reference is made to Smith's 1983 claim that through his work, he was "searching for the right word or phrase that would put a chill up the spine". This desire was translated into reality many times throughout the band's repertoire, which often conjured ghosts and ghouls and where witchcraft and demonic possession have been recurrent themes – from the very beginning of their career on Live At The Witch Trials, and including tracks like 1986's 'Lucifer Over Lancashire,' which arguably nods to 17th century Pendle witch trials.
The band's 1987 cover of Tamla Motown song 'There's A Ghost In My House' was their first single to get into the top 50 in the UK, while 'Spectre vs. Rector', which invokes English author M.R James, is a mini ghost story set in Hampshire. Then there's 'City Hobgoblins' – "Our city hobgoblins / Buzz of the all-night mill / Ah but evil / Emigres from old green glades," whose meaning is ambiguous, but no less fantastical. That's not forgetting 1982's Hex Enduction Hour track 'Hip Priest', which was actually featured in The Silence of the Lambs.
"My stories are very much like Lovecraft's actually," Smith said of his fiction, ahead of the publication of 2008 memoir Renegade: The Lives and Tales of Marc E Smith, which he ultimately didn't end up writing himself. "Everyone wants me to write about dark and doomy things, like my lyrics. But some of my stories are quite cheerful." These stories never surfaced in public, but it's hard to imagine Smith penning heartwarming tales of romance and adventure. The late, great beer-swilling anti-hero was a social realist who documented the country he lived in through an abstract, Burroughs-like lens, and simultaneously he was a brilliant writer and fantasist with an imagination fitting of a supernatural punk priest. RIP MES.
April Clare Welsh is a news writer at FACT. Find her on Twitter.