What the changes to Native Instruments' Expansions sound packs mean for Maschine owners and users of third-party DAWs.
One of the most attractive reason for picking Native Instruments' Maschine controller over a drum machine is the broad range of sounds it comes with – especially if you pay extra money for the platform's Expansions, sound packs that cover one-shot samples, kits, synth presets, loops, pre-made patterns. This week, NI turned Maschine Expansions into Expansions, placing the focus on them as tools for users of any DAW – not just Maschine.
Expansions are the same genre-focused packs covering everything from dub techno to drum breaks as they were when called Maschine Expansions, with a few key differences. First, all Maschine kits in the packs are now available as kits for NI's Battery drum sampler, which is handy if you're not a fan of Machine's sequencer. There's new presets for NI's Massive, Monark and Reaktor Prism synths accessible via the VST's preset browser, and a lot more focus on samples and loops, particularly what NI calls "construction kits" – WAV files that can be easily imported into any DAW.
As users of NI's forum have pointed out, it's always been possible to import Maschine Expansions' one-shot samples for use in any sampler, so the big change is the new Battery kits, which NI has designed to be distinct from the existing Maschine kits. "We had to go back and rebuild the Expansions from the ground up," says Chris Lynn, Maschine marketing manager at NI. "It's not a one to one translation of the Maschine kits to Battery kits – in addition to those Maschine kits, we created extra Battery kits to fit the user experience."
NI's Battery hasn't received much attention since Maschine launched in 2009, but it's a leaner piece of software with more focus on samples than Maschine, which has added both drum and bass synths over the years. The new Battery kits are also color-coded, and there are special kits for Battery that include just kick drums or only percussion, which NI believes will save some producers time when they're trying to find the perfect sound.
The other key difference is the inclusion of "construction kits", loops that can be used to build up full tracks with minimal effort. These are ready-exported WAV files based on the pre-prepared patterns that appear when you load a kit into Maschine, though they come as both full loops and stems of the kick, hi-hat, bass, percussion, snare and other tracks that can imported straight into your DAW. It's a small change, but NI is clearly hoping that it will get musicians outside of the Maschine ecosystem looking for new sounds investigating Expansions instead of the competition.
It's probably not a coincidence that NI's decision to open Expansions up comes so soon after the launch of its online sample platform, Sounds.com – NI needs content to sell, and Expansions are an easy, ready-made way to do that. But it also comes quite soon after the launch of Ableton Live 10, which has presumably torn a few lapsed Live users away from Maschine. Live 10 also has its own useful sound packs in the form of curated collections, which are slightly less genre-focused than Expansions.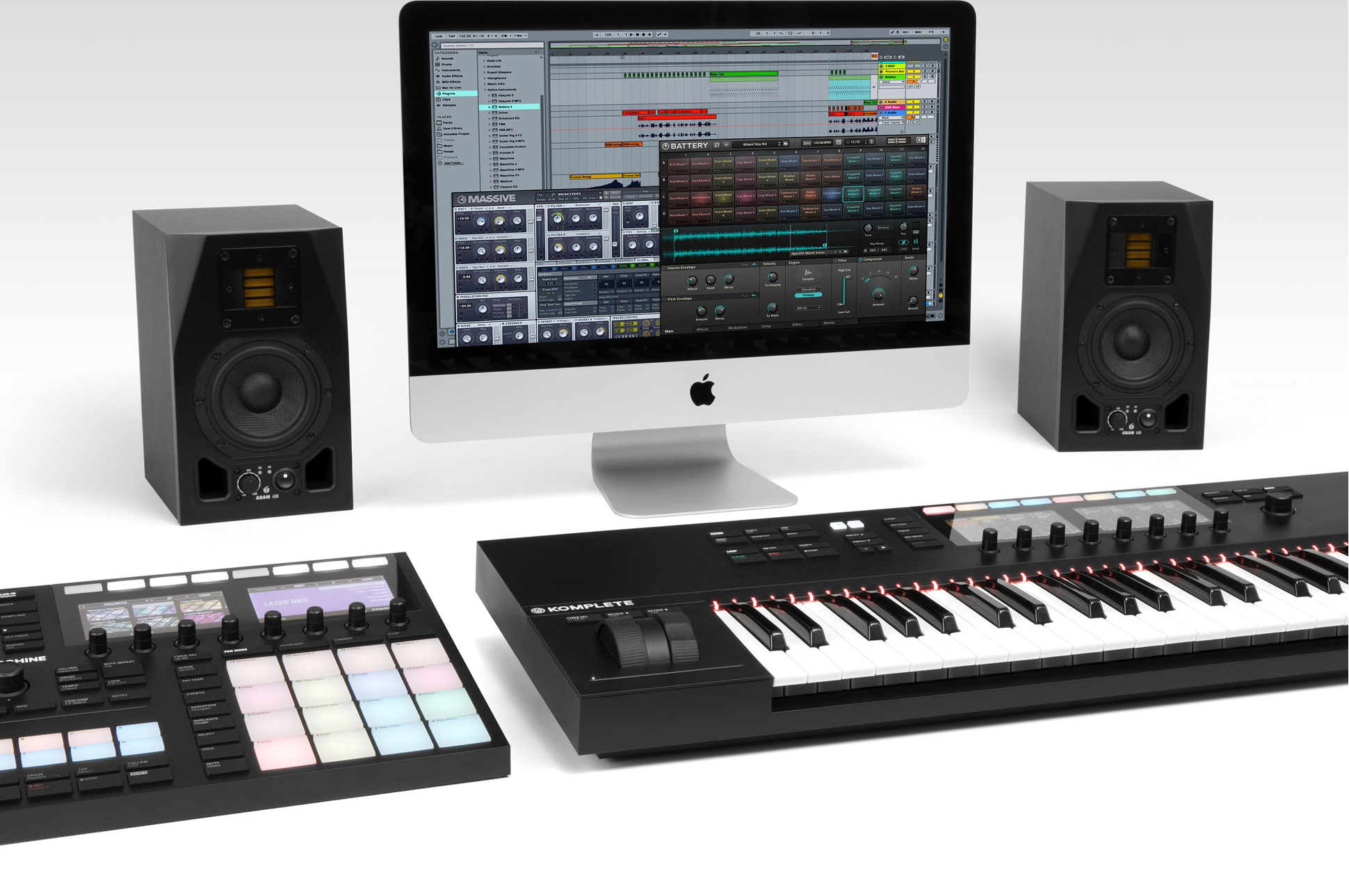 Despite some strong competition from Ableton's sound packs, which require Ableton's instruments, NI sees both happily co-existing due to the cross-platform nature of its new Expansions. "What we're doing is really DAW-agnostic," Lynn says. "So maybe I'm using Ableton right now and then in the future I switch to Bitwig or FL Studio. I can take what I have with my purchased Expansions with me. I can still use my Massive plug-in in FL Studio and still get all the benefits of it without being stuck to one DAW."
Anyone who already owns a Maschine Expansion will get a free upgrade to the new version via the Native Access app; NI hasn't raised the price for new owners either – each Expansion still costs $49/£44. However, while you'll get all the one-shots you need to recreate these kits in Live's Drum Rack alongside those construction kits, to access the synth presets you'll need to own Monark, Massive and Reaktor Prism. Also, if you want to tweak those construction kit patterns and export to your DAW, you'll need the Maschine software.
If you already own a Maschine and have several Expansions not much has changed, but if you're already fully embedded in the Native Instruments ecosystem the changes will offer more flexibility in how you use your content. If you just use Live or another DAW and don't have any of NI's instruments or Maschine though, you should be aware that you'll be paying primarily for the one-shots and the loops – and possibly more NI software further down the line to unlock the full potential of your Expansions.
Scott Wilson is FACT's Make Music editor. Find him on Twitter.
Read next: Native Instruments' new subscription service is Spotify for samples