Each week on the FACT Singles Club, our writers rate and slate the biggest new tracks of the last seven days.
This week, Janelle Monáe makes a dazzling return with her funk-filled, Prince-assisted single 'Make Me Feel' and Post Malone joins forces with Ty Dolla $ign for 'Psycho'.
Elsewhere, Swedish synth-pop alchemists Little Dragon release new loosie 'Sway Daisy', '80s-loving renaissance man Twin Shadow enlists Haim for 'Saturdays' and Logic drops '44 More.' Here's what our team of reviewers made of the week's biggest singles!
---
Janelle Monáe – 'Make Me Feel'
Chal Ravens: It's Prince, of course, but that's cool – Janelle is a rightful (and chosen) heir to that sound, so she's welcome to it. It's less interesting than the other new single, though – 'Django Jane', a bass-heavy, subtly Auto-tuned rap track that includes the line, "Let the vagina have a monologue." Dropping two songs so different to each other is probably her way of signalling that this next album is going to be ambitious as hell – welcome back Janelle. (6)
Miles Bowe: Janelle Monáe has played the part of an android from the future while earning comparisons to visionaries of the past, but 'Make Me Feel' sounds like a crash landing right in the present day. It's spontaneous, immaculately sequenced, funny, sexy, experimental and the best single she's made since 'Tightrope.' It's a culmination of nearly everything in her career so far and paired with 'Django Jane', the possibilities of what's to come feel endless. (10)
Scott Wilson: I'm very conflicted about this. On one hand, this is a very good track and a very strong comeback of sorts for Janelle Monáe, who I'd pretty much assumed had sidelined music in favor of an acting career. On the other… well, let's be real here, this is basically Prince's 'Kiss' in all but name isn't it? By all accounts this was done with Prince's blessing and I'm glad Monae's carrying the funky baton, but hearing it just makes me want to listen to 'Kiss' straight afterwards. (7)
John Twells: I'm with Scott, it's not quite Prince, but 'Make Me Feel' is a deliriously good attempt. (7)
7.5
---
Little Dragon – 'Sway Daisy'
John Twells: Sounds like someone singing in the shower while someone else watches Stranger Things in the next room. That's not actually a bad thing. (6)
Chal Ravens: There's always been something of Vic Reeves' club singer about Little Dragon's Yukimi Nagano. All that vocal showboatery and breathless emoting dialled up to eleven, lyrics be damned. It's a great voice, obviously, but it thrives best when it's elevated by weightless pop arrangements rather than this unconvincing boudoir'n'B. Kind of a downer. (4)
Scott Wilson: Can't say I've ever had any love for Little Dragon and this does nothing to change my opinion of them. I'm probably not their target audience but I can't shake the feeling that this is more of a 'mood' than an actual song. (3)
Miles Bowe: A careful balance of pleasant and forgettable. (6)
4.75
---
Twin Shadow – 'Saturdays' feat. Haim
Miles Bowe: Twin Shadow returns with another Prince pastiche that only sounds more glaringly unremarkable in the same week as 'Make Me Feel.' That may have been George Lewis Jr.'s calling card five years ago, but it's wearing thin. Meanwhile, the sparse second single 'Little Woman' is completely leftfield and way more rewarding than this. (5)
John Twells: I don't know how he's done it, but Twin Shadow has managed to work out the precise psychiatric trigger it takes to make me want to jump off my balcony. It's like a teen movie theme tune from the 1980s, except that movie is just me jumping off my balcony, plunging to certain death in slow motion, relieved. (1)
Chal Ravens: I actually had to check this wasn't a Bruce Springsteen cover. The cheek of it! He even talks about "when we dance in the dark" in the chorus. The bridge is strong – there's some nice bell-like tones going on to give it a spooky Echo and the Bunnymen edge – but overall this is a total nightmare for me. Haim come along to add their ersatz Fleetwood Mac thing and it all feels like a very late submission to the Donnie Darko soundtrack. (2)
Scott Wilson: I thought we'd left this brand of soft-focus, post-ironic indie rock behind in the early 2010s with our dreams of liberal democracy, but no, it's alive and kicking and teaming up with Haim. I think this is even probably too bland and unmemorable to be playlisted at Urban Outfitters. (2)
2.5
---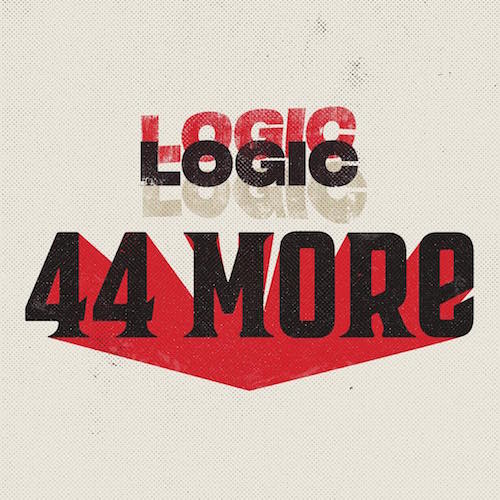 John Twells Logic's one of those rappers I have to remind myself still exists. I know I've heard him numerous times, but can I place a verse? Not really. Do I care? Nope. Is this track changing my mind? It's not. Two points for the "look mom, I can do raps" double-time; imagine how impressive it'd be if the words weren't vapid and his voice wasn't an asinine whine. (2)
Chal Ravens: Yet another track this week that sounds like something else… what is that? Oh, yeah. It's not a low-key reference or an obscure sample, it's from Future's pretty-successful-and-pretty-fucking-recent self-titled album. Like, why? At least let 'Zoom' go cold before retooling it, jeez! That combined with lifting the "ay!" flow from 'Humble', and it's all a bit played out. That's cool that you've sold more records than Harry Styles though, man, whatever makes you feel valued. I have nothing else to say about this angry man. (2)
Scott Wilson: Logic strikes me as the rap equivalent of a popular YouTuber: has a loyal fanbase with its own nickname (the RattPack), is very good at tending to his brand, is undeniably talented at what he does and is conscious of the 'big issues' without having anything particularly insightful to say about them. Points for technical prowess and absolutely nothing for the lyrical content, which made me outraged on Harry Styles and Katy Perry's behalf. (2)
Miles Bowe: This track swipes a crucial sample used in Kanye's 'Waves' and recycles the beat from Future's 'Zoom', but Logic still sounds more like a hollow Kendrick Lamar knockoff than anything. It's a unique feeling hearing so many things you love reused in a something so awful. (2)
2
---
Post Malone feat. Ty Dolla $ign – 'Psycho'
John Twells: Ty Dolla $ign gotta eat, but there's a good argument for hunger here. (0)
Chal Ravens: Against my better judgment, this is incredibly addictive. The way the beat and the vocal melodies loop over and around other like a hypnotic ouroboros of nothingness… it's hard to turn off. Like a lot of (post-Drake) pop-rap, it's a deadened apologia for excess; an acknowledgement of the gaping hole at the heart of over-consumption – and at the same time so soothing, so tranquilizing: soma for the children. I wouldn't skip it on a Spotify playlist, basically – and that's the point. ARGH. (4)
Miles Bowe: I finally figured out how to enjoy Post Malone! I just need to prime myself with an even worse Logic track right before. (4)
Scott Wilson: Post Malone makes Kid Rock seem edgy in comparison. I can't even award points for the Ty Dolla $ign verse because he shouldn't have gone anywhere near this dreary turd. (0)
2
---
Final scores:
Janelle Monáe – 'Make Me Feel' (7.5)
Little Dragon – 'Sway Daisy' (4.75)
Twin Shadow – 'Saturdays' feat. Haim (2.5)
Post Malone feat. Ty Dolla $ign – 'Psycho' (2)
Logic – '44 More' (2)