Underground club music in China is faced with a number of unique challenges, from internet censorship to police crackdowns and rising rents. But thanks to a dedicated and diverse range of artists, promoters, broadcasters and DJs, alternative culture is thriving in 2018. April Clare Welsh speaks to some of the hard-working movers and shakers keeping the scene alive against the odds. Scroll down to the end for a SoundCloud playlist.
It's not easy being an underground club music fan in communist China. Internet censorship blocks access to major western music sites including SoundCloud, YouTube and Spotify and the live scene is up against escalating rents, strict building regulations and police raids. But since its beginnings in the late '90s, clubbing in China, Hong Kong and Taiwan has provided plenty of alternative spaces for electronic music adventurers, with a constant stream of artists, producers, broadcasters and label heads pushing things forward.
An early 2000s foam party thrown by maverick ravers on the Great Wall of China encapsulated Beijing's hedonistic, free party-style clubbing scene. "People were doing really insane stuff back then," says Helen Feng, an artist and label boss based in Beijing. "For instance, taking national monuments and making them places for people to rave to really bad psy-trance." According to Feng, who can be heard on Fatima Al Qadiri's 'Shanzhai', the clubbing preference in Beijing from the late '90s onwards was skewed towards being outside and in nature. An active gay scene, meanwhile, brought with it a wealth of fetish parties. "[There were] amazing costumes everywhere," Feng says. "People looked like they had just stepped out of Berghain."
These illegal parties were forced to go deeper underground when, in 2008, a fire broke out at an unlicensed club in Shenzhen, tragically killing 43 people and leaving 88 injured. "Nothing brings on massive government regulations than a spate of unnecessary deaths, so the fire was kind of the signaling point," says Feng. Landmark changes to building regulations were introduced shortly after, with a dedicated commission established in 2009.
In 2018 there are still a decent number of Beijing night spots serving the alternative club scene, including traditional Berlin-style techno club Lantern, which was set up by the crew at trailblazing techno label Acupuncture Records, and Dada, which books genre-spanning DJs and acts, from Mumdance and DMX Krew to Awesome Tapes From Africa and Horse Meat Disco. There are still financial, legal and political restraints that make it hard for promoters to open new clubs or organize under-the-radar events in the city. Feng refers to what she and friends have nicknamed the "tornado regulations," which tear through the club scene every few years and force the closure of spaces and venues for failing to comply with zoning and safety standards. According to China Music Business News, many performance venues are often subject to strict requirements and control from officials. Despite the difficulties, Feng says there is still a healthy underground club scene.
Producer and visual artist Howie Lee believes that Beijing's growth as a political and economic center makes it increasingly difficult for dance music to flourish. "Everything has been pushed out. You can't put on festivals in the center anymore," he says. "The government doesn't want any big gatherings." Lee co-founded Beijing club night Do Hits in 2011 and it expanded into a record label the following year. The label provides a vital platform for underground producers from mainland China and Taiwan whose essential compilations help raise the profile of many forward thinking producers, like Taipei-based Sonia Calico whose UnderU label focuses on her home city.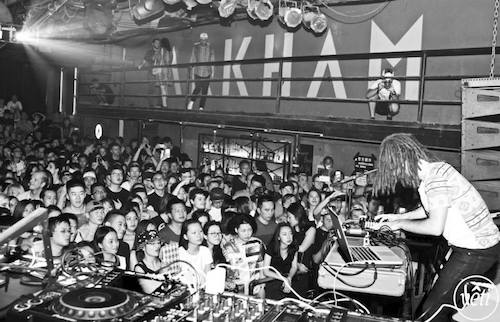 Many of the artists associated with Do Hits put a digital spin on traditional and popular Chinese culture. Beijing-based Jason Hou transforms traditional Chinese instrumentation into wobbly post-club transmissions on his 2017 album Sheng. There's also Shanghai-based dubstep-centric producer Zean, who was featured on the label's second compilation, and Hainan-born Guzz, whose sample-rich 2016 LP An Elephant in The Jungle holds tight to the Do Hits philosophy of blurring the traditional with the futuristic.
"I was very inspired by London club culture," says Lee, who studied Sound Art at the London College of Communication. "We have a very strong community concept with the collective that I definitely learned from London, but also from internet culture." The London club scene has more of a unified physical presence compared to that of communist China, reveals Lee. There, the majority of culture happens online and you might go to a club and know someone's online ID over their birth name.
"Everyone is coming to the club from different cultural backgrounds, and a lot of people don't know each other," he says. "The club identity is changing and moving really fast every year. Yes, we have a very strong Chinese identity, but we are also constantly trying to figure out what that is. We are artists strongly influenced by western culture, but we can't survive in that circle alone because China is blocked inside a wall so we need to survive inside China."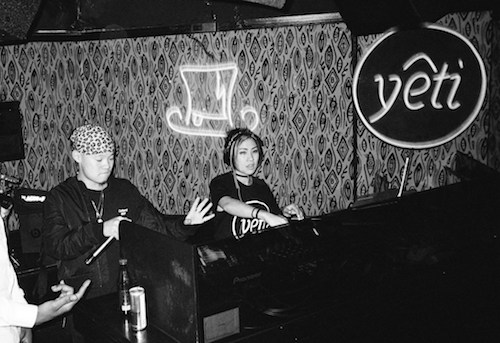 The Great Firewall of China, as it is colloquially known, is mainland China's internet censorship system that uses both legislative actions and enforcement technologies to restrict usage. As of September 2016, six million websites were blocked by the Chinese authorities under the country's Internet censorship policy. Right now, you need a VPN in China to access major sites such as Facebook, YouTube, Instagram, SoundCloud and Spotify. The former British colony of Hong Kong, which maintains political autonomy from China, and the island nation of Taiwan are however not subjected to the Firewall.
There are, of course, alternative online music sources and other apps and social media channels available in mainland China like Weibo and WeChat; a number of streaming sites like Xiami and Netease feed Chinese music to local fans. China has often been at the forefront of the world's cutting-edge technologies and these domestic companies reap the benefits of streaming profits made online. Tech giant Tencent holds the lion's share of the market. And with the population of China approx 1.4 billion, the figures are expectedly huge, with official data estimating that China's streaming music industry could generate $645 million this year. But this massive streaming revenue is also largely due to the long-running crackdown on pirating in China.
Arthur Bray, co-founder of pan-Asian creative platform Yeti Out, notes that there is a wide gap between who is and isn't aware of the internet censorship. "Music fans who have lived or studied abroad tend to keep their ears to the ground for what's happening in EU or US," he says. "But for the locals, it's likely that some don't even know there's the censorship, while it really doesn't affect others because local social media channels like Weibo and WeChat are just fine for what they need."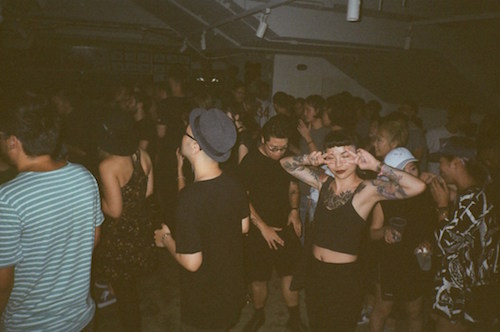 Earlier this year Bray launched his new record label Silk Road Sounds with a 12-track compilation that features artists from Beijing, Hong Kong, Shanghai and Taipei, as well as Berlin, Istanbul, Saigon, London, New York and Singapore. All of the artists on the compilation nod to local subcultures through sampling, paying homage to their specific regions, whether it's Cantonese trap firebrand Young Queenz or Jam City-collaborator and Taipei-native Aristophanes. According to Bray, Silk Road Sounds "follows both a figurative and literal meaning and blends East and West." Thanks to China's Great Firewall, the label had to launch on local streaming platforms, which in turn gave the foreign artists a spotlight on China's otherwise hard-to-access music portals.
Hong Kong Community Radio, which launched in 2016, is another source feeding the underground. Inspired by online stations like NTS and Berlin Community Radio and broadcasting from a leather jacket store, the station runs on a staunchly inclusive, grassroots platform meant to "represent the energy of the city and the other side of the club scene." "When you go out in Hong Kong, it's not always a great experience – there is a lot of toxicity," says station co-founder Gavin Wong. "It's all very ex-pats serving drinks to ex-pats, that kind of vibe. I have friends who will spin Chinese tunes in central, where the mainstream lives, and they will get told to not do it. Chinese tunes are considered more gimmicky and they're not very welcome."
Hong Kong nightlife has a similar bent toward populism, Bray notes, prioritizing bottle service-and-Top 40 clubs. He praises independent venues like Oma which fosters a bubbling up underground scene that lets promoters push more music outside of the mainstream, including techno-adjacent acts. But the recent closure of likeminded club XXX is symptomatic of the challenges these indie venues often face, including alleged harassment from law enforcement and other people in power. It's as commonplace in Hong Kong as it is in mainland China. "There's been a change of policy, with the government wanting to get rid of units where a lot of people gather, which is essentially what a DIY club is," suggests Wong. "So it's been quite tough for the local DIY scene and the climate is not very good at the moment. It's always been about licensing, and underground club music simply isn't considered as art or entertainment by the government."
Wong and his friends often travel to mainland China for gigs and club nights these days, in particular to Shenzhen, a city half an hour from Hong Kong by train. Shenzhen has seen a number of new clubs spring up in recent years offering more challenging music, notably Oil Club, which boasts an epic soundsystem, according to self-described "old raver" Helen Feng. She also mentions Chengdu, the capital of southwestern China's Sichuan province, as another new underground hotspot. Chengdu's grimy crowning glory is TAG (To Another Galaxy), a mythical 17-floor office building that features a different club on every floor. "There are grandmothers literally sitting in the hallway of each floor with boxes of canisters selling Nitrous Oxide," laughs Feng. "You have to watch where you step so you don't slip on the micro-canisters."
Wong predicts that more and more young people will be attracted to Shenzhen's metropolis, but remains positive about the Hong Kong scene's potential. For the moment, he is helping to provide a vital online space off the dancefloor in which the city's alternative music can thrive. Hong Kong Community Radio lives predominantly on Facebook Live, but Wong hopes to create a space where Asian cities can share resources and ideas. "Our vision is to have a collaborative hub in 2018," he says. "We want to show that anyone can do it."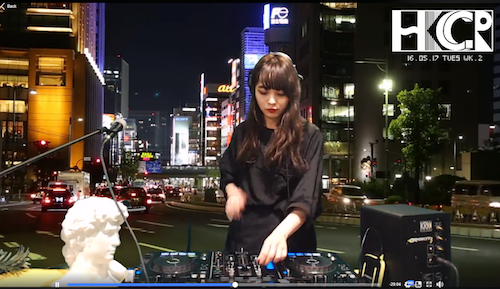 ---
Over in Shanghai, the emphasis is on futurism. Cutting-edge fashion, art and music crews are breathing new life into the city's cultural landscape and offering more options for club and arts spaces, largely on account of cheaper rents. One of these is the 500-capacity Arkham, a club committed to promoting Shanghai's sprawling roster of underground artists, while also spotlighting international names like New York rapper Joey Bada$$ and IDM DJ Machinedrum, among others. Arkham founders note how the club "attracts a high number of creative fashionable kids," while Arthur Bray's Yeti Out collective – who last month – hosted the China debut of NYC hip-hop producer Drewsthatdude – says that the vibe of their club nights is always "upbeat" and reflective of their "East meets West origins."
The tiny Elevator club, named for its novel entry method, is skewed towards the leftfield and is regularly packed to the rafters with sweaty clubbers, according to Feng who holds it up as one of her favourite clubs. Past performers and DJs range from visual art-loving crew ShadowPlay to the likes of Berlin ambient techno hero Move D and Antinote boss Zaltan. There's also Shanghai's mid-sized alternative mecca ALL Club, which has in the past hosted offbeat performers like cutting-edge party crew Asian Dope Boys, whose high-concept shows incorporate elements of live dance, art and music to create color-popping audio-visual extravaganzas. You can get a taste of Shanghai's razor-sharp new electronic sound with genome6.66mbp collective, who also regularly put on parties that attract a switched-on, fashion-forward demographic. Founded by Tavi and Kilo Vee in 2016, it's the online home of Shanghai's best new "weirdo club music", including industrial-tinged disruptor Hyph11e and deconstructed club destroyer Rui HO, who recently collaborated with Berlin Community Radio.
During last December's Communist Party congress, China's President Xi Jinping proclaimed a "new era" for his country, declaring China ready "to take center stage in the world." Howie Lee agrees that where the future of China's electronic music scene is concerned, the bigger picture is one of globalization. "It used to be the case very few people could go out and play and have an audience," Lee says. "But in 2018 if you're really doing cool stuff, you can play to a western audience who also knows the culture too, which is very exciting."
"Despite the odds, there's a good network of like-minded promoters who can work together to bring the cost down of traveling artists via flight shares," says Bray. But Feng says that there's still a way to go in terms of building up infrastructure. "In China everything is online. There is no paper press that is at any level of respectability for music anymore," she says. "There's also no dedicated download service like a Juno or Beatport, either, which is specific to a DJ."
"We have a very strong Chinese identity, but also we are trying to figure out what that is," Lee notes. "We are also artists who are very strongly influenced by western culture, but we can't survive in that circle because China is blocked inside a wall, so we need to survive inside China. It's a system that's continually growing and we just kind of need to figure it out."
April Clare Welsh is a writer at FACT. Find her on Twitter.
Read next: How IDM conquered the USA