Sinjin Hawke and Zora Jones' Fractal Fantasy platform has unveiled the latest stage of its audio-visual evolution: a browser synth called Liquid Entropy. FACT talks to Hawke and co-creator Mika Chernov to find out how the cutting-edge synth was inspired in part by 50-year-old ideas of veteran synthesist Morton Subotnick.
Fractal Fantasy – the creative platform founded by Sinjin Hawke and Zora Jones – has always made a priority of crafting dazzling visual environments for its music. You can listen to its releases on SoundCloud and Spotify or buy them digitally, but they also exist on the Fractal Fantasy website as interactive experiences that let you explore computer generated environments or examine painstakingly detailed figures close up. These visuals – some of which wander into uncanny valley territory – are the perfect accompaniment for Hawke and Jones' glossy, high-definition club tracks, many of which sound like they're moulding themselves into different shapes in front of you. It's an aesthetic that Fractal Fantasy has today taken a step further with the release of Liquid Entropy, a browser synth with a molten metal interface that makes similarly reflective soundscapes.
Using Liquid Entropy is easy: you just load it up in your browser (Google Chrome is recommended) and trace the cursor through the CGI goo, which looks a lot like Terminator 2's T-1000 in liquid form. The ripples create rising metallic tones that sound like they're stretching out into infinity; controls let you add reverb, vibrato, delay and tweak other parameters. In a split second, its tones can shift from heavenly moods to something considerably more sinister, giving you the sensation you're floating over an alien planet full of extraterrestrial flora and fauna.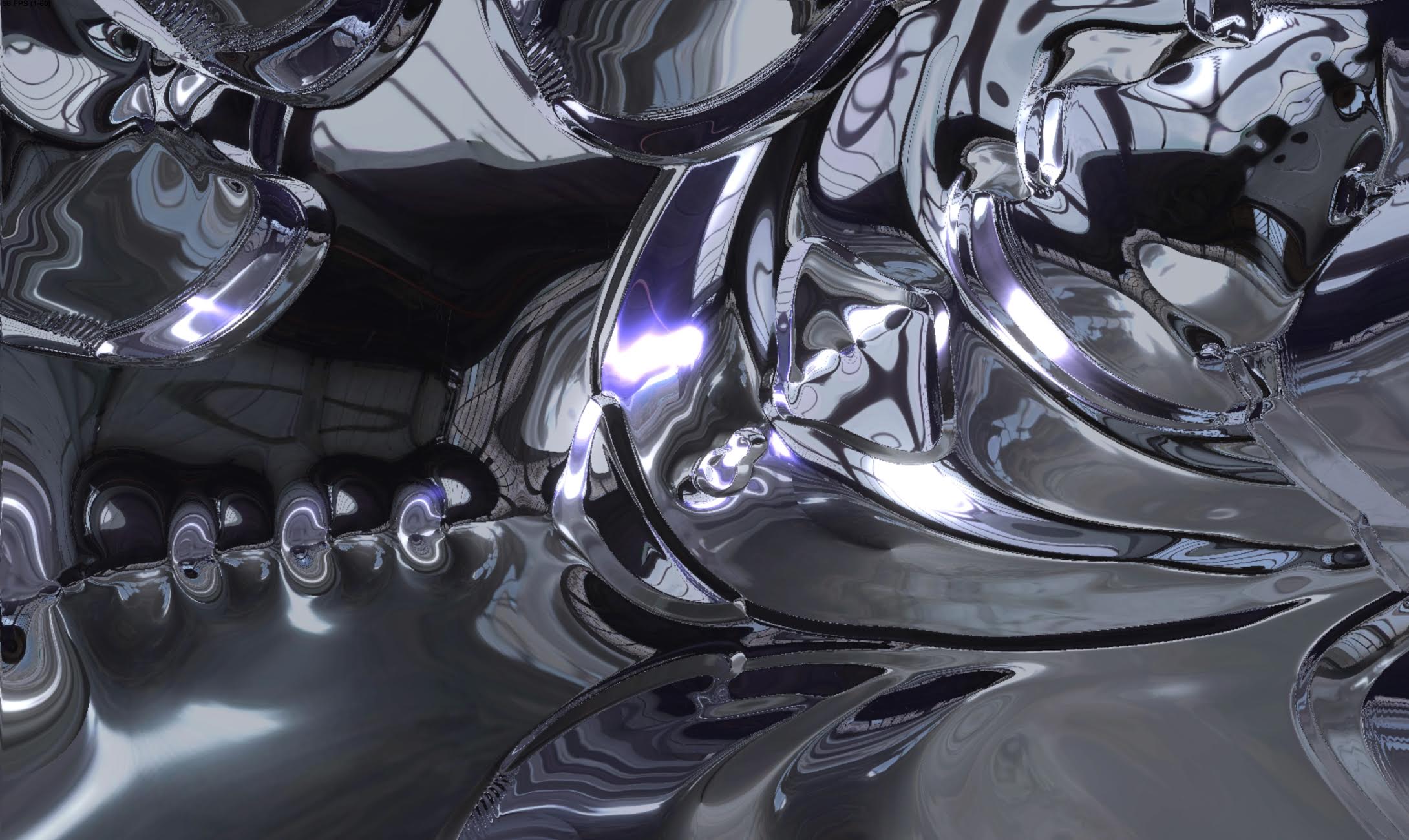 The synth was developed by Hawke, who handled most of the audio coding, and Mika Chernov – a computational design specialist with experience in using Microsoft's Kinect technology to make interactive installations – who handled most of the visual side. "We were working on a project this summer and Mika showed me a multi-touch screen he built a few years ago – this sparked the idea of building a touch-sensitive visual synth for the Fractal Fantasy installation at Ableton Loop," Hawke tells FACT. "So we spontaneously flew him out to Berlin to work on the installation with us, and [it] had a really great response."
The first incarnation of Liquid Entropy, which was on display at Loop in 2017, was projected onto a wall and controlled by hand gestures. The browser version is much the same, though it benefits from optimization that makes it less hungry for GPU resources. It uses a mixture of sample-based and subtractive synthesis; the primary voice is a simple sine wave being run through a set of filters and effects, while the second and third voices are made out of Shepard tones – a sonic illusion that creates the impression of infinitely rising sound. There's also controls for "gleams", which affects the glow amount and volume of the choral Shepard tone; "entropy", which controls the chaos amount and playback rate of the choral Shepard tone; and "worms", which determines how the liquid responds to mouse movement.
"The initial working title was 'Liquid Wall' because the visual looked like a wall made of liquid metal – however, as we were porting it to the web browser, we noticed a few parameters gave it chaotic and unpredictable characteristics," Hawke explains. "At this point, I thought of the entropy," Chernov adds. "The term comes from physics where it used as a measure of disorder and chaos. We combined some of the variables in one "entropy" parameter that handles overall chaos and order amount."
According to Hawke, the right combination of variables can unlock a 'bonus stage' where everything becomes wild and chaotic. "The visual synth essentially breaks and you have to reset it," he says. "It's quite beautiful."
Although the synth looks advanced, it has its roots in vintage synthesizer ideas. "This particular synth was heavily inspired by Morton Subotnick, his aim to ditch the 12-tone scale and completely re-build electronic music from the ground up, rejecting classical theory and embracing experimentation," says Hawke. "So in a sense you could say this was indirectly inspired by the Buchla and other instruments Morton Subotnick was developing in the '60s."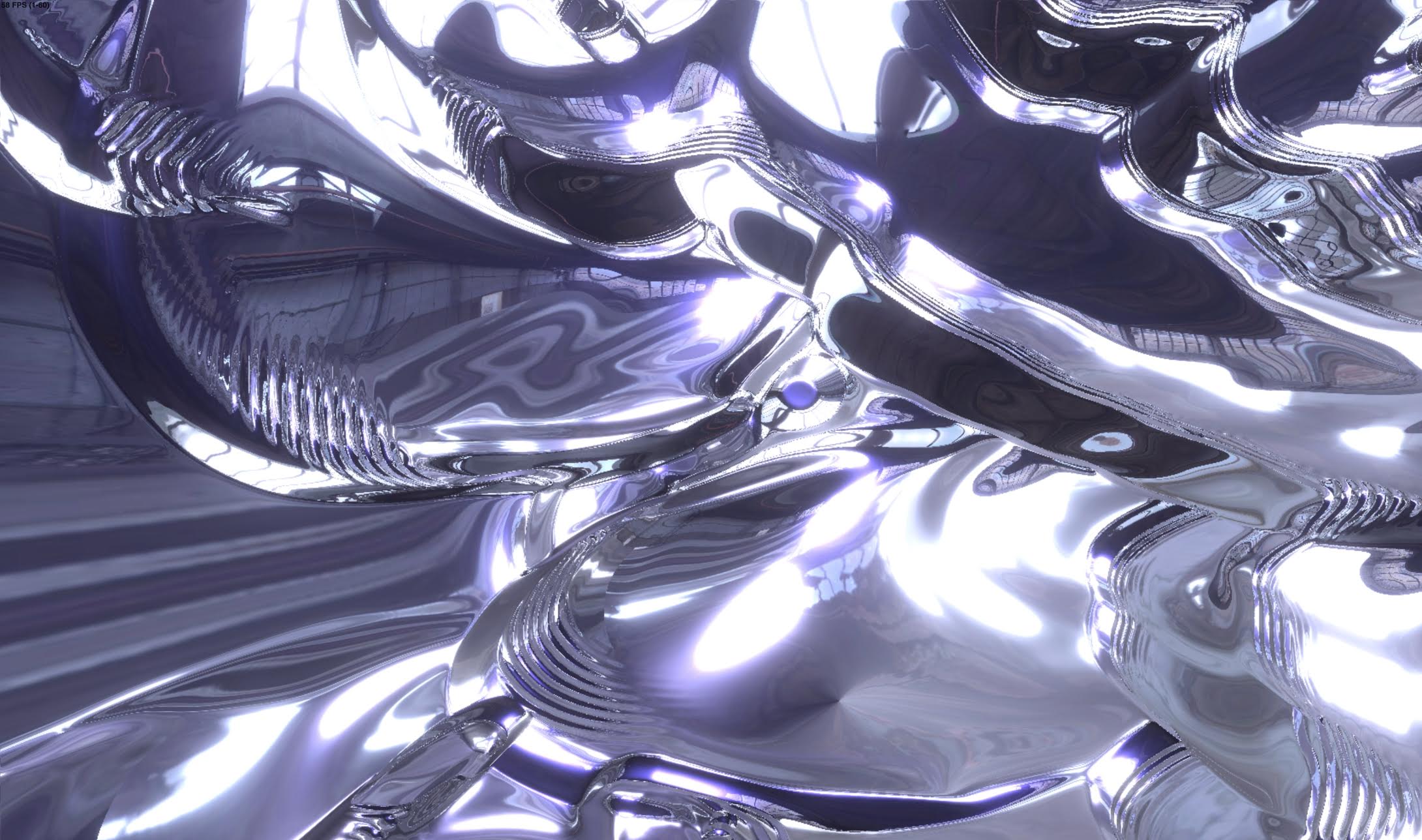 Another inspiration for Liquid Entropy is the duo's obsession with "reaction-diffusion", described by Chernov as a mathematical model of biochemical processes. "The First Opus visual [the accompaniment to Hawke's debut album, released last year] was Fractal Fantasy's first foray into reaction-diffusion experimentation, and ever since then I've been wanting to make an aural interpretation of the phenomenon," says Hawke.
"It can explain how ordered patterns emerge in nature out of complete chaos," Chernov adds. "It's a source of evergoing wonder. It's still a mystery to me how quite simple reaction-diffusion models can mimic liquid behavior. I'm constantly inspired and fascinated by nature and processes that happen in physical and biological world. Vibrations, waves, reaction-diffusions, fractals."
In my short time using Liquid Entropy I've found it to be a little resource-hungry – almost too hungry for my four-year-old MacBook Pro to run smoothly. But it is a lot of fun, and not like any other synthesizer I've used, even in the world of browser instruments where innovation is plentiful. Unfortunately there's no VST version planned due to the complexity of the graphical interface, but Chernov says that they are considering developing iOS and Android app versions.
Hawke and Chernov will also be premiering a "completely different theremin-style instrument" at Sónar Festival in Barcelona this summer, another creation spawned at Ableton Loop. "We actually have a few variations of Liquid Entropy that we may unveil some time down the road," hints Hawke.
Check out Liquid Entropy at the Fractal Fantasy website.
Read next: A model for the future: Synth pioneer Morton Subotnick on 50 years of Silver Apples of the Moon