Over the past three years, Berlin's Superbooth has become one of the world's most exciting synth shows, bringing boutique instrument companies, Eurorack modular specialists and legacy manufacturers under one roof. FACT's tech editor Scott Wilson visited the 2018 edition last week to see it for himself.
Anyone who's been to a trade show will know that they can be a mixed bag: the compromise for early previews of hot new products is usually long lines, even longer wait times and sore feet from walking around gigantic, impersonal exhibition halls. As Berlin's Superbooth proves though, it doesn't have to be like that. Launched in 2016 by renowned Berlin synth shop SchneidersLaden, Superbooth has quickly developed a reputation as a must-visit synth expo for one key reason – it feels more like a close-knit community gathering than a trade show.
This year's Superbooth – which took place at a family entertainment and education complex on the outskirts of the city from May 3–5 – was held in a bigger space than its former home of broadcast complex Funkhaus, but the vibe still felt intimate. And though big companies like Roland and Korg were in attendance, their presence was dwarfed by the hundreds of Eurorack companies showing off their oscillators, LFOs and other innovative modules to make noises with. In fact, it was impossible to find anywhere across the site that wasn't bathed in a cloud of modular bleeps.
However, with the stands covering two floors and four main areas, Superbooth was far from compact; if you wanted to try out everything properly you'd probably need more than the show's three days. I didn't see everything by any means, but here's some of what I did see that made an impression.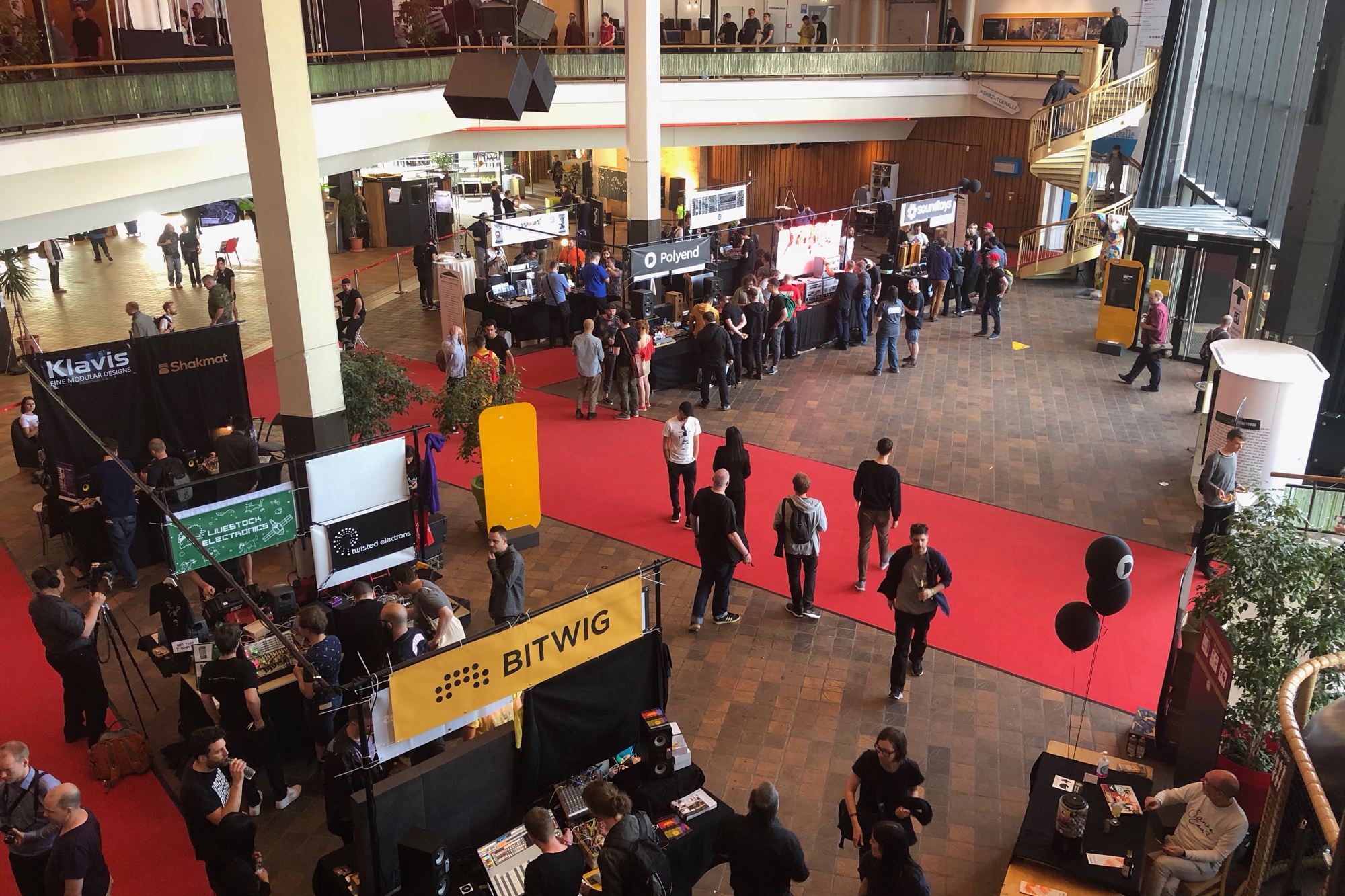 Polyend & Dreadbox's Medusa
With so much modular gear on show, it's easy to forget that Superbooth also has some regular, all-in-one synths to play with too. The most intriguing was Medusa, a collaboration between sequencer specialist Polyend and Greek boutique synth company Dreadbox that combines a Monome-inspired grid sequencer with a digital/analog hybrid engine – three analog oscillators and three wavetable oscillators to be exact. It's not that far removed from Novation's Circuit Mono Station – both have built-in grid sequencers and monophonic and paraphonic (x3 and x6) modes – but there's something about the Medusa's crisp digital bite that will appeal to anyone looking for something that sounds a bit different from a standard analog monosynth.
Another thing that I loved about the Medusa was that the grid isn't just a trigger matrix like the Maschine Jam, and nor does it stop at velocity sensitivity – it responds to pressure across the X and Y axes as well. It's not quite on a par with ROLI's level of expression, but you still get a whole world of performance potential from the Medusa that you just can't get with the pads on a Maschine, Launchpad or Push. For me, the Medusa felt like the perfect meeting point between a hardware synth, advanced expression and sequencing. Polyend says that the Medusa will be available in mid 2018 for $999 – not an insignificant amount of money, but if you want a synth that's quite unique, it could be worth considering.
Modular systems as grooveboxes
Modular synths have a not entirely unwarranted reputation for making bleeps and bloops, and not a lot of music. To a certain extent this is true: a lot of people are inclined to use sequencers instad of keyboards to power their melodies, resulting in looping or algorithmically generated patterns that can sometimes sound decidedly un-musical. But there are also Eurorack companies making devices that don't fit into that mould. On the first day of Superbooth my ears were caught by ALM/Busy Circuits' stand, which was blasting out a filtered Amen break via a prototype sampler module, which was also playing strings and bass.
Eurorack samplers are nothing new, but something about ALM's as-yet-unnamed sampler module felt like it fit more in the tradition of Akai's rack-mounted gear than the musique concrete lineage of something like Make Noise's Morphagene. This isn't all that surprising: ALM's last module, a collaboration with Mumdance, was the MUM M8, a filter module based on that from Akai's S950 – a sampler used on a lot of classic jungle and hardcore records. Together with ALM's prototype wavetable synth module, a small 84HP skiff became a surprisingly versatile groovebox.
Another company actively courting club producers was Erica Synths, who was showing off a prototype of its "techno drum system", a 15-module system encompassing a 909-inspired sequencer, kick, snare, toms, clap, hi-hat, bassline generator, sub oscillator, dual drive for saturation and other effects.
It was loud enough to completely dominate the background noise of the entrance hall where it was situated, but you'd have to be very dedicated to making thumping industrial techno to spend what is probably going to be quite a lot of money for a drum machine. As an object though, it's a sure sign (along with ALM's range and Moog's DFAM drum synth) that we're probably going to be seeing a lot more modular systems in the club in the next few years.
chair.audio's haptic interface
Sometimes the most interesting stuff is a little off the beaten track. Weimer's chair.audio was hidden away down a side corridor, but its unnamed haptic interface prototype was one of the most original things I saw at this year's Superbooth. It looks like a touch-sensitive device along the lines of Make Noise's Pressure Points, but it instead has excitable surfaces that can be scratched, hit or bowed to make sound. The resulting touch information and vibration signal are then sent to a synth, which translates into sound.
You have to resist the urge to just touch the surface like a keyboard – the vibration data is just as important as touch so it doesn't respond much to being stroked. But it was capable of making some very unusual timbres, especially in conjunction with a bow scraped along the edge.
I can see chair.audio's instrument being popular with Eurorack owners, though the dedicated module version is a little on the large side to fit in a case. However, the only difference between the module and the standalone unit is the positioning of the outputs, meaning that you could easily pair an individual unit with a modular synth without taking up any space.
Behringer's clones
Budget gear company Behringer has talked a lot over the past year about its plans to clone as many classic synths as it can, so it wasn't surprising to see new unofficial replicas on display. What was surprising is just how close to the originals they are. There was a clone of the TR-808 drum machine (the RD-808) and a remake of the ARP Odyssey, both of which could easily pass for the originals if you weren't looking closely.
In fact, the main visible difference between the Behringer Odyssey and the original is the omission of the ARP name – a trademark that Korg currently owns. There was also a module version of the Sequential Circuits Pro-One, but the omission of a keyboard meant that it was less obvious what it was imitating.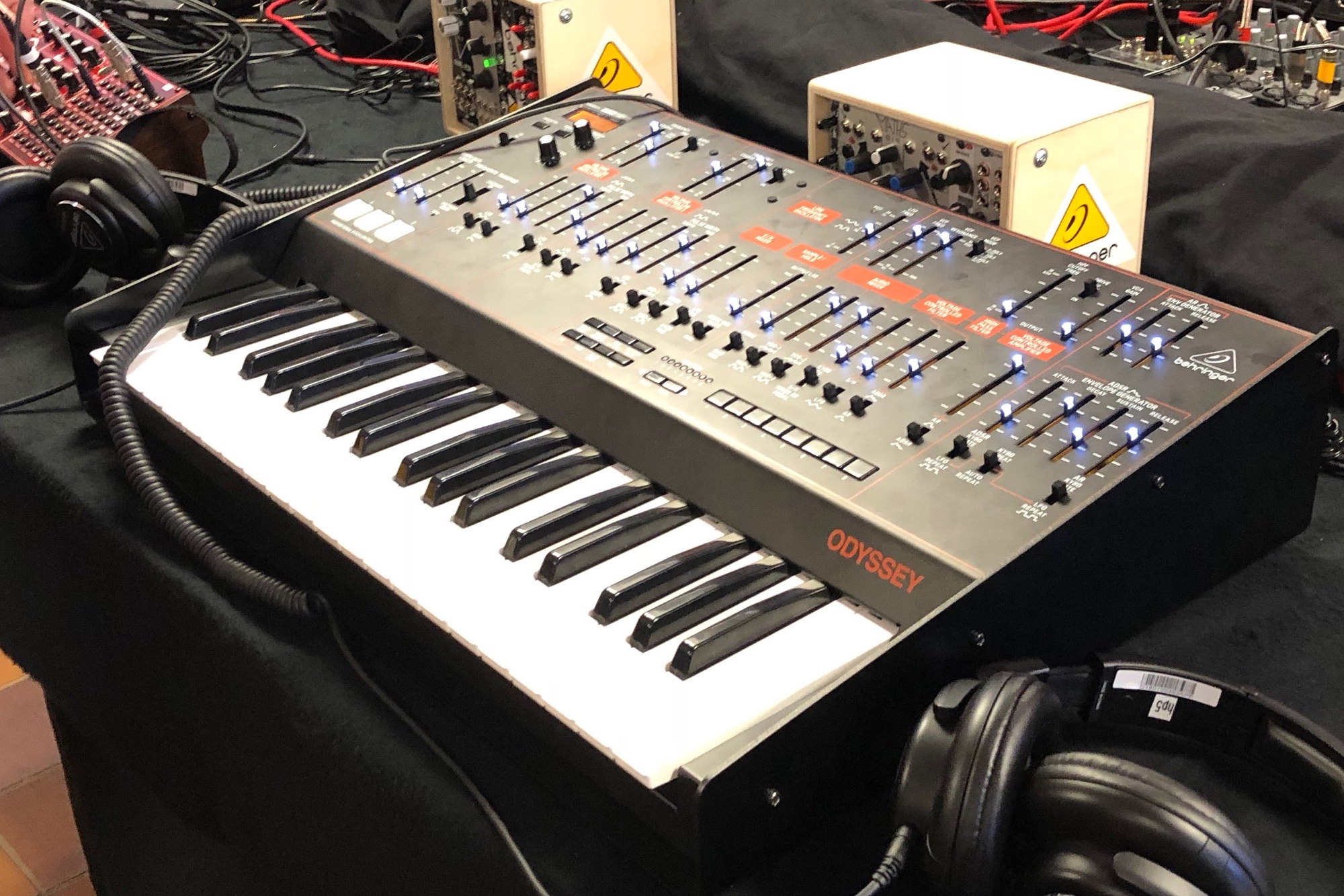 I got a chance to play with the Behringer Odyssey and Pro-One, and on the surface at least, these are very impressive replicas at what will presumably be a very competitive price (Behringer's Minimoog clone is just $299). They sounded good, and while the materials and build quality definitely aren't on a par with the originals or Korg's official replica, the Odyssey felt solid enough for studio use. But I was more interested in Behringer's semi-modular Neutron synth, an original design with lots of patch points for integrating into other gear. It had a quirky, unpredictable sound to it that was far more exciting to dive into than Behringer's replicas of 40-year-old gear.
I wasn't around for Superbooth on the Saturday, but anyone attending on then may have got a sneak preview of Behringer's SH-101 clone. Whether you like them or not, clones are here to stay.
Black Corporation's replicants (not clones)
"Replicants are not clones" is Black Corporation's tagline. This is, in part, a reference to Blade Runner – its flagship synth, Deckard's Dream, is a replica of the Yamaha CS-80, the synth used by Vangelis to write the score for the 1982 sci-fi classic. But it's also an argument that synth replicas can be something more than just a straight copy – that they can also be desirable, innovative items in their own right.
What hit me about Black Corporation's instruments – both Deckard's Dream and the new Kijimi – was how lovingly made they were. You don't see a lot of rack-mounted synths these days, but up close they looked as good as any Eurorack modules or standalone instruments. Deckard's Dream was as lush as I expected, but Kijimi, based on the Kobol polysynth from the 1970s, was a real surprise. Black Corporation described it as "grumpier", which I took to mean more angry in terms of sound. You can't necessarily tell from the video (we couldn't record direct line audio because it was a prototype), but it had a real sub bass growl to it.
Of course, you have to pay a premium for this – £3,749 for a pre-built Deckard's Dream. But if you're willing to self-build, a DIY kit is $999 – still expensive, but definitely an alternative to an existing off-the-shelf polysynth like Novation's Peak or Dave Smith's Prophet X.
Old gear is as good as new gear
The best thing about Superbooth wasn't necessarily getting to try out new gear, but using all the existing gear I'd not had a chance to see in person yet. Although the dedicated synth shop is far from extinct, large scale retailers that can carry the range of equipment on show at Superbooth aren't particularly common, and looking round the booths and trying out whatever caught my eye made me feel like a kid in a toy store. If you're serious about investing in a new synth and you can get to Berlin, it's the perfect place to plan your potential next purchase – like the Polivoks reissue.
Of course, it's also full of gear few of us could ever hope to afford, like Buchla's 200e system, whose polyphonic rhythm generator module had me mesmerized for a full 15 minutes.
It would be easy to write off Superbooth as just another trade show, but it's much more than that: it's somewhere you can wander around and feel inspired to revisit the instruments you already have with fresh eyes and ears. Even if you're not in the market for any new gear, Superbooth is still an electronic musician's paradise.
Scott Wilson is FACT's tech editor. Find him on Twitter
Read next: Does Nintendo Labo hold any potential for music-makers?