FACT Singles Club features a panel of writers rating and slating the biggest new tracks of the last seven days.
Heavy-hitters abound in this week's Singles Club: the legendary Andre 3000, the beloved Chromatics and the festival favorites Disclosure are all on the chopping block. We've also got tracks from Anderson .Paak – one that sounds dangerously similar to something our Singles Club panel recently reviewed — as well as dancehall experimentalist Miss Red and singer-pianist Hilary Woods, whose languid, haunting debut album Colt comes out next month via Sacred Bones. (FACT staffers love it, the Singles Club panel seems to feel differently.)
Find all that and more (yes, there's a bonus track this week!) below.
---
Chromatics – 'Black Walls'
Jesse Bernard: The wintry mood that the synths emit transports me back to the '80s. Coupled with Ruth Radelet's vocals, I'm ready to be left in my feels. (8)
Michelle Lhooq: I know this kind of chintzy, '80s-tinged synthwave stuff is all the rage right now, but I'm so bored of feeling like I'm living in a Stranger Things scene. (5)
Caroline Whiteley: I quite like the retro, emo-ish vibe of this cinematic track. Is anyone making a Drive spin-off? This could be your soundtrack. (6)
Cameron Cook: Dear Tommy is already a semi-mythic cult album, and that was before the report that Johnny Jewel literally destroyed thousands of copies of the record after suffering a near death experience last year. Meanwhile, he just dropped an album of leftovers from last year's Windswept, some of which ended up in Twin Peaks: The Return, and you can definitely hear the Lynchian influence on this track: Chromatics' signature dark Italo is even a tad spookier. Into it. (8)
6.8
---
Andre 3000 – 'Me&My (To Bury Your Parents)'
Michelle Lhooq: This song transported me from sipping coffee in the middle of a stressed-out afternoon to nearly bawling face-down on my laptop. So much heart and soul is packed into this stirring piano ballad about how the quotidien memories of time spent with your parents — driving to the grocery store, riding shotgun — become so precious when they're gone. (9)
Cameron Cook: This song kung-fu punched me in the heart so hard that I actually had to stop listening to it several times while writing this review. Nothing makes me well up faster than finding the beauty in the mundanity of life, and Andre's gorgeously subdued voice recounting little moments of parental love from his childhood is soul-wrenching. Oh god, the flute just came in. (9.5)
Jesse Bernard: We'll probably never get a 3Stacks album this century but every once in a while he reminds us why he's still one of the greatest artists in the game. (9)
Caroline Whiteley: On 'Me&My (To Bury Your Parents)', Andre 3000 remembers his deceased parents in small, loving vignettes: driving to the grocery store, driving the the football game, his dad telling jokes and sipping cognac. It's these moments that make the song so heartbreaking and beautiful. (8)
8.9
---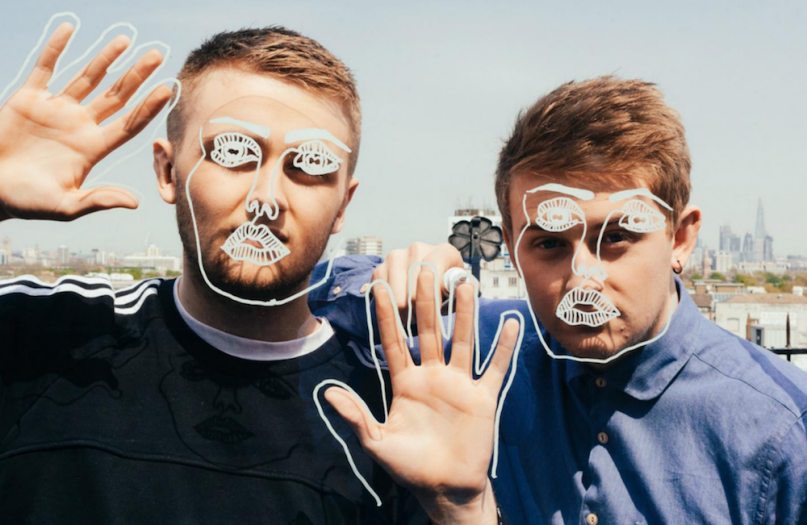 Michelle Lhooq: Disclosure have built a career out of their knack for building dance songs out of the catchiest samples, and it's impossible to deny how well Malian artist Fatoumata Diawara's vocals works against their light, jazzy backdrop of beats. This is going to play at every Ibiza sunrise set for the next few months. I just hope these two white boys are cutting her a big, fat check. (7.5)
Caroline Whiteley: There's an undeniably fun, jumpy groove to almost every Disclosure production, I have to admit it. However, one of my biggest pet peeves is white European boys digging up samples of African artists (in this case by Malian musician Fatoumata Diawara) for their tracks. I can picture exactly the kind of tropical tee-clad bro will dance to this. (3)
Cameron Cook: Maybe I've just been reading too much about the effects of colonialism lately, but this is the latest in a recent line of artists going for a Graceland-esque Afro-pop thing that is kind of rubbing me the wrong way. Am I being too harsh? I like the electric piano and chilled-out beat, but it's toeing the line of a Buddha Bar vibe and I feel like Disclosure could try harder. However when I inevitably hear this at a BBQ this summer I probably won't be mad at it after a few beers. (6)
Jesse Bernard: It seems Disclosure came out of hiding just at the right time and although I've never really been invested in their material, beyond what I hear when I'm out and about, 'Ultimatum' is certainly a spirit-lifter. The sample, which uses Malian musician Fatoumata Diawara's vocals, gives the track that vibrant element but it also would've sounded more supreme had they been original vocals. (6)
5.6
---
Miss Red – 'Ragga'
Caroline Whiteley: I'm all in for freaky, punk-ish dancehall bangers. (7)
Cameron Cook: Ooh, industrial goth dancehall? This is what I show up here for! This makes me completely reevaluate the Popcaan track from last week, which seems totally sleepy in comparison to this weirdo sex romp. I love how she just kind of peaces out at the end of the track as it dissolves into static. I love when someone truly innovates in a niche genre, and Miss Red knocked this out of the park. (8.5)
Michelle Lhooq: Miss Red's lilting, almost childlike voice floats eerily over rubbery synths and strange high-pitched wails drenched in reverb makes this one of the most inventive (and elegant) dancehall bangers I've heard in a minute—and it's doubly intriguing to find out that she's an MC from Israel. (8)
Jesse Bernard: Miss Red's distinct voice always elevates a track just that bit more, particularly because the beats she selects often lean toward the acid side of dancehall. I was left wanting more from this — it may have been more balanced with a featured vocalist. (6)
7.4
---
Anderson .Paak – 'Bubblin'
Cameron Cook: Remember that super annoying J. Cole video from last month about the perils of capitalism and yadda yadda? This is the good version of that! Not only is the video hilarious, but Anderson's rapid-fire bars and the track's unrelenting upbeat groove make it sound like it should be playing in the most opulent bouncy castle the world has ever seen. After falling in love with Malibu, I've been waiting to hear from Anderson. This didn't disappoint. (7.5)
Caroline Whiteley: I reaaaally hate to do this to Anderson .Paak but this reminds me too a whole lot of that J. Cole track. Sure, there's a lot of energy in the trap beat, but Paak's verse about copping "a room full of Asian hoes and do blow all day" is the nail in the coffin for me. (4)
Michelle Lhooq: With its semi-satirical take on rap fantasies, the music video manages to make tired tropes like bouncing butts, fur coats, golden thrones, and flying wads of cash feel kinda fresh and funny. Similarly, the addition of strutting horns and wailing strings helps to give this song a little twist — but ultimately, both still feel a little generic. (6.5)
Jesse Bernard: The euphoria that Anderson. Paak provides is like no other in modern funk and soul but with 'Bubblin' he takes his sound to new heights. Anderson's always been gifted at blurring the lines between rap and R&B with his melodic flow but after Malibu he's certainly been more adventurous in how he approaches it. (9)
6.8
---
Hilary Woods – 'Prodigal Dog'
Caroline Whiteley: This is a pretty track, but I can just tell that I won't be revisiting it any time after listening to it for Singles Club. (3.5)
Michelle Lhooq: Sorry. I don't care how haunting the lyrics are, or how sweeping the orchestral arrangement is — this song fades into the background like a skeletal wallflower that sadly doesn't capture the attention that it probably deserves. (5)
Jesse Bernard: The piano-led production and intermittent drum pattern create enough of an atmosphere where the distorted vocals, which don't come in until roughly 1:20, end up feeling redundant. A lot of the emotion and mood within the song is carried through the instrumental itself but at the same time, the softness of the vocals really does add to that haunting feeling. (6)
Cameron Cook: HOLD ON. IS THIS THE BASS PLAYER FROM JJ72? Just when I think this life can't throw me any more curveballs, the ghost of 2001 comes up from behind to drag me all the way back to listening to my Discman behind my high school gymnasium. I'm giving Hilary a full extra point just for existing, but on top of that, this track is grayscale post-rock that could sit comfortably beside Dead Can Dance or Coil or something, and the mood she casts with her voice is beautiful. Who knew? (7)
5.4
---
SINGLES CLUB BONUS TRACK:
Backstreet Boys – 'Don't Go Breaking My Heart'
Caroline Whiteley: Backstreet's (bringing boy band dancing) back! You know what, I was fully prepared for this to be ridiculously embarrassing but this totally works somehow? I'm definitely bopping my head as I type this. (6.5)
Cameron Cook: A first, I was frozen in terror a the prospect of this being an Elton John featuring Kiki Dee cover, but since that's not the case I can proceed in earnest here. Backstreet are indeed back, and for what it's worth… it's not terrible? It's no 'Shape of My Heart' (fight me) but in the Year of Our Lord 2018, BSB could do worse than a generic electro-pop song that could masquerade as the ninth track on a Katy Perry album. And look at the choreography in the video! Come on! (6)
6.3
---
Final scores:
Andre 3000 – 'Me&My (To Bury Your Parents)' (8.9)
Miss Red – 'Ragga' (7.4)
Anderson .Paak – 'Bubblin' (6.8)
Chromatics – 'Black Walls' (6.8)
Disclosure – 'Ultimatum' (5.6)
Hilary Woods – 'Prodigal Dog' (5.4)
Bonus: Backstreet Boys – 'Don't Go Breaking My Heart' (6.3)
---
Cameron Cook is an American culture journalist currently residing in Berlin, Germany. He would go to the ends of the Earth for Kate Bush. (@iamacameron)
Caroline Whiteley is freelance writer based in Berlin. (@carowhiteley)
Jesse Bernard is freelance music and culture journalist based in Brooklyn and London, still hotsteppin' in a Nike Air sneaker. (@MarvinsCorridor)
Michelle Lhooq is an LA-based journalist writing about music and weed. (@MichelleLhooq)
Read next: Singles Club: With RP Boo, the future is (still) footwork