LA-based music software studio Output is following its innovative plugins and studio desk with its most ambitious product yet: a subscription service and sample-based instrument in one that promises to deliver new sounds daily. Scott Wilson finds out how it works and how Output is planning to create an ongoing supply of loops.
If one trend has dominated music production in 2018, it's pre-made samples and loops. In January, Native Instruments launched Sounds, a Spotify-style subscription repository full of loops, while Ableton's Live 10 launched with a collection of themed sound packs that brought a fresh twist to bundled content.
Output – the LA studio responsible for innovative plugins like rhythm processor Movement and hybrid sound engine Analog Strings – is the latest company to throw its hat into the sample ring. Today, it launched Arcade, a $10 a month subscription service and software instrument it describes in a press release as like "a Netflix or Hulu for music makers" that delivers fresh content every day to an interface that lets you twist and mangle it to your liking.
As Output CEO Gregg Lehrman tells me, the decision to make Arcade came from a desire to shake up the way producers work with loops and samples, the use of which can be perceived by some critics as 'cheating', sometimes resulting in generic, uninspired – and even plagiarized – music.
"We wanted to make [the process] creative for people so they don't sound like everybody else but also make their workflow faster," Lehrman says. "The workflow is often terrible. I go to websites, I download folders of audio files, then I drag and drop them into my DAW. Depending on the DAW, some of them will stretch the tempo and some of them won't. And then I have to match the key. I have to do all that just to find out if the loop is a good one to use, so it would take me a couple of hours to try and find the right content."
In terms of workflow, Arcade succeeds in its aim. Loading a set of samples is as easy as clicking a button, and although it can take a good 30 seconds depending on your connection, you can preview the sounds first if you don't want to wait. The samples are downloaded locally on your hard drive so you can use Arcade offline, and you can even play back samples in a project if your subscription has lapsed. So, although Arcade is built for the streaming era, you shouldn't ever find yourself waiting for anything to buffer. If you want to remove the sounds from your hard drive, it's as easy as right-clicking on the browser next to the line you want to remove.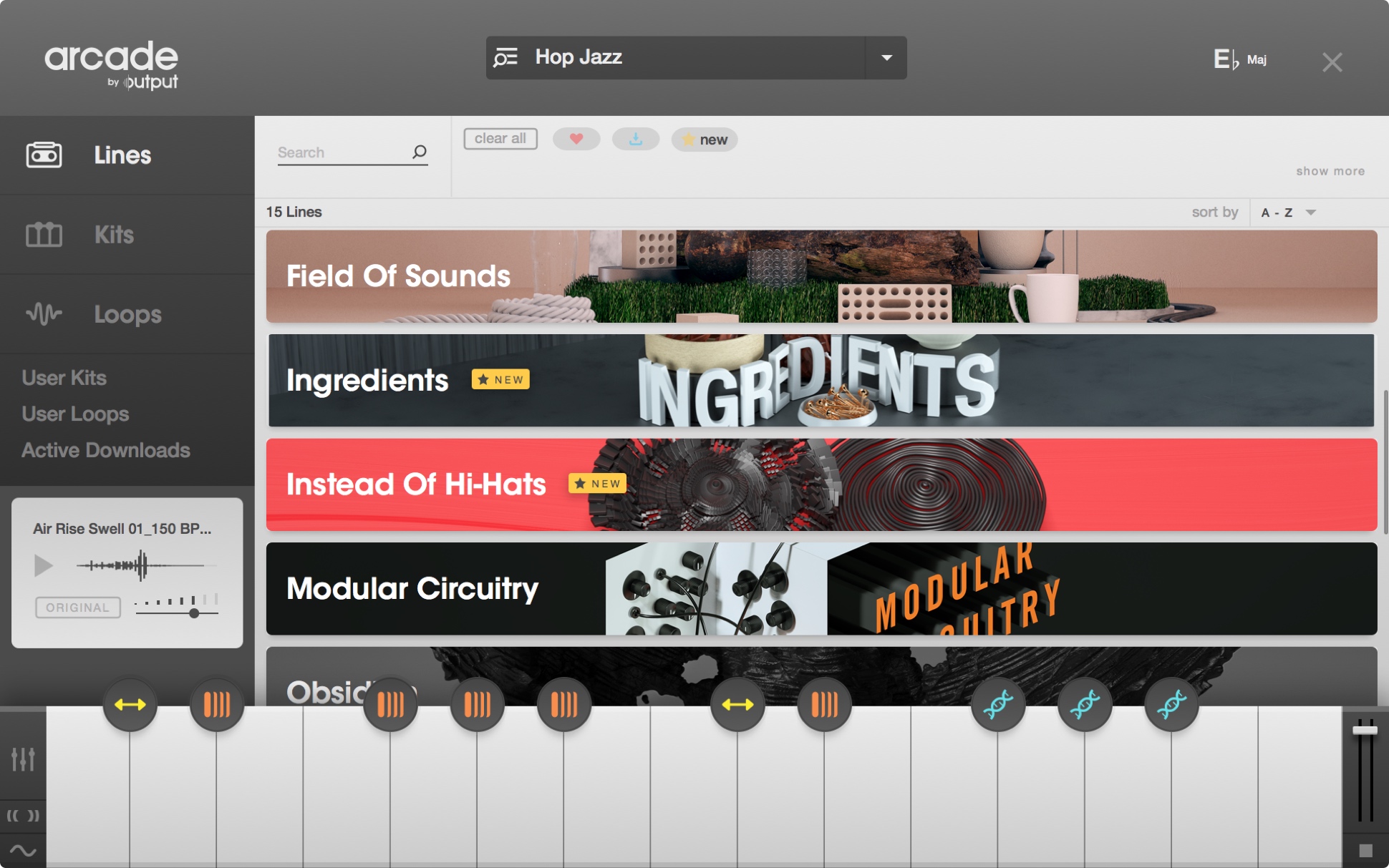 As for the current crop of sounds themselves, they range from experimental Eurorack sounds (Modular Circuitry) to big room dance music (After Hours) and textures for soundtrack composition (Obsidian), with lots of lines dedicated to drums and percussion. Arcade launches with 15 lines, some of which contains over 50 kits. Each kit includes 15 loops. While some of the lines didn't initially seem to be to my taste, I found that experimentation yielded unexpected results, especially when I started manipulating the more 'commercial' sounds.
Arcade's interface and sound manipulation tools are really easy to use too. White keys play samples while the black keys play the modifiers, of which there are three: Playhead is a sort of tape effect that allows you to loop, reverse and scrub through samples; Resequence is a kind of step sequencer that jumbles the loop into chunks a little like the Live Simpler device's slice mode; and Repeater is a note repeat tool with rate, reverse and volume step sequencer. Each can be tweaked to your liking in the settings.
Effects, meanwhile, are controlled with four macro sliders (akin to those found in Movement, REV and Output's other instruments) that change depending on the line of samples selected. These let you add modulation, delay and other combinations of effects quickly and easily. In just 10 minutes with Arcade I had the start of an exciting loop made with a simple funk bassline, drum kit and guitar lick from the Pocket Band line that sounded nothing like the source material, especially when I rearranged the guitar line and put it through Live 10's Pedal effect.
Although Lehrman accepts that not everyone likes using samples, he believes that Arcade could appeal to synthesists too, likening the way Arcade can be used to tweak samples to the way some producers will take a synthesizer preset and shape it to the sound they want. "I think you can find a similar experience with Arcade where even if you're against using loops because you feel like it's cheating, you can use it as a sound design tool where you take them as a starting point," he says.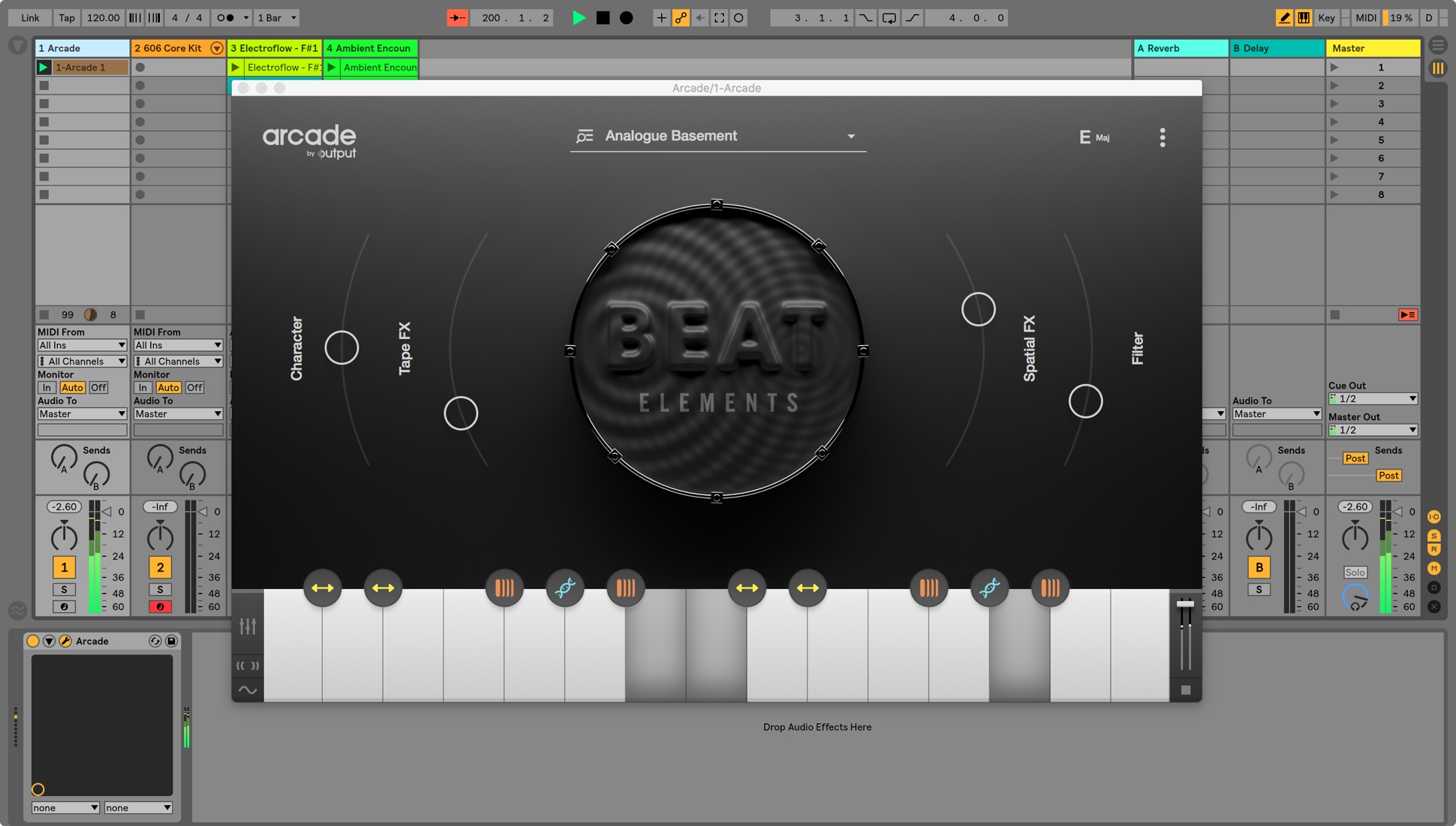 Of course, Output isn't asking producers to pay $10 a month just for the interface, even though you can upload your own samples if you want. Output – like Netflix, Spotify and all the other subscription services – is asking musicians to pay a monthly fee for a steady drip of fresh content. It's this that will determine Arcade's success, as anyone who's quickly burned through their Live and Maschine sound libraries will know.
Lehrman is confident that Output will be able to meet this commitment, having already invested in an on-site recording studio at Output's HQ to help create the huge amount of music it will need. "We're also running close to six months ahead [in terms of content], but we don't just want to have the most quantity – we want to have the best quality. It's one of those things that kind of sounds cheesy, but it's true – when you start playing with content, you want to make sure it's good, so every single loop and kit runs through our internal sound design team."
Even if Output is in a good place to deliver the loops it needs to maintain its subscribers, it's entering a very crowded market. As well as NI's Sounds.com, which offers a similar $10 per month service alongside a free tier, there's Splice and Noiiz with their own subscription offerings. But Lehrman believes that subscription software is sometimes a much better proposition for the consumer than buying outright.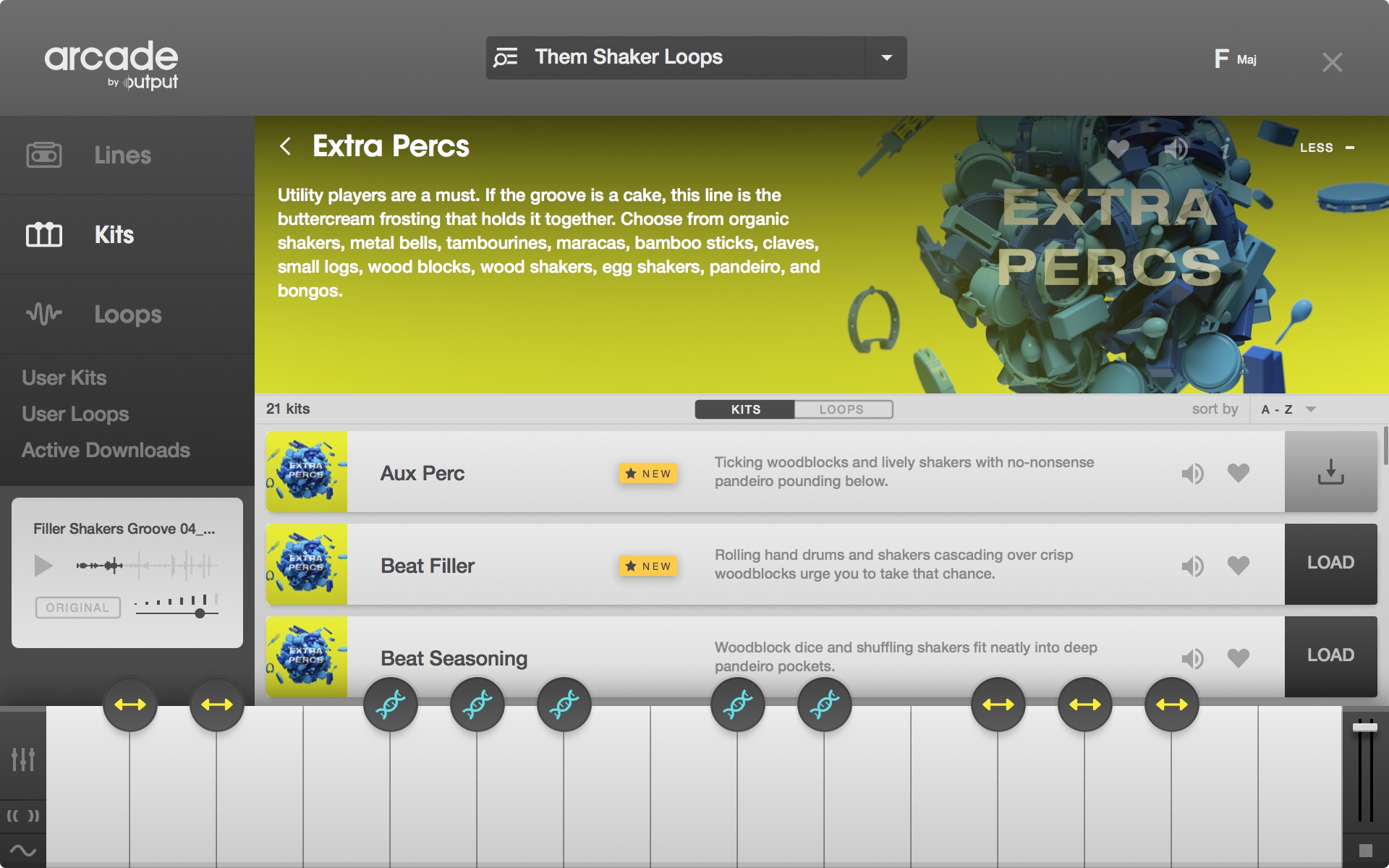 "When you buy a product and you own it, there's no need for the manufacturer to continue making it better," Lerhman says. "What is the incentive for a company to put out new content every single day or the incentive to roll out new features? I use Netflix, I use Amazon Prime and by paying it on a monthly basis I get not just what they have but what they have coming out [in the future].
"I think that the reason all of these companies have been doing it is because they're finding a lot of success in the idea of not overloading somebody's wallet. A bundle of all of our instruments and effects costs $749 but jumping in at $10 a month is a much smaller commitment."
I've never been much of a samples person beyond using them for drums, but Arcade has a lot of appeal because it's something rare in the world of plugins: a whole new category. And, although you could make a whole track with it if you wanted to, its real strength seems to lie in being a useful tool for generating ideas that you can build on with other instruments.
Although Arcade shares similarities with streaming services like Netflix or Hulu, Output's own comparisons with these platforms sell it short – watching Netflix will never be as productive. Netflix's library of binge-watchable TV shows and movies though, is a much easier sell to a mass market – and with Arcade, Output is entering uncharted waters.
Output Arcade is out now and costs $10 a month. You can try it free for 100 days before you buy at the product website.
Scott Wilson is FACT's tech editor. Find him on Twitter
Read next: Signal Path: Simian Mobile Disco on one-of-a-kind synths and working with a choir on new album Murmurations