Type quantumnatives.com into an internet browser's address bar and your screen is immediately filled with a strange, visual configuration.
You're looking at a map, with plus and minus signs on the screen's right hand side enabling you to zoom in or out. The entire space is watermarked by the Quantum Natives logo, a playful appropriation of the logo from Quake, a hyper-violent, first-person shooter. Click and drag the cursor and you can move yourself around the uncanny topographical creation. Zoom out and floating icons designate more landmarks to explore. Chintzy imagined animals or nightmarish sci-fi apparitions suggest points of interest and each leads to an audio or visual artifact of Quantum Natives' always expanding roster. It's an imperfect world, but one alive with the contradictions and inconsistencies of our own.
The site is emblematic of burgeoning non-physical portals into musical worlds, be that of labels, collectives or even more nebulous gatherings of networked, like-minded people. The website of Zora Jones and Sinjin Hawke's platform Fractal Fantasy, is another online space, albeit one that immerses its users in full-bodied, 3D graphical interactions. The label Eco Futurism Corporation exists almost exclusively online in the code of Bandcamp and SoundCloud but the accompanying sci-fi artwork hints at  a wider fiction, a space for its musical output to exist within and a means of uniting disparate international contributors. NON Worldwide, the collective founded by Angel-Ho, Nkisi and Chino Amobi, exists across the African diaspora, connected, in part, by the modems, routers and copper-plated cables of the internet. On its website, NON is emblazoned with eleven stars, what appears to be the imagined online territory of its creators.
Over the last 10 years scenes have increasingly experimented with a shift from the physical to the digital, instigated by geographical dispersion of participants. The emergence and subsequent development of dubstep in the early to mid 2000s was highly concentrated in South London before spreading to Bristol. Each mini-scene experienced a specific evolutionary tangent, manifesting as subtle but profound divergences in sound. The often claustrophobic, techno-futurism of producers such as Skream and Mala in London countered the spacious, melodic and sometimes psychedelic offerings of Bristol-based artists such as Peverelist and Joker. More recently, the Lisbon label Príncipe has dedicated itself to the thumping club music emanating from the city, its suburbs, projects and slums, an output with a specific, highly contextualized focus.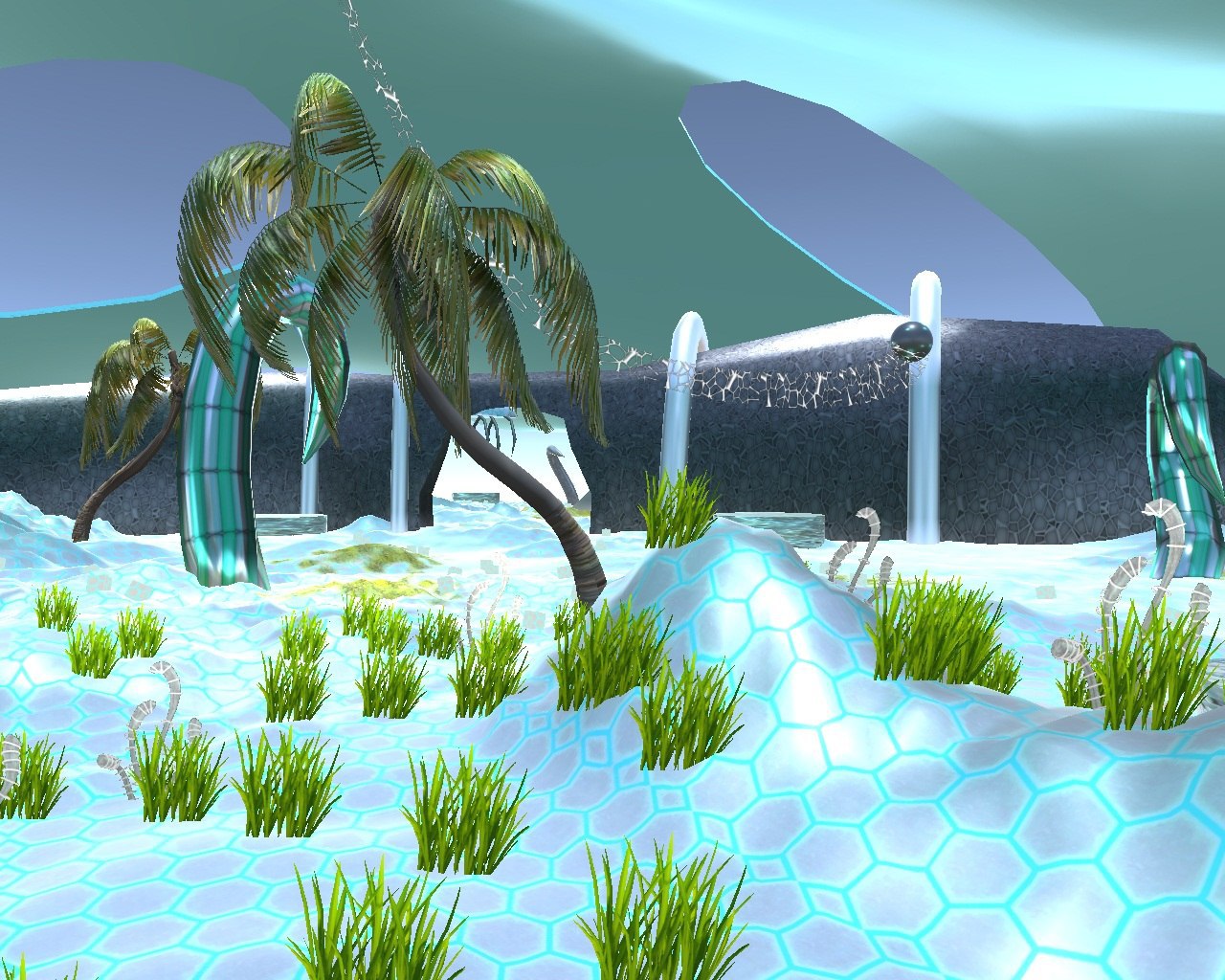 Further afield, the radical club music of the Janus collective exists at the intersection between its global set of musicians and the group's origin in Berlin. Scenes operating in the aftermath of Janus' techno-dismantling output of the early to mid 2010s have straddled such physical/digital lines. The work of South London's Bala Club, headed up most visibly by Kamixlo and Uli K, has incorporated international guests into its output, while the Staycore Collective, founded by the Stockholm-based Dinamarca and Ghazal, features a Europe-wide membership.
For AWE IX, one of Quantum Natives' founders, the online nature of the label was born partly from necessity as well as design. It began in 2011 as an event at a sports bar in South London where AWE IX, Brood Ma and Recsund performed a mixture of noise and club sets against a backdrop of projected video art. It was intended to be a series of events before AWE IX moved to Taiwan the following year and the group began working together remotely. The seed of the site's topographical nature was already present in original club night's trailer. "There was a lot of birds-eye view, almost Command and Conquer imagery and that kind of morphed into this world-building fiction exercise," they tell me, now relocated to Berlin. "The map is the beginning of that."
Quantum Natives' website is built using the Google Maps code. Across its digitized terrain is work from artists spanning Southeast Asia, Europe and North America. Often URL names are deployed in favor of IRL counterparts. "The freedom to represent yourself online is something we really try to respect by giving people this platform to show themselves, almost like a character or persona," AWE IV tells me. The site's visual presentation also ditches typical means of organizing information, either columns of text sorted by date or algorithms that assess importance, like those of Facebook. "The map enables you to go in any direction and make connections."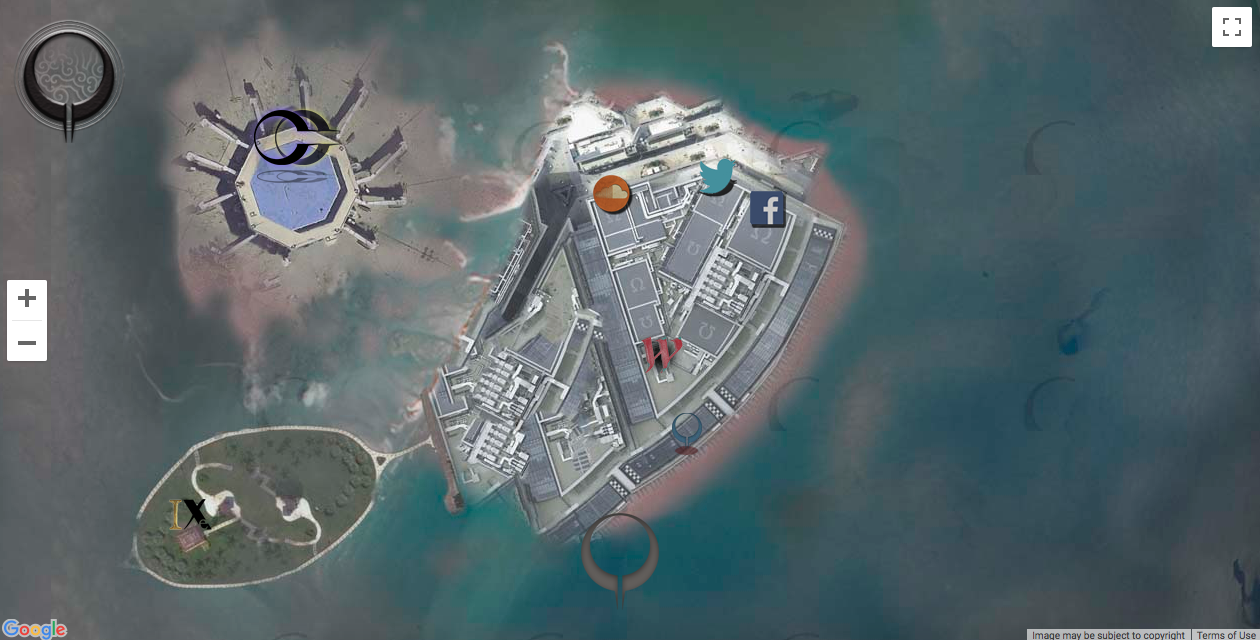 The impulse to chart online networks and imagined futures emerges in the twin labels, Eco Futurism Corporation and Bio Future Laboratory. Founded in 2015 in Italy but now operating out of the Ukraine, near the Carpathian mountains, each label explores potential scenarios of environmental breakdown (in addition to those the earth is currently experiencing). Across its Topography Of Fiction series, Bio Future Laboratory has united a disparate band of electronic producers, all operating within the label world established by its founder, Andrea IV. The music, though, always comes first, the label head stresses to me over email. "Music is both the basis and the root, and the rest is an addendum. Like the concept and the ideology, it is a shell."
Tracks range from sino-grime to pummeling inflections of jersey club and glittering eco-ambience. Tropical sound effects and uncanny field recordings adorn many of the songs, giving the label's output a consistency, a sense of inhabiting the same shared future. Andrea IV tells me this is incidental and never directed. "That's the thing – I don't ask them, they feel it themselves. This is what unites us," they say. "It might be that we're just sick of passive future predictions, all of the apocalypses and anti-utopias. It's simply an alternative." Eco Futurism Corporation's world-building is rounded out by Gem Tree's visuals —  digital flora that wouldn't look out of place in a pristine video game rainforest.
It's precisely video game techniques that Zora Jones and Sinjin Hawke utilize in Fractal Fantasy, their platform incorporating digital art, audio-visual applications and interactive music videos. "There's a big relationship between what we do and the way video games are made," Hawke tells me. "We find ourselves using a lot of tricks that video game developers use to get the speed on the visuals," going on to describe their rendering of fluids and light.
His father, Duncan Brinsmead, has a history in CGI effects, creating the software that simulates tactile textures such as hair, cloth and liquid, and incorporating them into Hollywood films. It's his 1987 video, Fractal Fantasy — a proto-CGI animation — from which Jones and Hawke take their name.
From 2013 onwards, Jones and Hawke created the Visceral Minds video series, later released as an album in 2015. Across the series, the duo collaborated with artists such as DJ Taye, MikeQ and L-Vis 1990 to build accompanying digital visuals. The results depict an almost fictionalized space — consistent in tone — where the tracks might cohabit. Hawke tells me they attempted to create a universal language between the members of the scenes spanning footwork, ballroom and UK bass music. Jones and Hawke sought to unify the respective common sensibilities while amplifying their eccentricities rather than simplifying them.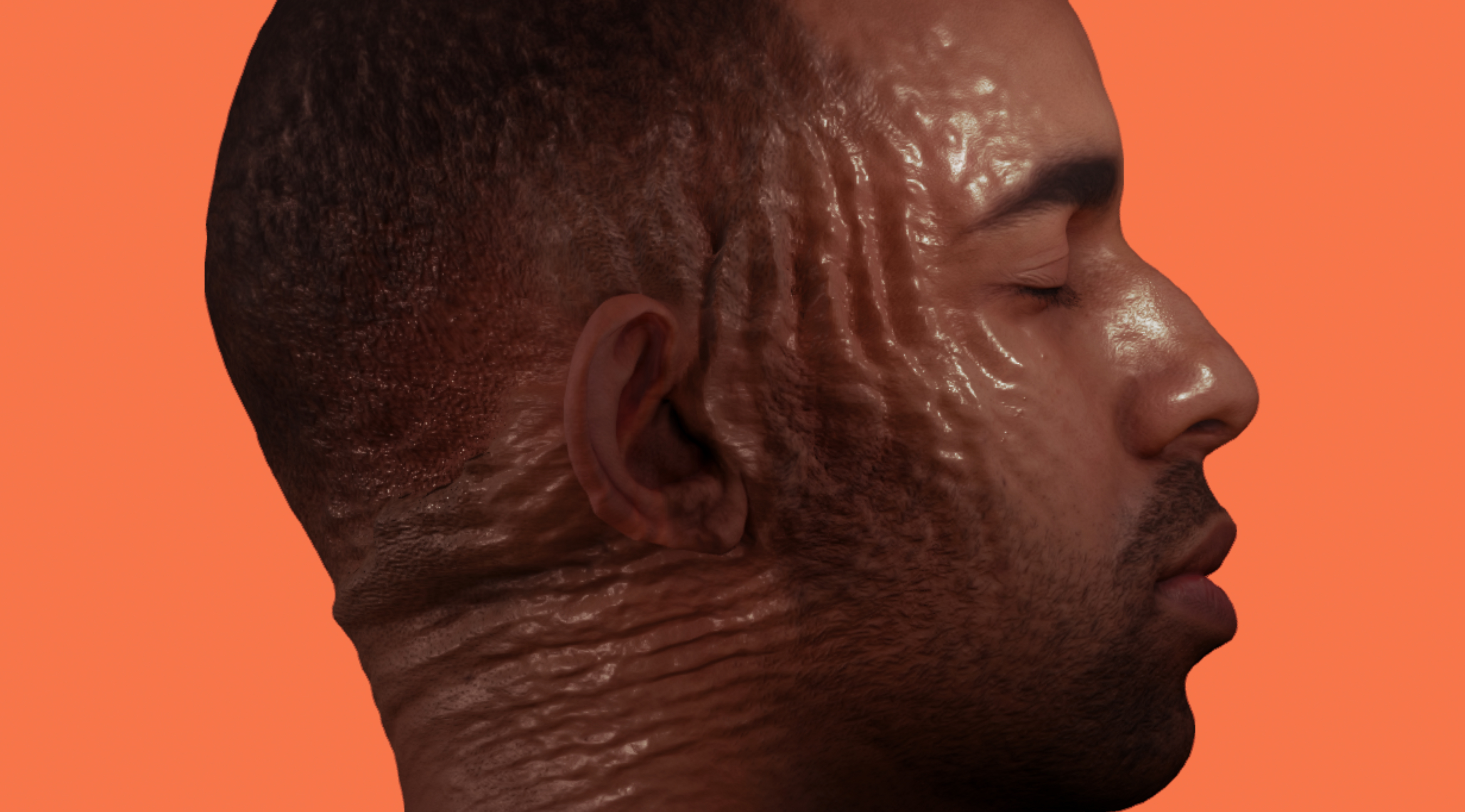 Such an output — internationalist in outlook and digital in form — is borne partly from their nomadic lifestyle, moving around for bouts of work and recreation. "We don't really have a home base," Jones tells me. "Every few months we live in a different country. We can't really say it [Fractal Fantasy] is a local thing." The duo's list of collaborators, ranging from producers Martyn Bootyspoon and Xzavier Stone, to coders and designers Mika Chernov, Ezra Miller and Leo Martin, are based around in the world in countries such as Russia, Austria and Canada.
Occasionally, Fractal Fantasy's URL activities spill over into the real world in the form of club nights and installations, often incorporating elements from the site. At 2017's Ableton Loop in Berlin, the duo made their Liquid Entropy app real, turning one of the club's walls into an interactive visual synth which wobbled as participants touched it. The result was a liminal half-space, one foot in physical and the other in the artificial.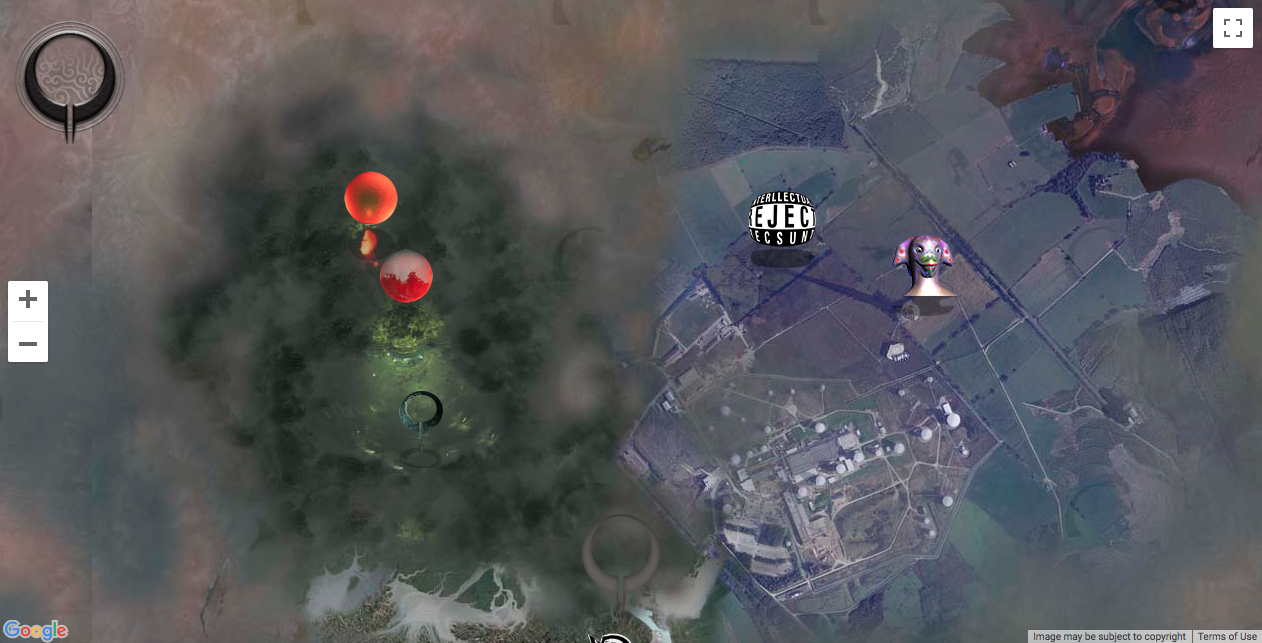 Quantum Natives and Eco Futurism Corporation have also seeped into the physical world, albeit sporadically. Last year, Quantum Natives affiliate DeForrest Brown Jr. [Editor's note: DeForrest Brown Jr. has previously written for FACT] hosted Grace Nexus, a live event where AWE IX, Brood Ma, Rosen and Brown Jr. incorporated music from the label into a video game playable on a computer in New York's Issue Project Room. The event was described as a "portal" in its accompanying materials. A similar event took place at this year's Rewire festival in The Hague, featuring the work of Recsund, Yeongrak, White Goblin and YAN KIN. Eco Futurism Corporation hosted its own label showcase in Moscow in 2016 alongside NON Worldwide artist, Moro, with its Russia-based artists, Gem Tree, Tropical Interface and Shyqa offering support.
Juha Van't Zelfde, course director of the Shadow Channel MA at the Sandberg Institute in Amsterdam and chief curator of the club night, Progress Bar, has brought together artists from such online scenes over the last few years. He's provided them with an opportunity to perform and meet in the real world. Zelfde jokingly views himself as a "bot", scanning the internet and making connections. "With Progress Bar we try to power up the collective and reinforce the weak links that have been established online," he tells me over Skype. "You establish the connection, you meet people online, and then you meet them in the club space, which is often a very empowering and exciting moment."
Progress Bar is founded on Zelfde's own convictions that the club can be a politically transformative space. "Anything goes but it's about collective action and paradise politics and radical equality," he tells me. There are no headliners, with Zelfde often asking other artists for recommendations, keeping the operation as open as possible. What starts out as internet relationships often turn into fruitful real world relationships and vice versa. "It's so much fun to meet each other and look each other in the eyes and hug," he enthuses. "To see each other move and hear each other perform."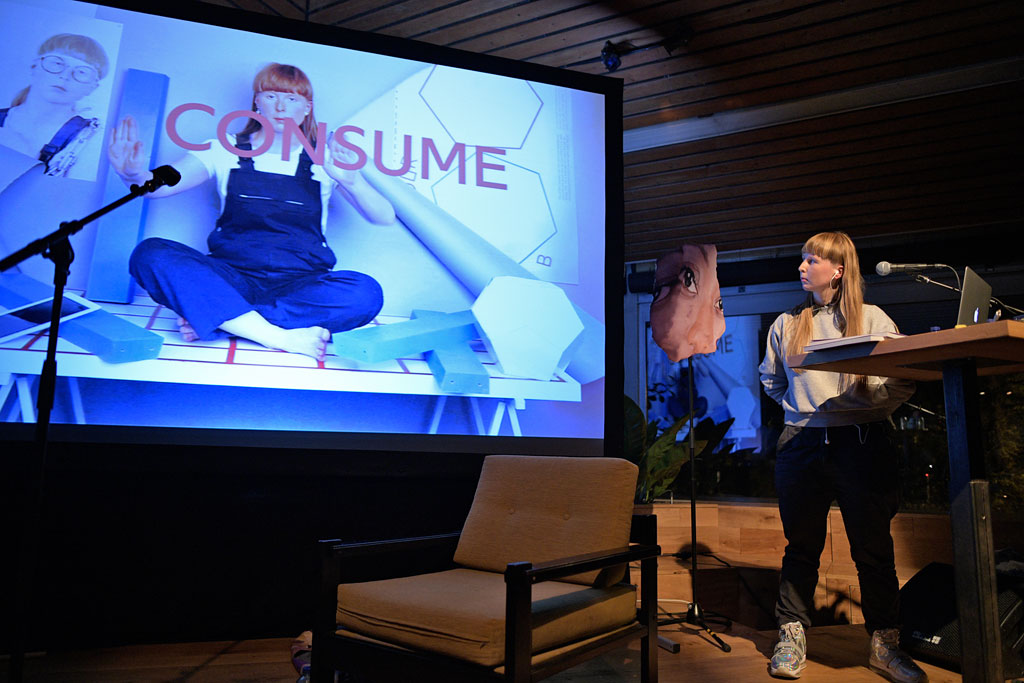 Zelfde describes a 2016 event where the founders of NON Worldwide were invited to play. Having formed online in 2015, it was the first time the founders had met in person. "We invited Chino Amobi, Angel-Ho and Nkisi to perform with us. They met for the first time in Amsterdam at Progress Bar in Paradiso. It was such a special night and such a mythical moment for a lot of young people who were there. You felt it."
Such a memory is testament to the power of the physical aspects of music, and the importance of sound crossing the threshold from computer to club. But there's a risk that as more people log on and experience these scenes through their screens, the idiosyncrasies of localities are scrubbed out or quickly assimilated into larger, more established networks. There's already a tendency for club line-ups to repeat themselves across countries as revolving DJs crop up in Berlin, London, and New York regularly. The bills of Europe's avant-garde festivals — Atonal, Rewire, Le Guess Who? and Unsound — are also verging into increasingly homogenized territory, perhaps reflective of the wider social and media networks that dominate.
The development of complex non-physical portals won't replace local scenes any time soon but their existence will become increasingly commonplace over the coming years. Participation within them might offset the most harmful effects of our digitally mediated lives. "There's a trend, generally, that society is isolating people more and more and technology is complicit," AWE IX tells me carefully. "I used to be really into the idea of net.art, you know DIS Magazine and stuff like that. There's an aesthetic of the digital, but then the more important side is that it's a network. The collaborative aspects of the internet are what makes it valuable."