A heavy nod to the theorised artistic alter-ego of Robert '3D' Del Naja.
In April, it was reported that Massive Attack had encoded Mezzanine into DNA to mark the 20th anniversary of the seminal 1998 album. Now, the album is being made available in the form of a matt black spray paint can.
According to a press release, a limited number of spray cans will contain the DNA encoded audio within matt black paint and each can will contain approximately one million copies of the album.
Addressing the novel storage method, Massive Attack's Robert '3D' Del Naja – who according to the press release is "also known as a graffiti artist" – said: "It's a creative way to store your back catalogue, although DNA-encoded spray paint is unlikely to be adopted by street artists seeking anonymity".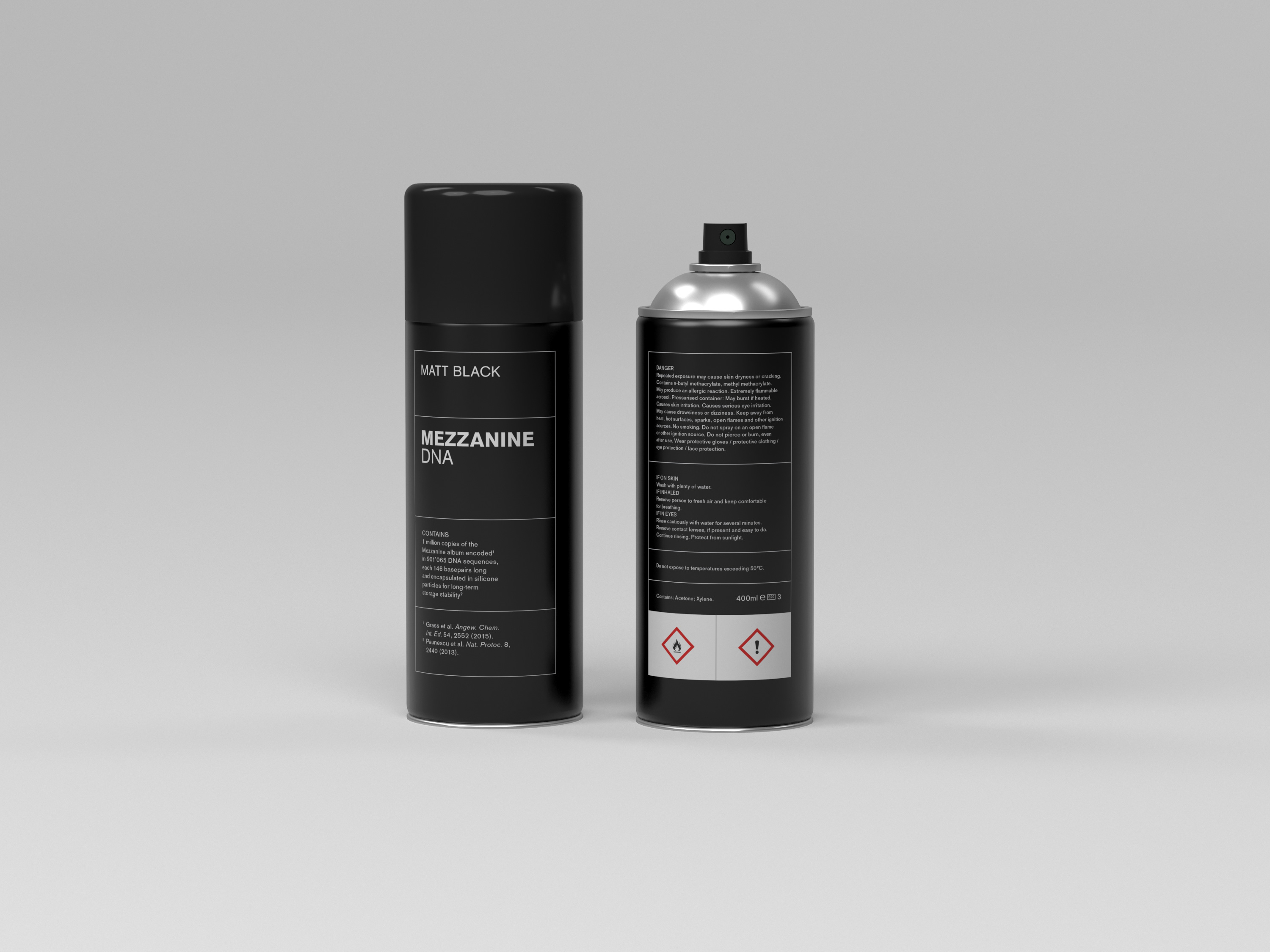 The complex encoding process is explained in detail in by Dr Robert Grass of Zurich-based company TurboBeads. "This digital bitstream of the album (0s and 1s) was first translated to 901'065 DNA sequences (A, C, T and Gs), each 105 characters long", says Grass. "The 901'065 individual sequences were then chemically synthesised resulting in a synthetic DNA sample, which fully represents the digital bitstream of the album."
Then, in order to "guarantee information stability", the DNA sequences were encapsulated in "synthetic glass fossils", which were added directly to the spray can. According to Dr Grass, each can "contains at least 0.1 micrograms of the synthetic DNA, which is equivalent to 1 million copies of the album."
Whilst it remains unclear as to whether it is possible to actually listen to the trip-hop masterpiece in this format or not, the choice of a paint can seems to make reference to the long-running theory that Del Naja is in fact mystery graffiti artist Banksy.
Last year, during an appearance on Scroobius Pip's podcast Distraction Pieces, Metalheadz legend Goldie may have let the connection slip, when he referred to Banksy by the name "Robert" during a discussion about the commodification of graffitti. The drum 'n' bass luminary has not addressed the possible slip-up – but he hasn't gone out of his way  to deny the connection either.
Just on the phone with #3d rolling around fucking pissing our pants 🤣😂🤣❤

— GOLDIE (@MRGOLDIE) June 23, 2017
Read next: The 50 best trip-hop albums of all time