iOS peripheral manufacturer IK Multimedia has stepped into the synth hardware arena with the launch of its budget analog instrument, UNO. Scott Wilson finds out if this $199 synthesizer has what it takes to stand out in a crowded marketplace. 
Budget synths are having a bit of a moment right now. Ever since Korg launched its affordable Volca range in 2012, manufacturers have been locked into an arms race to see who can create an analog synth for the least amount of money. While that's given us a lot of cheap mono synths, it's also pushed the boundaries of what can be squeezed out of a sub-$500 synthesizer, such as Korg's polyphonic Minilogue and Behringer's $299 Minimoog clone.
In fact, the market has become so flooded with budget analogs over the past few years it's difficult to see how it can support any more of them (Behringer alone wants to create its own cottage industry around clones of classic synths). The prevalence of affordable analogs also raises the question of whether we actually need any more, especially when software options are cheaper and sound almost as good. A studio can only hold so much, especially the bedroom setups this gear is generally aimed at.
Despite saturation point fast being reached, IK Multimedia thinks its new UNO synth can find its own niche in a crowded landscape. It's not much to look at compared to recent analog offerings from Roland, Korg and Arturia, but it stands out for a few reasons, chiefly the fact that it's a two-oscillator real analog synth with a sequencer that runs off batteries for just $199.99 – with specifications that, on paper at least, trounce the Volca Bass, which is probably its closest rival.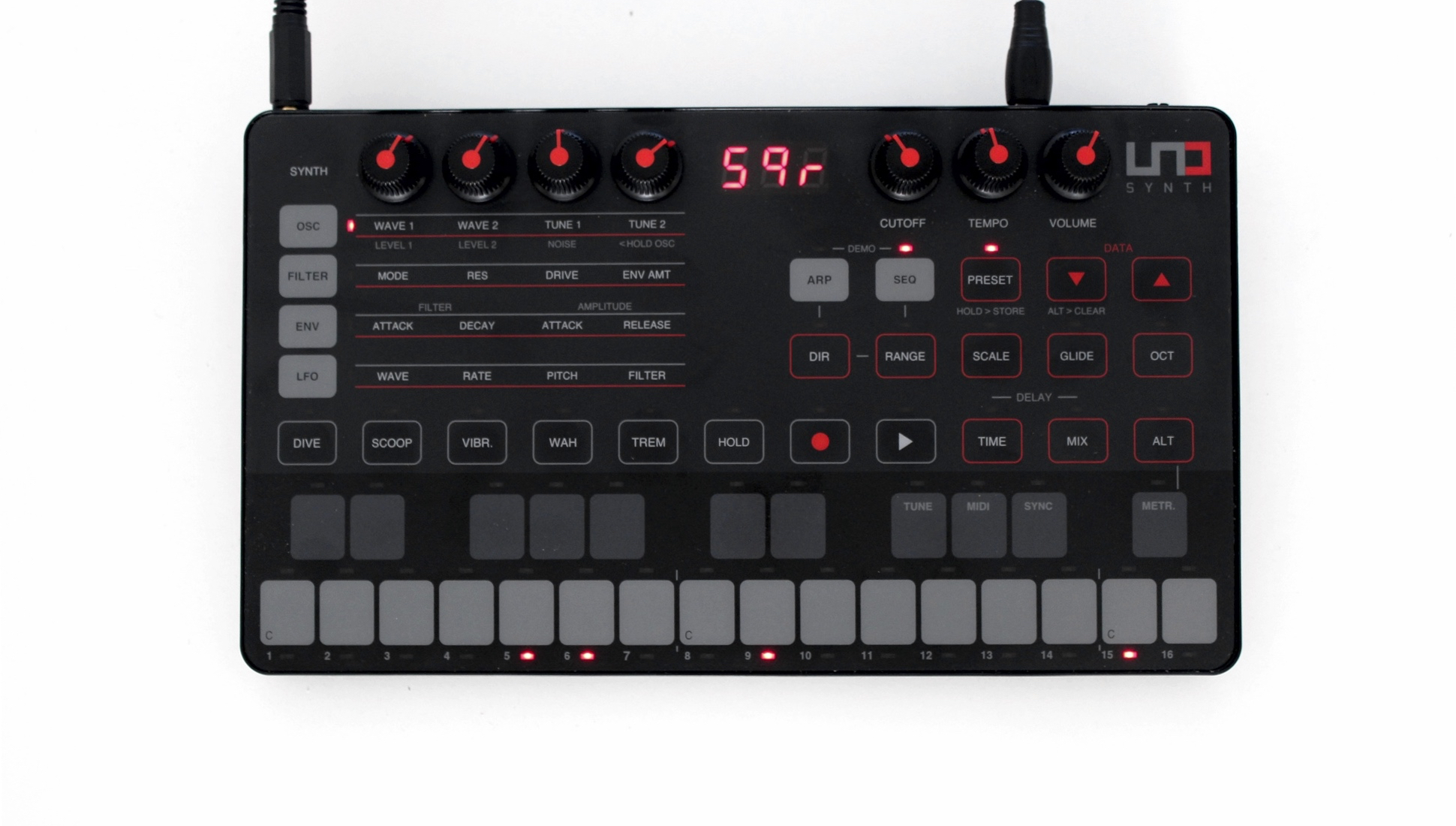 However, IK Multimedia is an unknown quantity as a synth manufacturer. The Italian company has made its name largely off the back of popular iOS music-making peripherals such as the iRig family of audio and MIDI interfaces, with the Syntronik VST and app collection its main attempt at making synthesizers. It's probably why it's enlisted modular company Soundmachines and Alesis Andromeda designer Erik Norlander to help, and you can hear it – despite a small footprint, the UNO sounds big.
The UNO's sound is somewhere between a lot of different synths – the resonance and cutoff make it capable of the kind of squelchy, acidic sounds of Roland's TB-303, though the two-oscillator architecture seems to be more drawn from the school of '70s mono synths that includes Korg's MS-20 and the ARP Odyssey. It's closer to the latter, because the UNO, like the Odyssey, has two independent oscillators that can be tuned differently, allowing it to make some fairly dissonant patches.
The synth section doesn't look terribly inviting at first, but it's actually a lot of fun to tweak, even if the same four knobs are used to control the oscillator, filter, envelope and LFO by switching between them. The two oscillators are capable of a much wider range of analog sound than something like a Volca Bass, which only has sawtooth and square wave options; the UNO adds triangle and pulse waves to that with the option of pulse width modulation, which adds more movement to your patches.
Beyond the wave shapes there's a lot to help make your patches deeper and more dynamic. Alongside a basic delay is a filter that includes a band pass together with typical low and high pass options, overdrive and resonance. The best part is probably the LFO section, which can be used to modulate pitch, filter and amplitude and further wring dank, squelchy sounds out of something that weighs about the same as a 250-page paperback. It's crazy how good it sounds given its tiny size.
It's this portability where the UNO really excels. While a lot of small analogs have a small footprint but a relatively heavy weight, the UNO is about the size of a medium tablet and is so light you really can carry it anywhere. And while the flat touch keyboard and relative lack of knobs means the UNO looks very much like a budget instrument, it allows you to throw it in a backpack with very little risk of accidentally tearing delicate parts off in transit. It uses four AA batteries but the USB power allows you to run it off your phone charger or laptop.
However, for a lot of experienced users, the UNO's key strength will be its biggest weakness. No matter how you try to spin it, touch keyboards largely suck, and while the UNO's is about as responsive as something like this can be, it's not velocity sensitive. There are dedicated buttons for performance modulation like vibrato, wah and tremolo, but they felt like a poor substitute for a simple pitch and modulation wheel.
Although the UNO has a built-in sequencer, it doesn't entirely redeem the keyboard. It's actually one of the more user-friendly sequencers I've used on a synth at this price point, with a selection of 13 pre-defined scales to choose from so that you can always stay in key. The sequencer memory, however, has only 16 steps with no option to chain patterns – enough if you're looking to make a 303-style sequence for techno, definitely not adequate to make the most of the synth engine's fantastic depth.
Whether the disappointing keyboard and sequencer – which, to be fair, does allow you to record up to 20 synth parameters per step – will be a dealbreaker really depends on how you want to use the UNO. If it's a first synth or something for writing simple sequences on out of the studio then it may be enough; likewise if you're hooking it up to a DAW and using it as a module. If you want something you can use live for storing and chaining patterns though, it may be a bit limited.
Surprisingly for a budget synthesizer, the UNO has its own official software editor – something even Korg and Roland don't make for their Volcas and Boutiques. I wasn't expecting much from it, but it dramatically increases the functionality of the UNO. It's available on iOS devices (though you'll need a Lightning to USB adaptor) or as a Mac/PC plugin and is really easy to use – as long as the UNO is plugged into the host over USB and the firmware is up to date, it recognises the hardware automatically.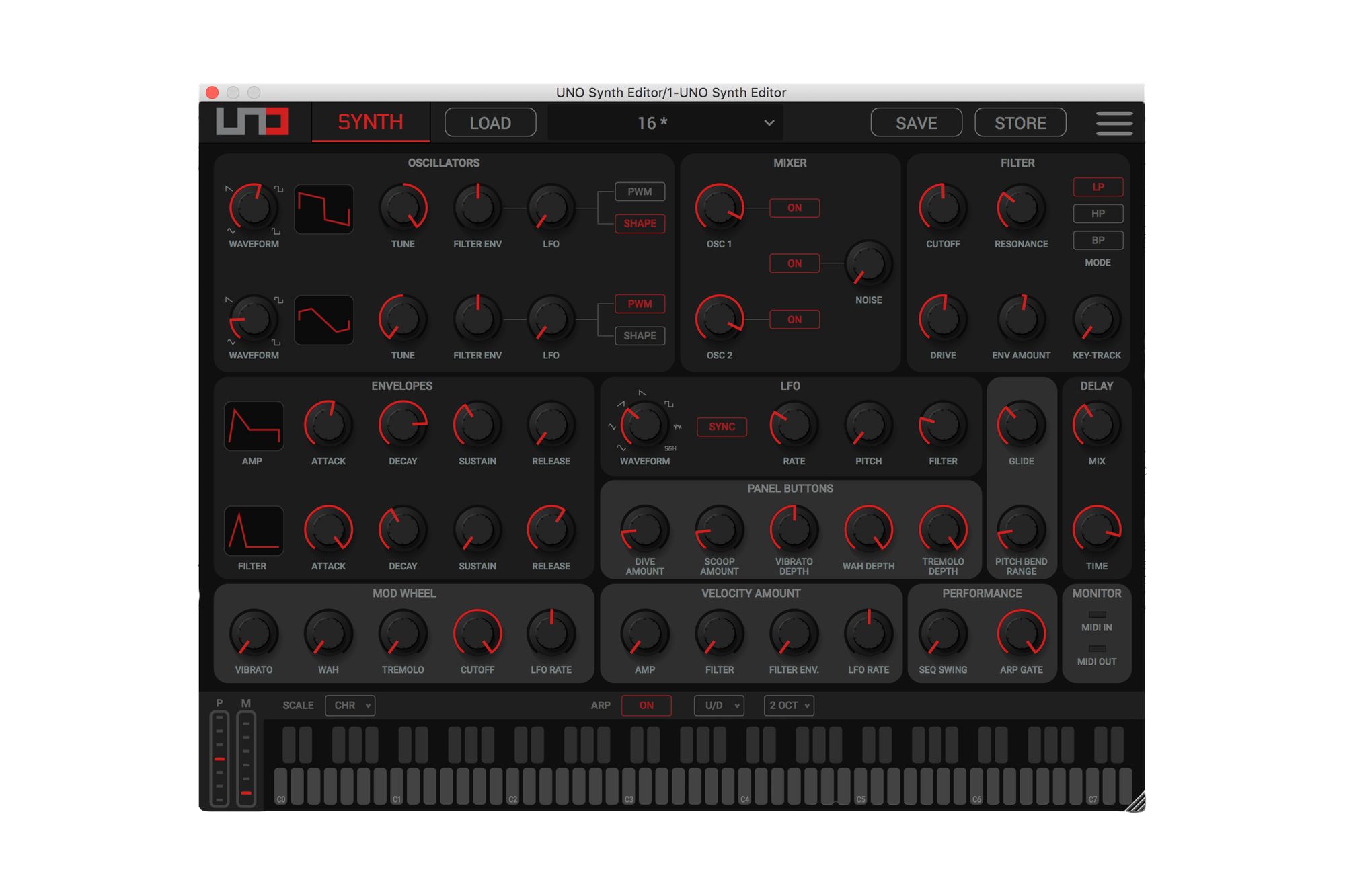 Unlike the front panel of the UNO itself, the editor represents every parameter with its own knob or switch. As well as making it easier to create and save patches to your device for standalone use, the editor expands on the functionality of the UNO in subtle ways. For example, the performance buttons (wah, tremolo etc) all have dedicated knobs that allow you to change the depth or amount of these effects, which can't be done from the hardware itself.
Other functions added by the editor include full four-stage ADSR envelopes for both filter and amplitude (the hardware only has controls for AD and AR respectively) alongside pulse width and waveform shape modulation of the oscillators. All changes made on the editor track to the hardware in real time and vice versa; I didn't experience any noticeable lag, though you'll need to set the knob behavior to "relative" to avoid parameters going out of sync when switching between both control methods.
It's admirable that IK Multimedia has made both desktop and mobile versions, but the iPhone app's smaller screen size means you have to scroll through multiple pages to reach all the parameters. It does have the advantage of portability and touchscreen control, though the larger iPad version is preferable if you're a mobile user. I found the desktop version most user friendly – all the parameters are on one page with a full-size keyboard represented at the bottom, and you can easily use your DAW as a sequencer instead of the very limited UNO sequencer itself.
Even without the the synth editor though, I'm impressed by the UNO. It's easy to use and fun to program, the 100 included presets – which cover everything from thick bass slabs to cosmic leads and percussive sounds – are excellent, and most importantly, it sounds good enough that people will probably want to use it in their own productions. The main thing that I feel the UNO misses is audio over USB, which is really handy on Roland's similarly sized Boutique devices, especially for anyone just moving over to hardware synths from software.
Whether the UNO will be able to rise above the noise and make itself heard above all the other sub-$500 analogs is another matter. It looks more like a 3D render of a software plugin than the gorgeous instruments that have been coming from Roland, Make Noise and Korg over the past few years, so it risks being overlooked by gear fetishists. What the UNO does do well however, it does as well as any of its rivals – and at a price that can't be ignored.
Scott Wilson is FACT's tech editor. Find him on Twitter
Read next: Mark Fell on his love of FM synthesis and algorithmic composition