Now in its eighth year, Portugal's Semibreve festival is a highlight of Europe's experimental music circuit. The 2018 edition featured performances from Sarah Davachi, Actress, Grouper and Caterina Barbieri; FACT's April Clare Welsh was on the ground to investigate further.
There's a lot to be said for switching off your phone and relinquishing your senses entirely to an hour or so of music. Last weekend, Portugal's Semibreve festival felt more like a retreat than a music festival, wrapping festival-goers in blankets of ambient music, drone and other exploratory sounds that made the outside world feel suitably faraway. As news of tragedies from Jakarta and Pittsburgh to Brazil and Leicester filled our news feeds, we found solace inside the pitch-black chamber of the grand theatre Teatro Circo – the festival's main venue – lapping up aural moments of womb-like immersion that demanded our full attention.
Semibreve's minimal programming forgoes the chaos of many city weekenders to create a relaxed, laid-back atmosphere that leaves plenty of space to ruminate on the performances. Featuring arts installations as well as music, the handpicked, adventurous lineup also makes time each day for a leisurely lunch or an amble around the church-strewn town of Braga, which boasts a small but fertile arts scene with ties to Porto and Lisbon. This year, Semibreve felt decidedly autumnal, with church bells, fog and a biting glacial wind adding gothic overtones to the mood.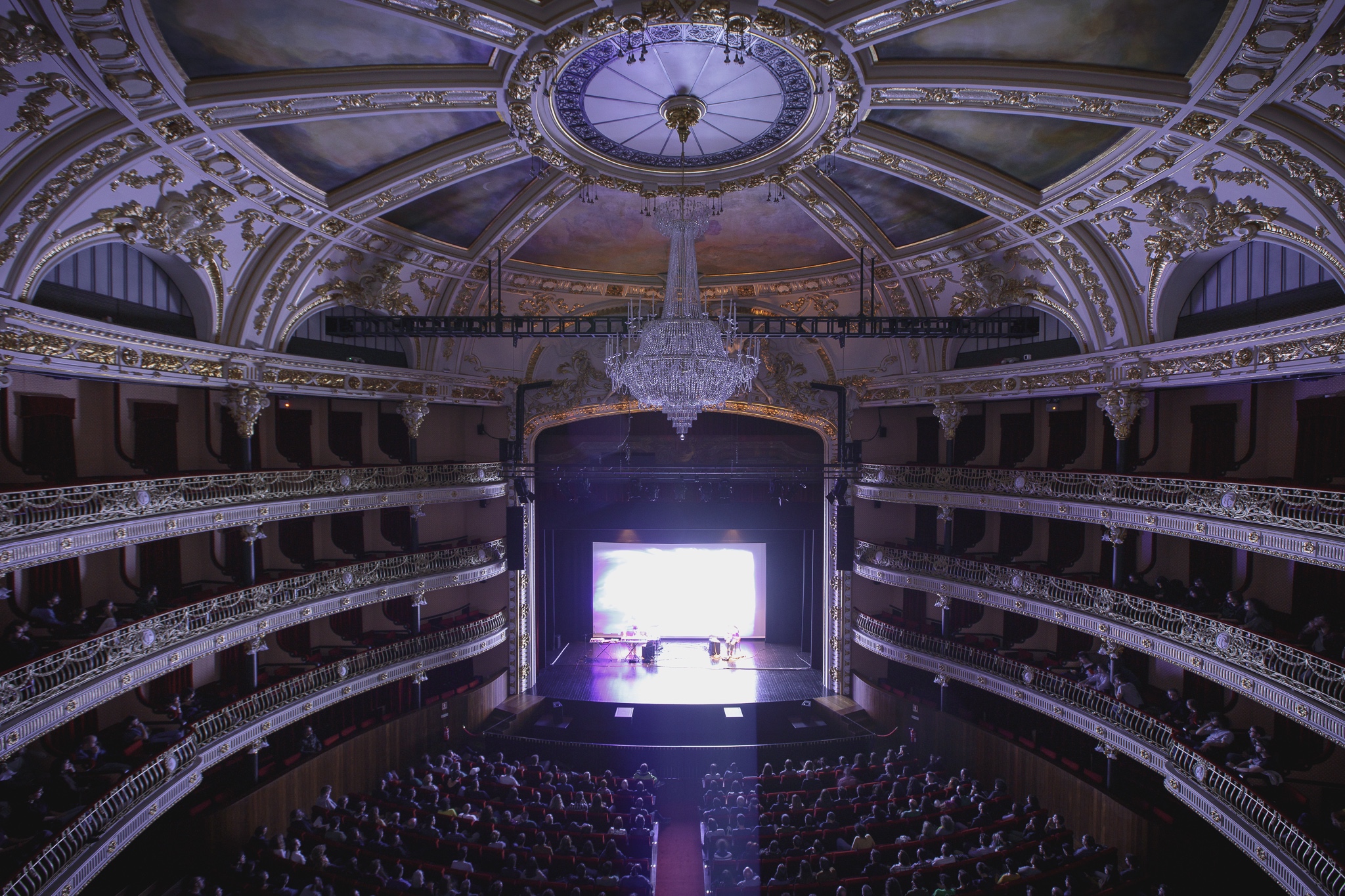 The festival's opening performance on the Friday night placed Portuguese experimental music in the spotlight, with homegrown '80s trailblazers Telectu – comprising duo Vitor Rua and António Duarte (replacing the late Jorge Lima Barreto) – tripping over tightly-wound psychedelic soundscapes that melded widescreen, repetitious guitar with drum machine and cosmic synths.
Performed to a mind-melting backdrop of flying cats and spinning patterns, the band's specially-commissioned show, in partnership with Lisbon's Teatro Maria Matos, was a paean to nostalgia, reviving the live shows of the band's recently-reissued 1982 album Belzebu with original projections, scores and instruments. Also playing in the theatre on Friday, William Basinski – or "the Iggy Pop of ambient" as a fellow attendee lovingly described the Disintegration Loops master – maintained a stoic, rigid composure on stage that almost seemed to belie his glittery, expressive attire. Filling the cavernous room with kaleidoscopic ambience, from deep bass rumbles to serene synth washes and esoteric noises, Basinski's performance was captivating, but I spent the set wishing I was sat closer for an even more immersive experience.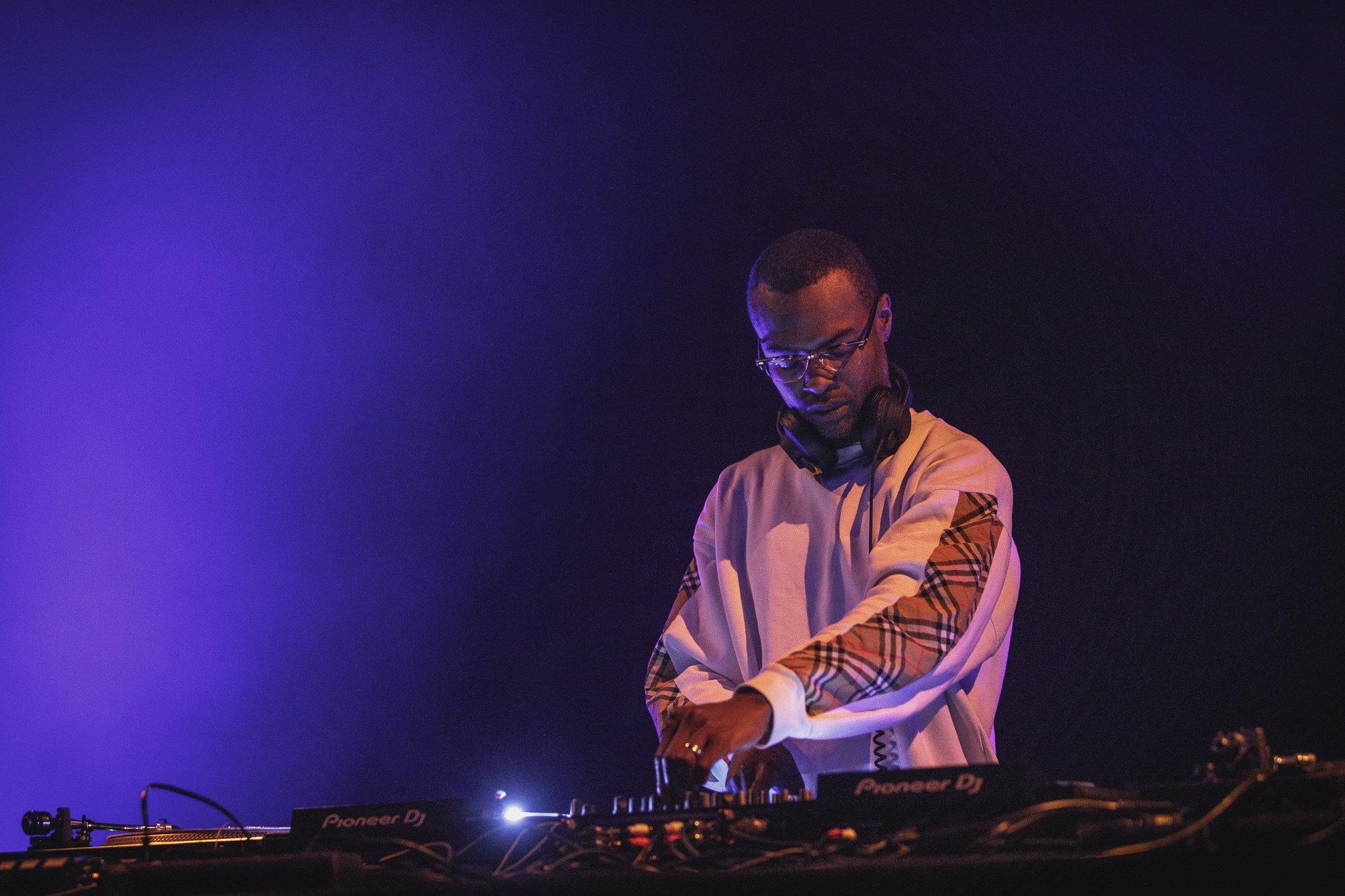 Later that night, Actress – who had stepped in to replace Jlin – transformed the pace of the festival at Braga's gnration venue, effortlessly teasing out a set of scrambled rave and lo-fi abstract beats. Following Actress, RP Boo kicked the party fully into gear with a frenzied, dizzying set of supersonic-spun footwork magic. Fixing a grin firmly on his face throughout, the Chicago visionary may have reached knowing levels of parody, but even clipped vocal samples of Queen's 'Bohemian Rhapsody' were joyously received.
Icy winds tore into us as we hurriedly walked over to Caterina Barbieri's performance at a local monastery the following afternoon. The Italian composer was initially booked to play inside a church but was forced to swap venues last-minute apparently because her music was considered "too satanic" by the church priest. Whether or not Barbieri managed to summon demons remains to be seen, but she certainly took our senses on a journey of biblical proportions. As arpeggiated synths melted and rippled like waves and ear-splitting reverb rattled around the room, Barbieri's minimalist patterns flitted between bright euphoria and high-drama. The devil does have the best tunes, as they say.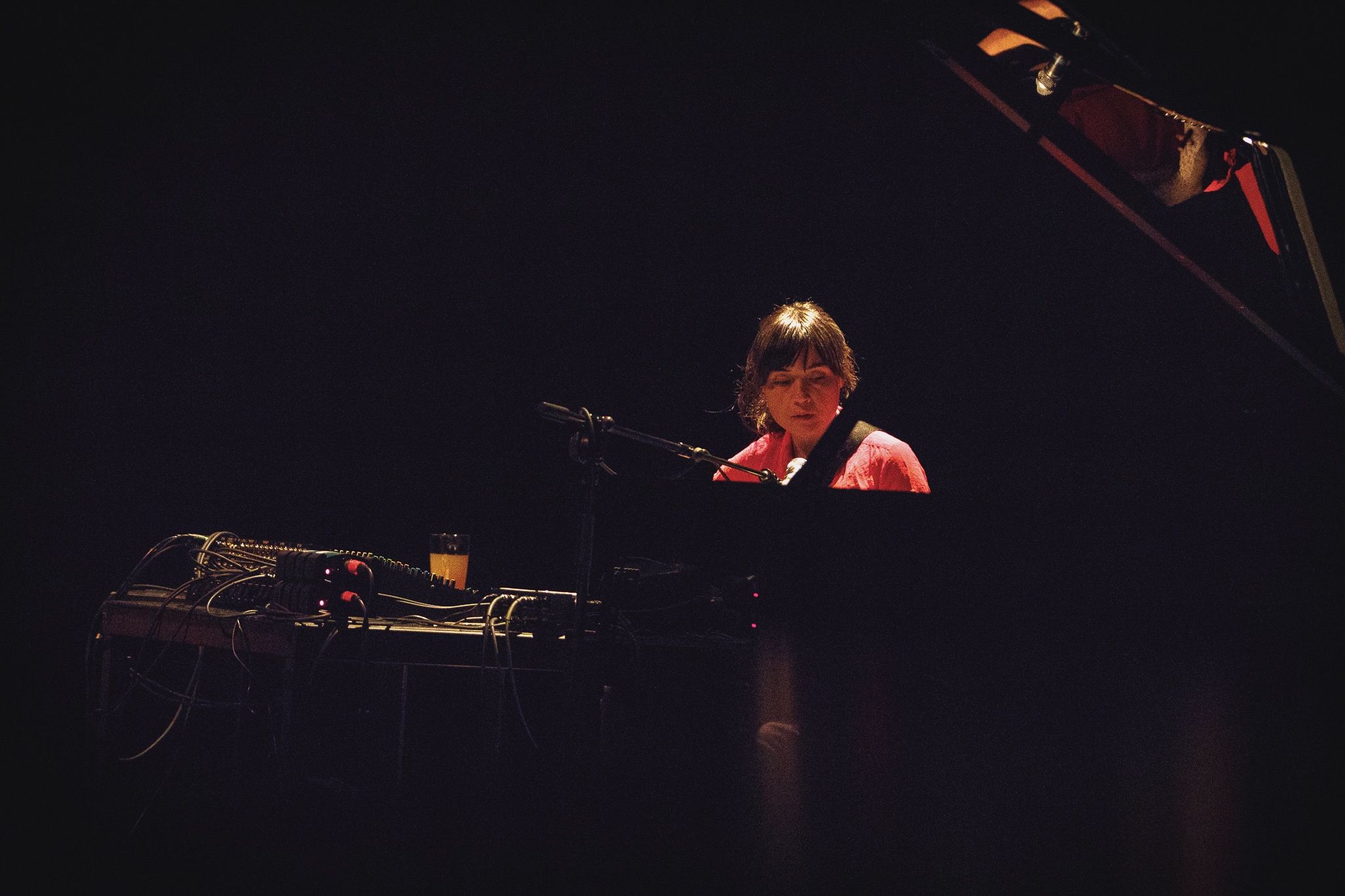 Appearing as a ghostly apparition flickering in and out of focus on a stage that threatened to swallow her whole, Grouper's spectral presence on the Saturday night seemed to chime perfectly with the spirit of Halloween. In spite of this, the set was intimate, devastating and captivating, while the sparseness of Liz Harris's barely-there folk made room for introspection. Harris performed tracks from her recent piano-led album Grid of Points and the sustain pedal resonated beautifully inside the theatre, while her whispered vocal harmonies were so mollifying that they brought me to tears. The complete stillness of the auditorium certainly helped draw out the emotion of the performance. A few hours later, DJ Stingray closed the Saturday night with a body-popping set of breakneck electro, cementing his status as the master of his craft (and keeping the crowd dancing until the early hours).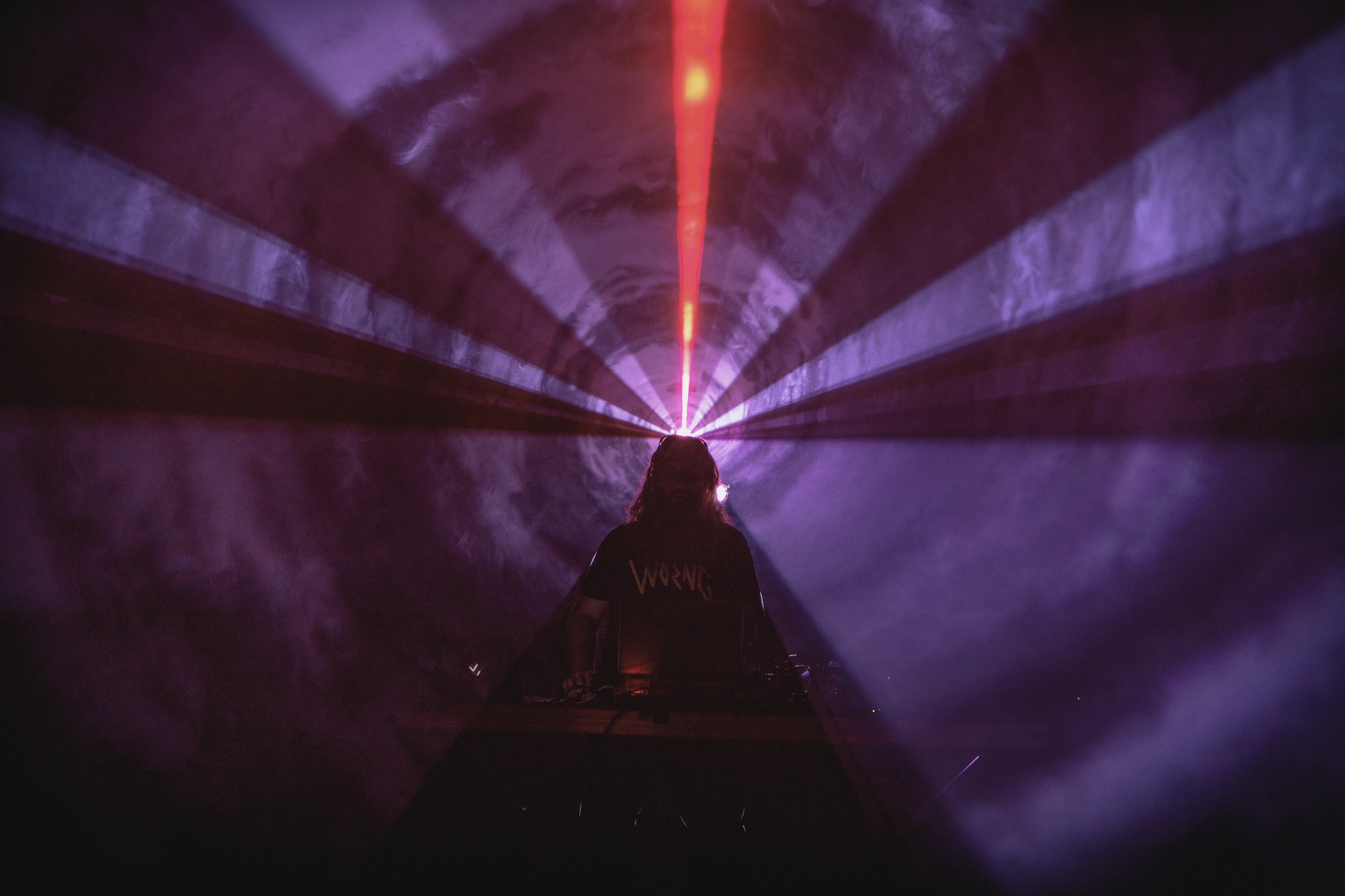 Sunday was left open to self-reflection, with just two early evening performances from Keith Fullerton Whitman and visual artist Pierce Warnecke and Robin Fox that helped deter the end-of-festival ennui from setting in. Beginning with minimalist electronics that gradually swelled into a balloon of harsh, juddering noise, the collaborative A/V performance was brawny and unrelenting and certainly did wonders to that blow away the weekend's cobwebs.
Closing the festival with Robin Fox's technicolor laser extravaganza, meanwhile, was satisfying, terrifying and suitably moving. According to Fox, "the performance is designed to resemble a synesthetic experience where what you hear is also what you see", with fluorescent green, pink and purple rays shooting out into the crowd, while sound frequencies morphed from high-pitched oscillations to static drone, later weaving in abstract field recordings like the sound of popping candy. It was the most high-octane performance of the festival and one that ensured Semibreve 2018 went out with a bang.
April Clare Welsh is a freelance writer based in Lisbon. Find her on Twitter.
Read next: The final frontier – How can dance music exist in a digital space?