Tucked away in tiny Tromsø, deep in the Arctic Circle, Insomnia Festival highlights experimental music from across the globe. This year, FACT's John Twells flew into the mountains to explore what Northern Europe has to offer.
Before I flew out to Norway for the 17th edition of Insomnia Festival, I took a brief detour to the Black Country, an area of the UK west of Birmingham probably best known to FACT readers as the birthplace of Goldie and Actress. In recent years, the post-industrial wasteland has become notorious for harboring some of Britain's poorest towns and, unsurprisingly, voting radically in favor of Brexit – two conjoined issues hijacked to dominate a messy narrative. The effects of Tory austerity are visible everywhere: shuttered shops, pubs and libraries sit in place of town centers and the surrounding community looks resigned to hopelessness. It wasn't a pleasant place to grow up and in 2018 has been beaten to a pulp by decades of heartless neoliberal rule.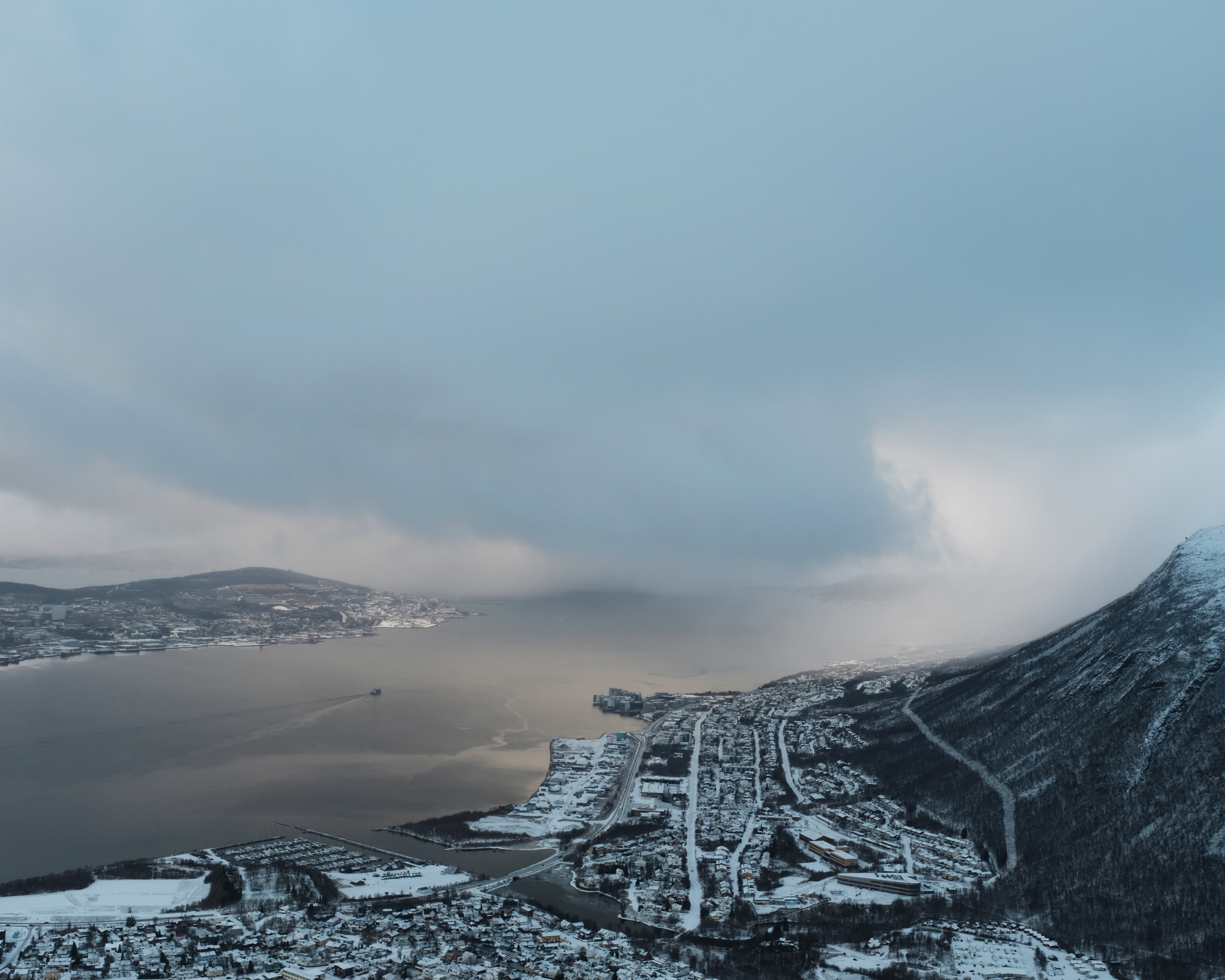 Flying into Tromsø, a tiny city of around 75,000 people on the island of Tromsøya in the Arctic Circle, the difference between where I had come from and where I was landing felt stark. This part of the world is breathtakingly beautiful and gleamed with pinkish yellow light as the plane hit the tarmac. Surrounded by white mountains and glassy, endless waters, Tromsø is a popular European tourist destination for a reason. Whether or not you get to see the city's biggest draw – the legendary aurora borealis – the area is almost flawlessly impressive, looking like a purpose-built winter wonderland: all glass, wood and ice.
Insomnia is a three-day festival, melting experimental electronic music into a multidisciplinary program of seminars, guided tours, film screenings and workshops. It's part of the We Are Europe project, an association of eight European events that have joined forces to highlight creative diversity within electronic culture. So it made sense that one of the weekend's key seminars asked "what does it mean to be European?" It's a question that has more relevance than ever for me, a European ex-pat whose country decided to desert the union. Do I stop being European after Brexit? Maybe I stopped being European when I left the UK a decade ago.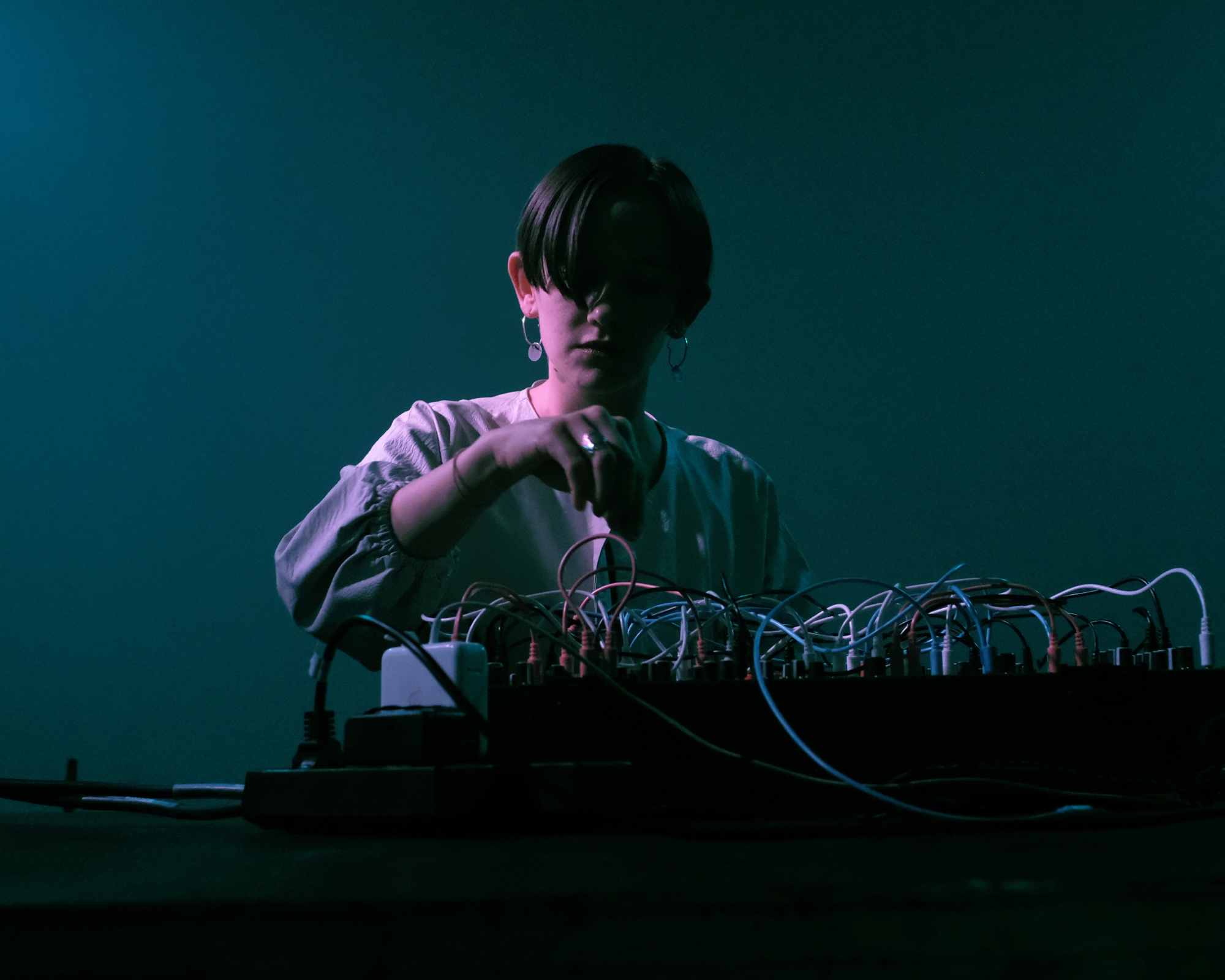 I arrived on opening day and immediately headed to DRIV, a student-run venue in the heart of the city, as a dedicated crew of volunteers put finishing touches on the three stages. This wasn't the usual sparkling arts venue or grotty rave dungeon but was ample enough for its three discreet areas to remain unique. Downstairs was a cafe decorated with gnarled wooden lights that wouldn't have been out of place in Hobbiton, while the larger Isbjørn stage upstairs felt like the closest to a traditional club space. In the middle sat the SNN, a massive stage used for the festival's bigger, or more complicated, performances.
First up was ambient grime explorer Yamaneko, who impressed with an A/V set of pristine, video-game influenced electronics and bumpy rhythms. It was the perfect introduction to a full evening of music, dragging my travel-drunk head into the game before Caterina Barbieri wrecked it again with intense, euphoric modular experiments. But the night's highlight was undoubtedly a performance from Johannesburg club duo FAKA. Sadly, usual member Fela Gucci was unwell and couldn't perform, but Desire Marea took control, forcing the crowd to move with a mixture of sweaty theatrics and gut-wobbling gqom-influenced rhythms. Passionately queer and proudly South African, FAKA provided a much-needed shot in the arm for Tromsø, forcing the conservative city to shake off some of its stiffness for an hour.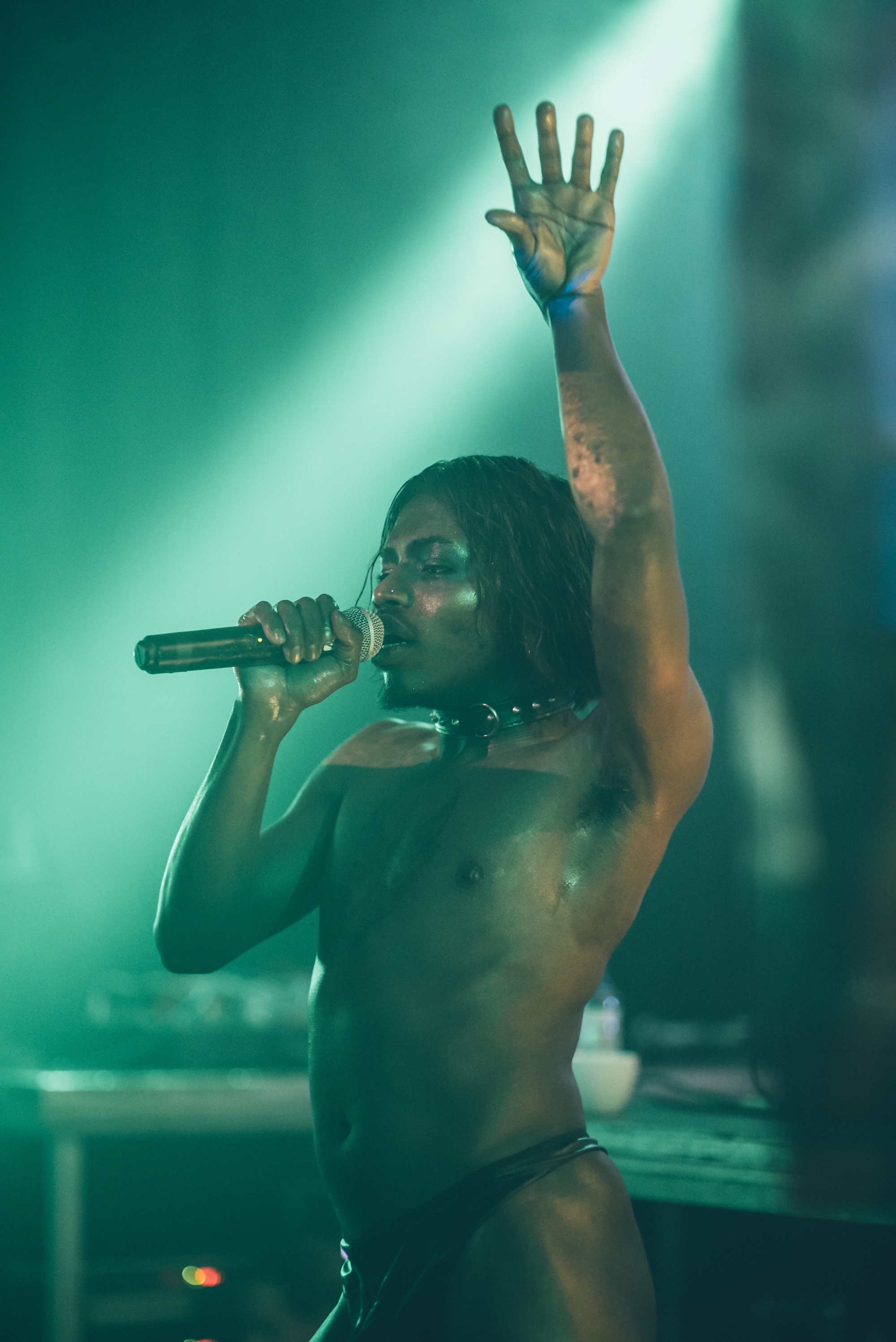 The next morning, I wandered through the eerily pristine city center, dodging astronomically high prices to attend a music production workshop presented by Belgrade's Marija Balubdžić, aka Umbra. I've long been interested in the use of vocals in electronic music – I've recorded and performed using my own voice plenty of times – but it was a rare privilege to be instructed by someone who actually knew what they were doing. Balubdžić guided participants in complex voice exercises and helped smooth out the philosophy behind the voice before launching into a group jam with loopers and effects. When the participants actually performed together it sounded unusually coherent; even Balubdžić seemed surprised. It was proof that with a bit of expert direction and some group confidence, anything is possible.
Local DJ Ra-Shidi kicked off the evening's musical offerings and offered a porthole into Tromsø's club scene, playing dreamy lo-fi house and deep, dubby techno to an adoring crowd of friends and fans. On the main stage, Finnish synth-rock act JESSE dominated with a blistering set that sounded like a cross between Goblin and Radian, blending funk, disco and experimental electronics. Meanwhile, Russian DJ and producer OL impressed with a rugged selection of bassy electronics that threatened to turn the Isbjørn stage into a sweaty Eastern European warehouse party.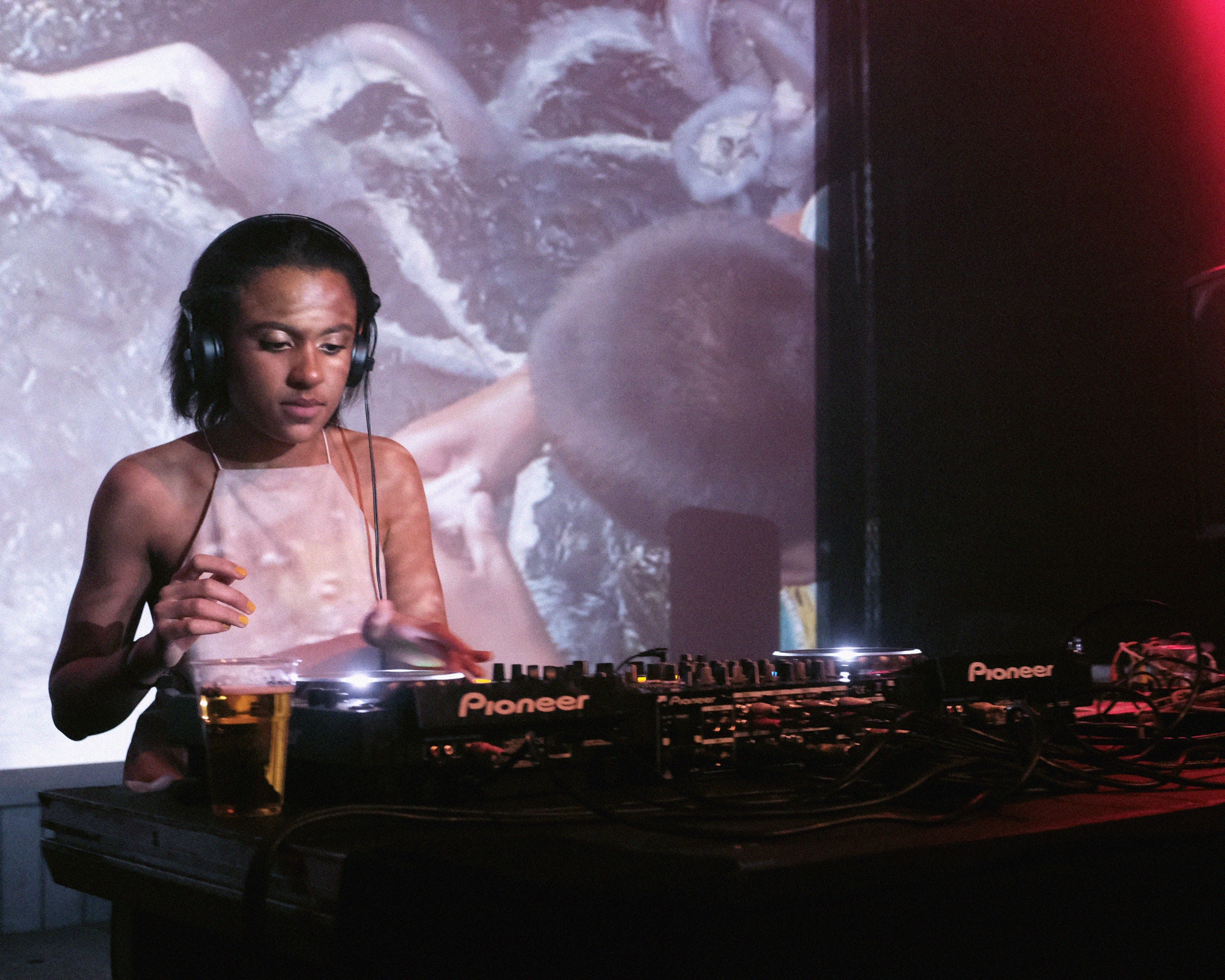 It was around this time I stepped out of the venue into the cold night for a breather and immediately heard laughing and shouting. I looked around and noticed a faint green glow dancing in the night sky; it might be the most unimpressive Northern Lights story ever, but I saw it, barely, as I stood outside a club, shivering. When I wandered inside to warm up again, Japanese singer and producer Golin was already deep into a set of spiky electronic pop. Her neon sound augmented an almost dream pop sheen to PC Music's jagged postmodern electronics and the entire room felt energized.
After Hieroglyphic Being turned in a reliable set of funk-laced techno, Scottish IDM revivalist Lanark Artefax took to the main stage with his much talked-about live show. The spectacle featured a gigantic obelisk that glowed and flashed as Calum MacRae fiddled with his laptop in the dark. The music itself – bolshy Algorave-esque glitches and squiggles – wasn't bad by any means, but it was hard to take it seriously when all eyes in the room were concentrated on an erupting phallus. I'm not saying it's cheap (the setup in fact looked insanely costly), but without the obelisk, would anyone care?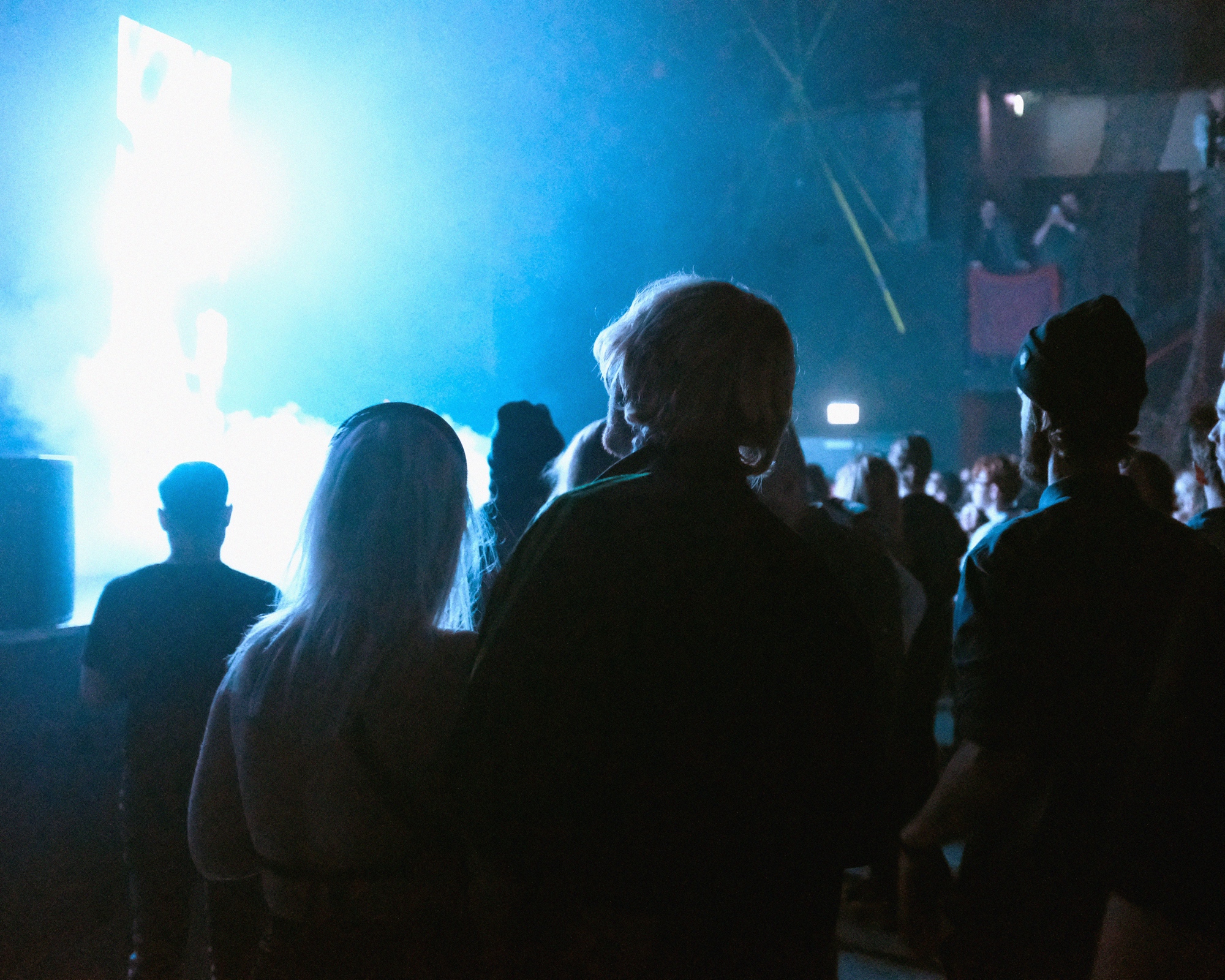 On Saturday morning, I opted to take a trip up Fløya, a large mountain overlooking Tromsø. I'll be the first to admit I've spent my life in dingy basements and clubs, not exploring mountains, deserts and forests, but this is the reason people travel to Tromsø so it felt remiss to ignore. On the cable car journey up, I felt a strange sense of deja-vu; Fløya was a key location in Erik Skjoldbjærg's acclaimed 1997 film Insomnia, the festival's namesake. Stellan Skarsgård's morally-compromised Swedish cop meets his nemesis for the first time on the cable car and is corrupted further on the mountain. I retraced their steps with two other festival-goers, drifting further into the snow to find the perfect view. On the way, we bumped into a lost soul – a Russian salaryman who worked in Oslo and seemed to have strayed onto the mountain by accident. Still in flat office shoes, he slipped and slid around the icy trail unceasingly asking us if we knew the mountain's height; we didn't know or care.
For some reason, the Russian refused to stand still and take the time to look around. As I stood in the snow observing this part of Europe for the first time, the light shifted from pink to blue, yellow and grey as clouds washed in and mist surrounded us. It was one of the most beautiful sights I've ever experienced, lost on a young conservative more interested in conquering the mountain than experiencing its rare delights.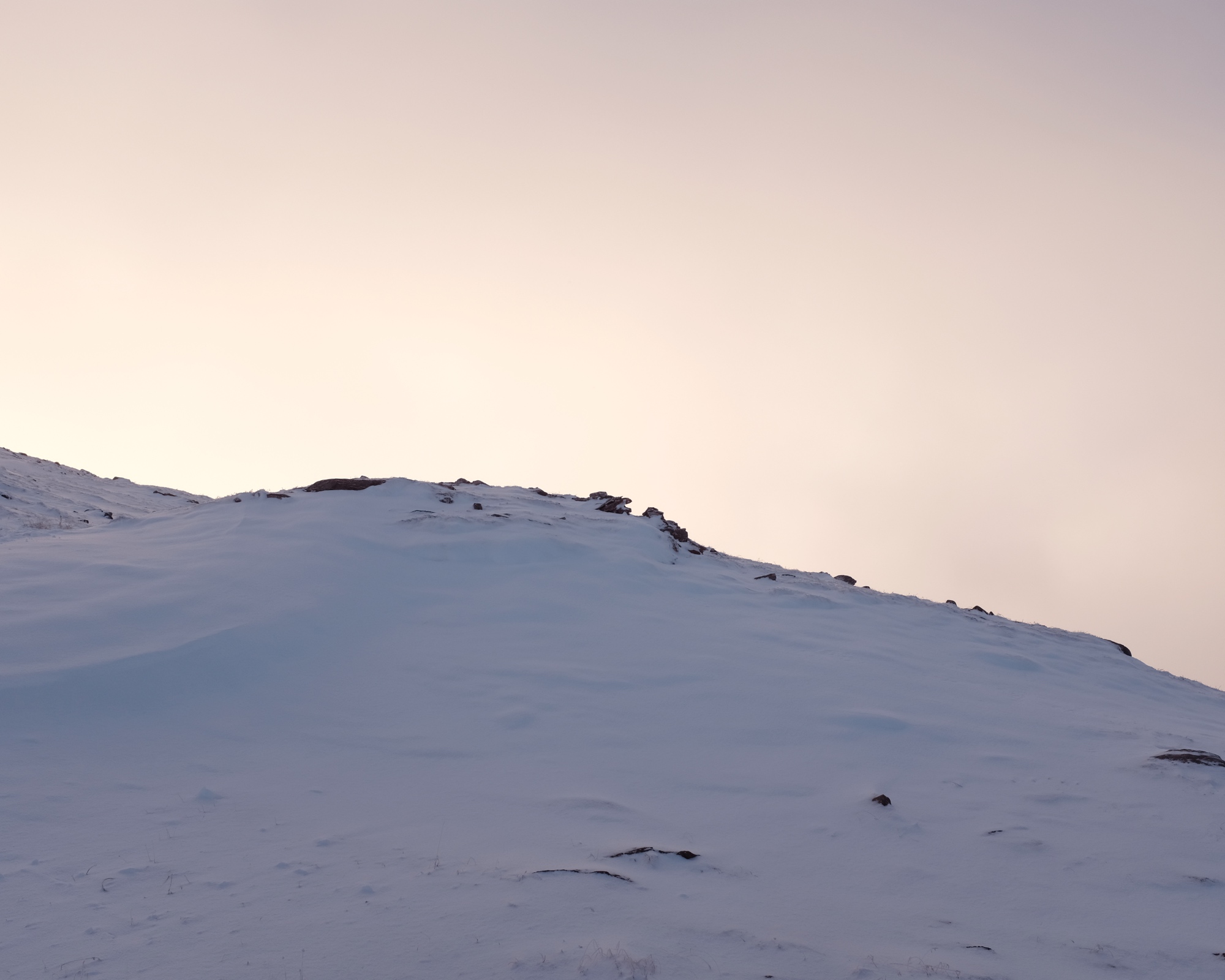 These sights and sounds were still dancing around my mind as we descended and I began to wonder how they might still inspire contemporary Scandinavian art. If the grim landscapes of my childhood gave birth to Goldie's Timeless, what does Northern Scandinavia inspire in 2018? My answer came quickly, as influential Norwegian avant-garde artist Maja Ratkje performed a transformative set alongside Sami musician Katarina Barruk, who grew up in Lapland, not far from Tromsø. Ratkje's radical vocal experiments were matched with Barruk's joik – a traditional Sami song form – and the results were captivating, accompanied by one of the best visual displays I've ever witnessed.
Audiovisual sets are notoriously difficult and often disappointing, but Sami artist Matti Aikio's treatment was truly breathtaking. Gently oscillating water pools phased almost imperceptibly in and out of view, mirroring the unique movement of the aurora borealis. Alongside Ratkje and Barruk's singular performance, it was the perfect reaction to the landscape. Kara-Lis Coverdale was tasked with following and filled the Verdensteatret – Northern Europe's oldest cinema, opened way back in 1916 – with glorious euphoric organ drones that were rattled only by the group of drunk Swedish tourists who cackled, belched and farted in the front row throughout. Even the uglier side of Northern European culture was well represented.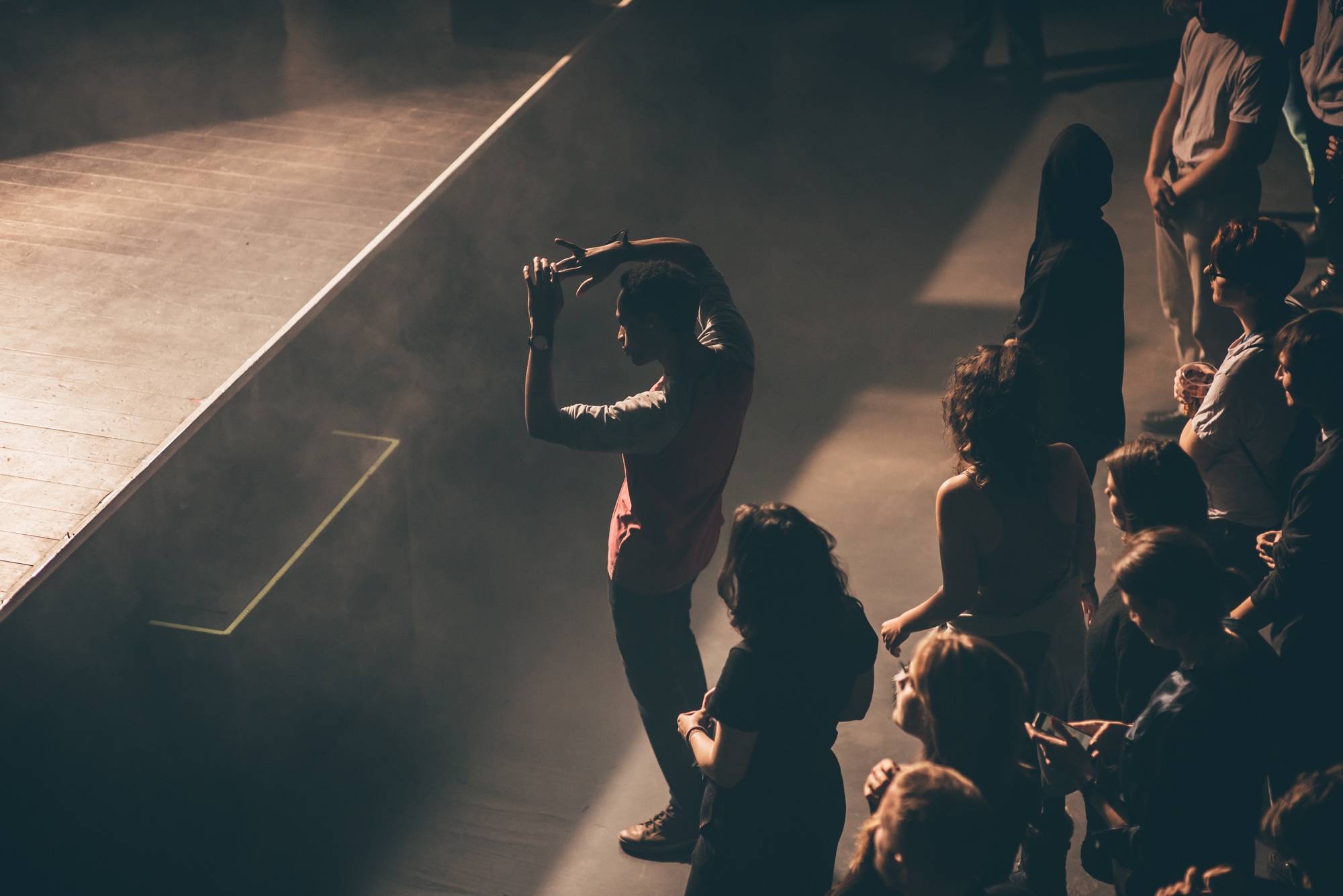 After this spectacle, the night that followed struggled initially to keep up. Uninspiring sets from Norwegian rapper Ivan Ave and Detroit bonafide Amp Fiddler kicked off the events at DRIV, but the night took an about turn with a flawless performance from Beatrice Dillon. Dillon's live blend of wobbly post-dubstep, spacious dub techno and foley grime was completely unique and for a moment froze the venue in awe. Few dance producers are taking these risks and it was an inspiring set, quickly followed by a sensual and viscous industrial onslaught from JASSS.
At the Insomnia after-party, deep in the basement of a large municipal building in the heart of the city, I began to witness the crowd limber up, at least slightly. It's hard to re-create the atmosphere of Berlin or Manchester in a small city that's prohibitively expensive for most Europeans, so it makes sense that Insomnia plays to its strengths by not solely focusing on club forms. This is the top of Europe, and its remoteness highlights elements that can get lost in big cities and towns. Insomnia rises to the challenge, bringing artists in to demonstrate developments in the rest of the world without forgetting the progress being made on its own doorstep.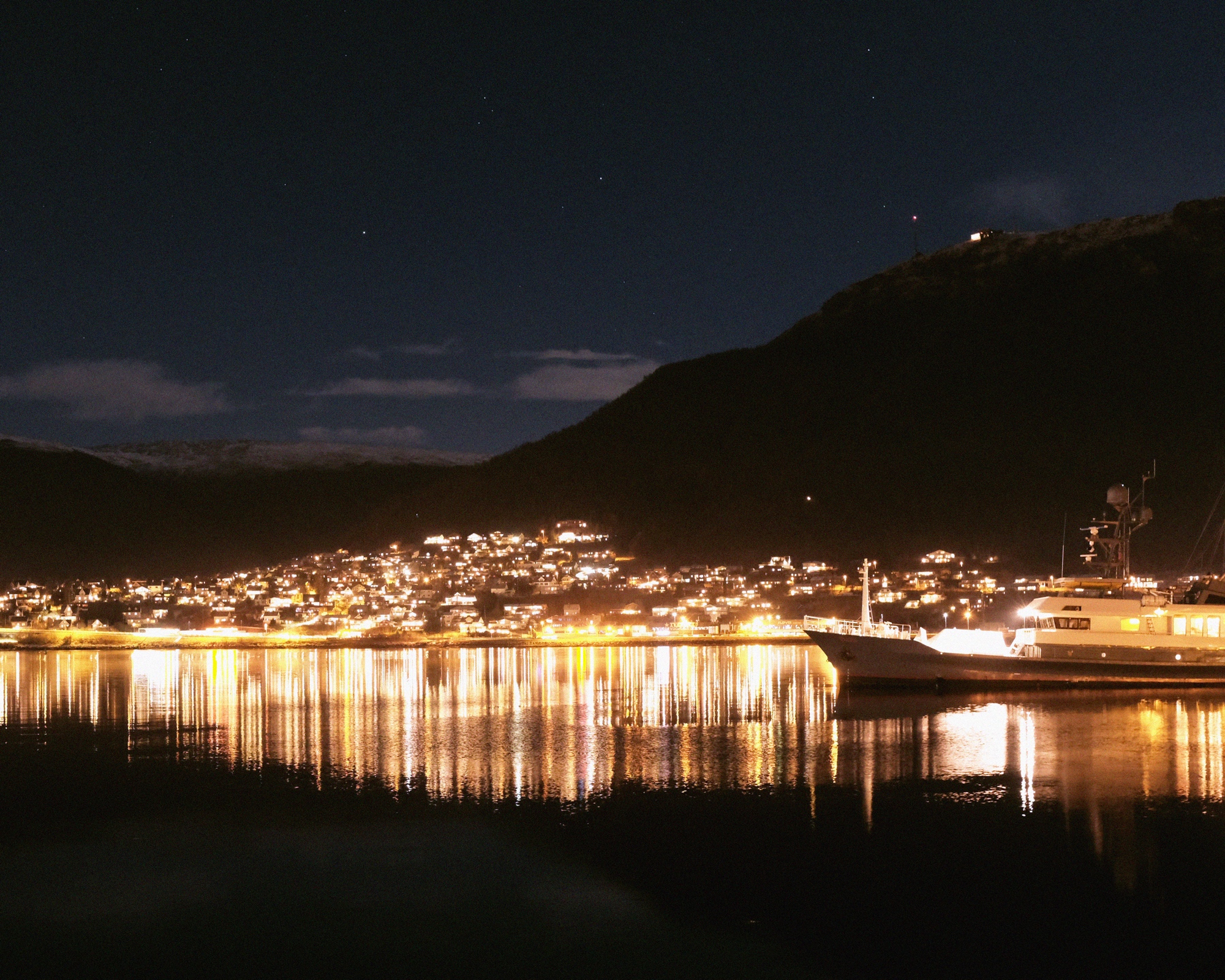 As Northern Europe quickly replaces its social democracy with fearful reactionary politics, cementing its long-held nationalist views, it's more important than ever to challenge the status quo. Brexit might be seen as a joke outside of the UK, but those same anxieties are apparent throughout Northern Europe. My hometown looks radically different from the outside, but Northern Europe's fear of outsiders is not class dependent and needs to be called out. Festivals like Insomnia at least point to an alternate future; now all we need is action.
John Twells is FACT's Executive Editor and is on Twitter.
Read next: The 25 best albums of the last three months – July to September 2018