Bristol is getting its own synth event.
Bristol's Elevator Sound store is launching a one-day synth expo in the city next year called Machina Bristronica.
The event, which takes place on March 30, 2019 in Motion and The Marble Factory, is inspired by similar shows like Berlin's Superbooth expo and Amsterdam Dance Event.
"This year was the first year we attended [Superbooth] as a shop as it's literally the first year I thought it would benefit us," Elevator Sound owner Marco Bernardi tells FACT. "When I came back from Berlin the obvious question set into my head: why don't we do something like this in a big scale here in the UK?"
The event runs from the daytime into the evening and will focus on software as well as hardware, hosting stalls from Ableton and Native Instruments alongside synth and Eurorack companies including Moog, Novation, Teenage Engineering, ALM, Dreadbox and Bastl Instruments.
The program also includes panel discussions, live hardware performances, DIY modular workshops, Ableton Live workshops and a 'Building Your First Max4Live Patch' class.
Tickets for Machine Bristronica start at £16.99 and can be purchased here. More artist and programming details will be released in January 2019.
Earlier this month, Elevator Sound announced a merger with Cardiff-based synth shop Cymru Beats.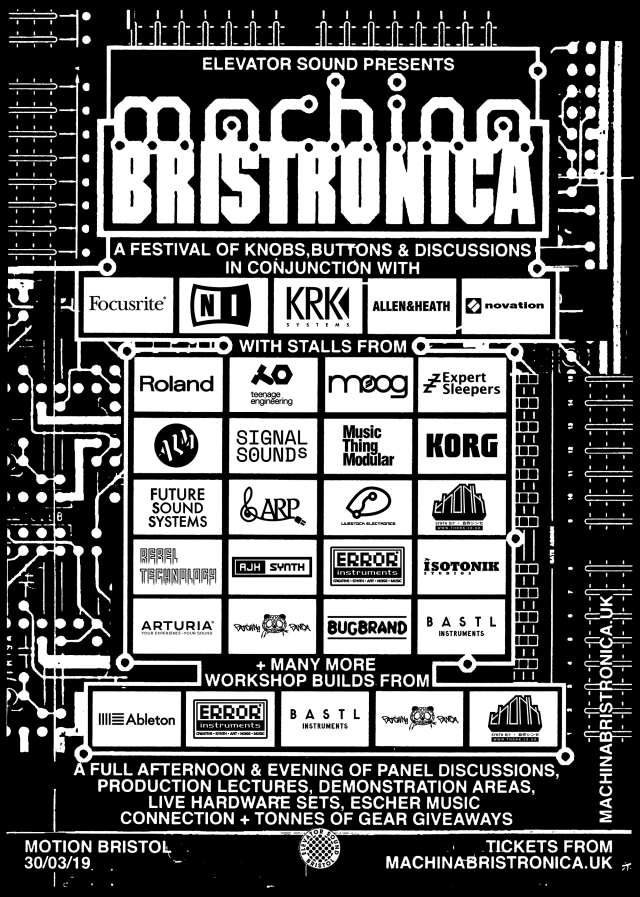 Read next: The sights and sounds of Superbooth 2018