A celebration of the legendary east London party.
PDA, the "allegedly legendary" east London club night hosted by Mischa Mafia, Crackstevens and Ms. Carrie Stacks, has released a compilation featuring artists who have played at the party, including Arca, Total Freedom and LSDXOXO.
The project collects 30 original tracks and edits from SHYGIRL, coucou chloe, Manara, Klein, SUUTOO, Joey LaBeija, Asmara, Bok Bok & Sweyn J and many more, providing the soundtrack "for people to either reminisce or experience the sounds of PDA for the first time."
All profits from the compilation will be donated to A.Q.E.M (Association of Queer Ethnic Minorities), a project founded by Carrie Stacks, April Brown and Emmanuel Balogun "that seeks to unlock potential and drive social cohesion among Queer ethnic minorities in UK".
PDA Compilation Volume 1 is available now. PDA-branded singlets and shirts are also available to purchase from their Bandcamp. Check out the cover art and tracklist below.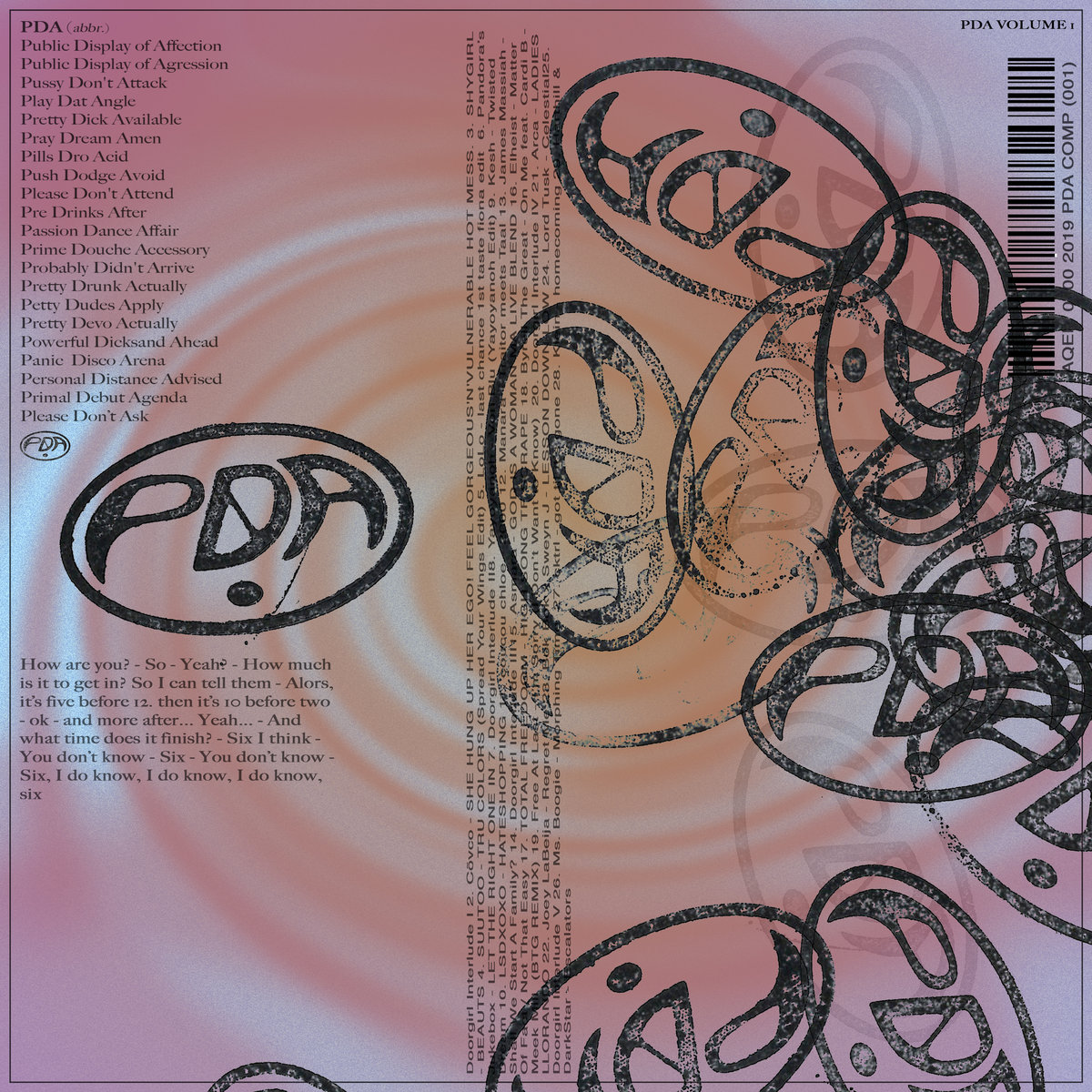 Tracklist: 
01. Door Girl – 'Door Girl Interlude I'
02. Cõvco – 'SHE HUNG UP HER EGO! FEEL GORGEOUS'N'VULNERABLE HOT MESS.'
03. SHYGIRL – 'BEAUTS'
04. Suutoo – 'TRU COLORS (Spread Your Wings Edit)'
05. LoLo – 'Last chance 1st taste Fiona Edit'
06. Pandora's Jukebox – 'LET THE RIGHT ONE IN'
07. Door Girl – 'Door Girl Interlude II'
08. 'Von Blu (Yayoyanoh Edit)'
09. Kesh – 'Twisted Dream'
10. LSDXOXO – 'HATESHOPPING'
11. coucou chloe – '2000'
12. Manara – 'Traitor meets Taal'
13. James Massiah – 'Shall We Start A Family?'
14. Door Girl – 'Door Girl Interlude III'
15. Asmara – 'GOD IS A WOMAN MA LIVE BLEND'
16. Elheist – 'Matter of Fact / Not That Easy'
17. TOTAL FREEDOM – 'HIGH SONG TF SCRAPE'
18. 'On Me' – Meek Mill Ft. Cardi B (BTG RMX)
19. free at last – 'I'm Sorry (I Don't Want to Know)'
20. Door Girl – 'Door Girl Interlude IV'
21. Arca – 'LADIES LLORANDO 150 BPM'
22. Joey LaBeija – 'Regret Me'
23. SWEYN x BOK – 'LESSONS DOWN LOW'
24. Lord Tusk – 'Celestial'
25. Door Girl – 'Door Girl Interlude V'
26. Ms. Boogie – 'Morphin Time'
27. cktrl – 'got til it's gone'
28. Klein – 'homecoming'
29. Harthill & Darkstar – 'Escalators'
30. Ms. Carrie Stacks – 'Dilemma on a Sweet Day'
Read next: Club Chai at three – Collaboration and community in the global dance continuum